Ryan Lochte Rio Olympics Robbery Tale Scrutinized by Brazilian Officials
Posted on: August 18, 2016, 08:39h.
Last updated on: August 18, 2016, 10:12h.
Olympian Ryan Lochte and three other American swimmers at the games are under investigation by Brazilian officials for allegedly fabricating a story about being robbed at gunpoint in the wee hours of the morning in Rio de Janeiro this weekend.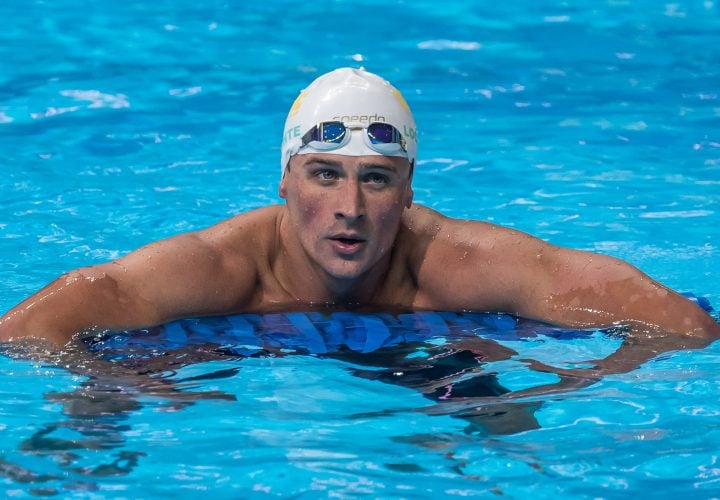 Early Sunday morning, the four swimmers had claimed that men posing as police officers robbed them and took their wallets. Lochte told NBC's Matt Lauer that the thieves let them keep their cell phones and Olympic credentials.
Lochte, a 12-time Olympic medal winner, took the 2016 gold along with Michael Phelps in the men's 4x200m freestyle relay this summer. He placed fifth in the 200m individual medley, which Phelps won. Lochte medaled in the 200m individual medley at the 2004, 2008, and 2012 Olympics. He entered the event with the third-best odds, as most books listed him at 7/2 to win.
Inconsistent Performance, Inconsistent Story
Lochte's disappointing 200m left bettors empty-handed. Then his late-night escapade initially left Rio leaders embarrassed. But after some investigation, now investigators are mad. That's because some contradictions in the various swimmers' testimonies made Brazilian authorities take a closer look at what might have actually happened.
Lochte initially said a loaded gun was pressed against his head, only to later say the robbers were simply armed. Lochte said their taxi was stopped by police, while another swimmer said the incident happened at a gas station.
A report broke this morning that one of the swimmers got into a fight at the gas station and broke a door to use a bathroom. Surveillance reportedly shows the unidentified man fighting with a security guard. Meanwhile, the swimmers have claimed they can't remember the location of the incident, the color of the taxi, or the driver. They blame being intoxicated for their blank memories.
On Wednesday evening, swimmers Jack Conger and Gunnar Bentz boarded a plane headed back to the US, but Brazil's Federal Police detained the athletes and removed them from the aircraft. Lochte had already traveled back to the States, and it's unclear where Jimmy Feigen, the fourth swimmer, is currently located, although he is rumored to still be in the South American country.
Brazil has issued seizure warrants for their passports. Conger and Bentz were released after talking with investigators, but must remain in Rio for the time being.
"We can confirm that Jack Conger and Gunnar Bentz were removed from their flight to the United States by Brazilian authorities," the United States Olympic Committee said. "We are gathering further information."
A video has surfaced showing the four swimmers returning to the Olympic Village at 6:56 am Sunday morning. Lochte had previously said the group left a party around 4 am, but video at the club they were at shows them departing at 5:50 am.
The group appears playful and unfazed in the surveillance video, another reality that caused Brazilian law enforcement to be dubious about the group's claims. Lochte's legal team remains on damage control, and issued the following on the incident:
"That video shows me nothing. It shows guys coming home at 6 or 7 in the morning and shows me they're happy that they're alive," Lochte's lawyer told CNN.
Possible Charges
Lochte's robbery account, if it can be proven false, could result in substantial charges levied against the four American Olympians. Should Brazil find them guilty of providing false testimony or misleading statements to authorities, the men could potentially face up to six months behind bars. Of course, they would have to get Lochte back to Brazil first.
Brazil is home to some of the most infamously dangerous prisons in the world. Their drug and weapons-laced facilities are overcrowded, and windowless cells are said to reek of urine and feces. Human Rights Watch says Brazil's prison system is a "human rights disaster." Riots left 14 prisoners dead just last May.
Whatever their reason was for allegedly fabricating a story, if they in fact did, Lochte, Conger, Bentz, and Feigen are now facing much graver consequences than they likely could have ever imagined. And Rio has yet another scandal to explain in what has been an embarrassing number of crimes at this year's Olympic games, including numerous allegations of rape and robberies.