Robin Haase Tennis Coach Mark de Jong Arrested on Koen Everink Murder Charge
Posted on: March 28, 2016, 03:06h.
Last updated on: March 28, 2016, 03:22h.
The coach of Dutch tennis pro Robin Haase was arrested on murder charges over the weekend. The coach, Mark de Jong, is accused of stabbing to death millionaire businessman Koen Everink on March 4, apparently during an altercation over de Jong's poker debts.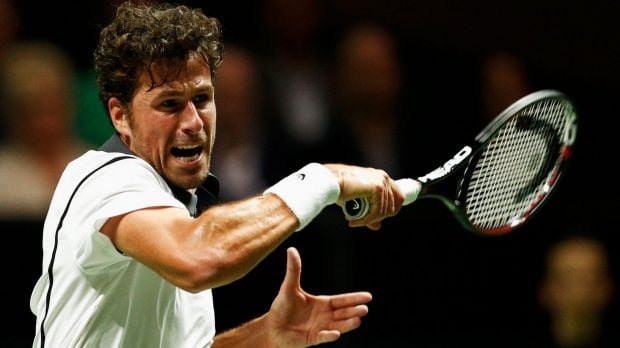 According to police, de Jong came forward the day following the discovery of Everink's body, at his home in Bilthoven, near Utrecht in the Netherlands. The 29-year-old coach told authorities that the two men had watched a soccer game together, and that he had seen "suspicious characters" hanging around the house as he left.
Investigators were skeptical of de Jong's account, but nevertheless permitted him to travel with Haase to the US for the APT Masters in Miami. He was later arrested upon his return to the Netherlands at Schiphol Airport.
High Stakes, High Gambling Debts
De Jong is a former journeyman player on the Challenger circuit (the international minor leagues), who later switched to coaching; he had worked with Haase since 2014. But according to Dutch media sources, he is also a problem gambler and poker player, who often played for high stakes.
The Dutch language version of PokerNews found that he was indeed known within the country's poker community, where word is he is known as a notoriously bad poker player.
These sources, not independently verified, claim that the two men had been quarreling over an €80,000 ($89,548) loan that Everink had given him in order to cover his gambling losses. The now-deceased man had allegedly agreed to the loan, but wanted the money back as quickly as possible, reportedly threatening to expose de Jong's out-of-control gambling habits in the media unless he complied.
De Jong is described by poker acquaintances as "a very bad player" who never worked on his game and approached poker as a "pure gamble." According to the sources, he failed to show up to a single appearance at the recent Australian Open, because he was waylaid at the Aussie Millions at the Crown Casino where he was badly stuck in cash games.
Everink Previous Target of Violence
Despite reports that de Jong played high stakes, online, he apparently stuck with mainly relatively low buy ins. Nonetheless, he somehow managed to lose $62,839 at PokerStars over the course of 72,900 hands, mostly at $0.25 / $0.50 PLO full ring, according to PokerNews.nl.
Everink, meanwhile, was a wealthy director of a travel company and a tennis lover, who was well-liked by many Dutch tennis players.
But this wasn't the businessman's first brush with a violent attacker. In July 2012, Everink had been involved in a fight with Moroccan kickboxer Badr Hari. Hari assaulted Everink in his VIP box at a party in Amsterdam's ArenA, badly beating him and breaking his ankle so severely that doctors were not sure he would ever have use of it again.
Everink had reportedly been unable to work since the attack, for which Hari was subsequently imprisoned.
"I have no words," Haase told Quote magazine on hearing of the death of his friend Everink, prior to the arrest of his coach. "He was going to start a business again … I thought he had found his peace. I had no indication that he was being threatened or anything like that."
Little did Haase know.
Most Read