OJ Simpson Out on Parole, Staying in Nevada at Undisclosed Las Vegas Location For Now
Posted on: October 2, 2017, 11:25h.
Last updated on: October 2, 2017, 11:29h.
OJ Simpson is a free man once more, albeit not without caveats, after he was released from a Nevada prison just after midnight Sunday morning. The controversial former sports hero was serving nine years of a 33-year sentence for kidnapping and armed robbery, but was approved for parole in July.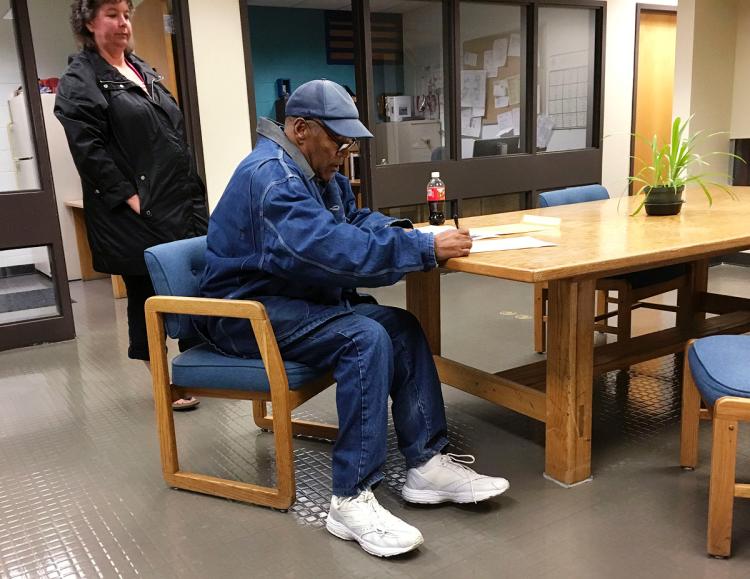 The one-time NFL and movie star left Lovelock Correctional Center in Northern Nevada under cover of darkness, at around 12.08 am on October 1.
The 70-year-old Simpson, who has been surprisingly insensitive to his media image since the 1994 murder of his wife Nicole for which he was found not guilty, told reporters to "mind their own business" when they asked where he planned to spend his first days of freedom.
Media vehicles tracked his SUV to a location about 75 miles northwest of Las Vegas at around 5.30 am on Sunday.
"I'm in a car for the last five hours, so how do I know how it feels to be out?" Simpson continued with press retorts. "I've been in nowhere USA for the last nine years doing nothing. Nothing has changed in my life. What do you expect?" he asked.
According to Simpson's latest plans, he is expected to live at an undisclosed home in Las Vegas for the foreseeable future. He is not eligible to leave Nevada at all without permission from his parole officer.
No Sunshine from Florida
Simpson's parole lasts for a period of five years, although several of his associates told CNN he planned to have it transferred to Florida, where he lived at the time of his arrest and where two of his now-adult children still reside.
That's if Florida will have him, that is. Florida Attorney General Pam Bondi wrote to the Department of Corrections on Friday that he was not welcome in the Sunshine State, although Simpson's lawyer has questioned her authority to block the move.
Simpson was arrested in 2007 after he and a group of associates took items at gunpoint from two sports memorabilia dealers at a hotel room at the Palace Station Casino in Las Vegas. He claimed the items had been stolen from him, but in 2008, he was convicted on 13 counts of kidnapping, armed robbery, assault with a deadly weapon, burglary, and conspiracy charges.
Spectacular Fall from Grace
In 1995, he was cleared of killing his ex-wife Nicole Brown, and her friend Ron Goldman, in one of the most sensational trials in legal history. An estimated 100 million people tuned in on TV for the verdict.
But in 1997, Simpson was found liable for the wrongful deaths of Brown and Goldman in a civil trial brought by the victims' families.
The star's fall from grace was one of the most dramatic events in American pop cultural and criminal history, but despite his persona non grata status, he doesn't plan on becoming a hermit, according to his long-time friend Tom Scotto.
"He's not going to hide,", Scotto told CNN. "He's going to focus on kids, friends, his family and golf."
Similar Guides On This Topic