Route 91 Harvest Country Music Festival Planning Las Vegas Return
Posted on: December 14, 2018, 02:10h.
Last updated on: December 14, 2018, 02:16h.
The Route 91 Harvest country music festival is planning a return to the Las Vegas Strip two years after it was the target of the October 2017 mass shooting that left 58 victims dead.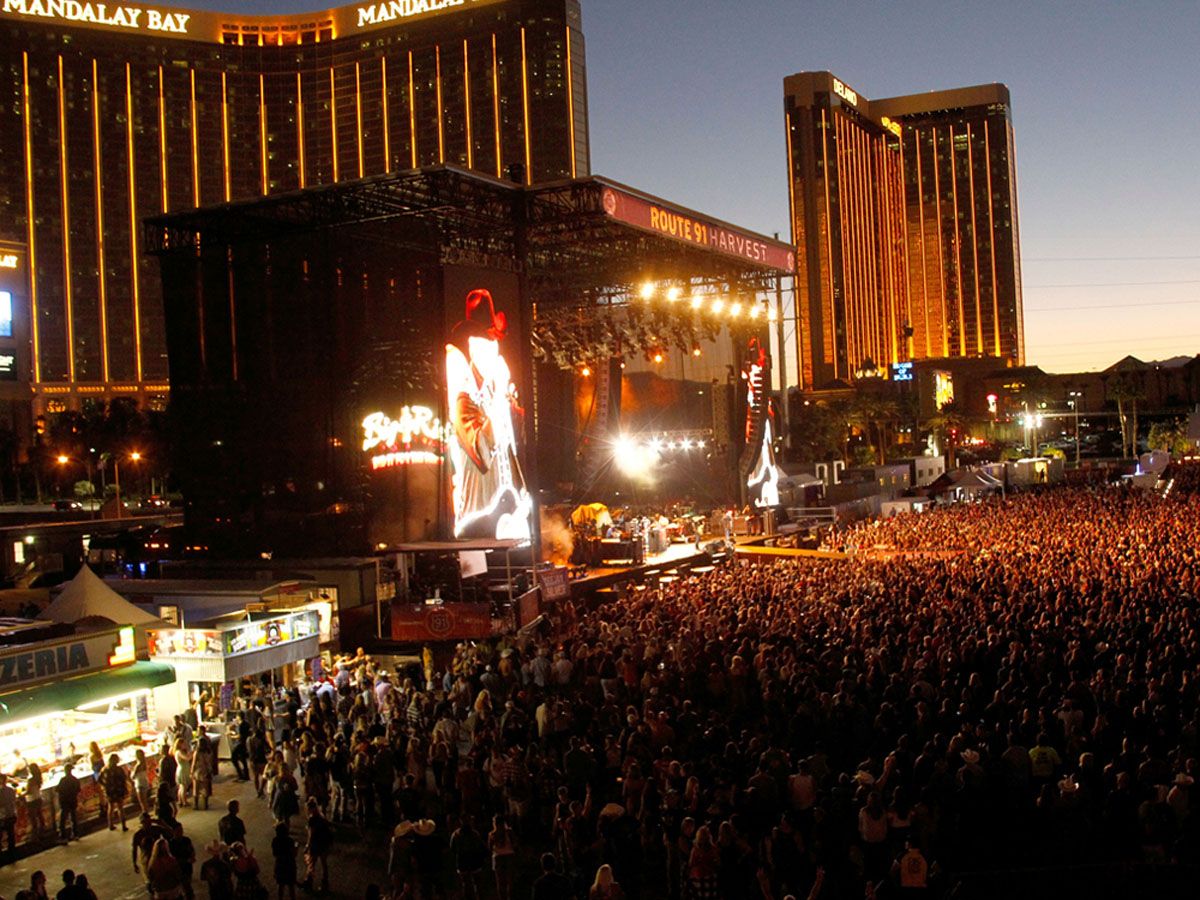 The Las Vegas Review-Journal reports that festival organizers are considering moving the outdoor music concert to the Las Vegas Resorts Festival Grounds for the fall of 2019. Located at the Strip and Sahara Avenue, the event space is larger than the festival's previous home.
The 2017 Harvest took place at the 15-acre Las Vegas Village across from Mandalay Bay. The Resorts Festival Grounds measures 35 acres and has a capacity of 85,000 people.
Live Nation, the organizer of the festival, confirmed to RJ journalist John Katsilometes that the event is expected to be back in Las Vegas next fall. The Route 91 Harvest began in 2014, and each of the festivals have been held at the Village location.
Show Goes On
In the aftermath of the 2017 shooting, Route 91 organizers said hate would not prevail.
While we try and move forward, we will never forget this day," the message read on the concert's homepage. "We will NOT let hate win over LOVE. We will NOT be defeated by senseless violence. We WILL preserve and honor the souls that were lost."
There is no motive as to what triggered Stephen Paddock into carrying out the massacre, and the FBI still hasn't released its final report on the investigation.
Las Vegas Metro Police concluded its review in August, with Clark County Sheriff Joe Lombardo conceding, "What we have been able to answer is the questions of who, what, when, where, and how. What we have not been able to definitively answer is the why."
MGM Resorts, which lost its attempt to consolidate all victims' lawsuits against the casino operator into one giant legal case, owns both the Las Vegas Village and Resorts Festival Grounds.
Security Assessment
Las Vegas has returned to normal, but in terms of security that might not be a good thing. Though Southern Nevada hasn't been the location of a mass shooting since, there have been numerous events that have exposed safety shortcomings.
The most recent involved a man who used a stolen box truck and fake identification to routinely obtain access to casino resorts through their loading docks. The perpetrator is alleged to have hit at least 11 Las Vegas properties, and made off with various items ranging from electronics and mattresses to a photo booth.
Last summer, a couple was found murdered in their Circus-Circus room after a thief who was entering unlocked rooms became an alleged murderer. Investigators later determined that the victims' door lock wasn't working properly. Circus-Circus is also owned by MGM Resorts.
As for outdoor concerts like Route 91 Harvest, anti-terrorism expert and Nevada resident Doron Benbenisty says attendees must not be in denial regarding ongoing threats. The former Israeli special forces fighter offers active shooter courses for both the general public and those in law enforcement.
Most Read

Latest Casino Stocks:
Retrieving stocks data...
Retrieving stocks data...
Retrieving stocks data...
Retrieving stocks data...
Retrieving stocks data...