Las Vegas Raiders and Chicago Bears May Start Rookie Quarterbacks in Week 7
Posted on: October 20, 2023, 08:39h.
Last updated on: October 20, 2023, 11:36h.
Quarterbacks Jimmy Garoppolo (back injury) from the Las Vegas Raiders and Justin Fields (dislocated thumb) from the Chicago Bears will not start for their respective teams when they meet at Soldier Field in Week 7.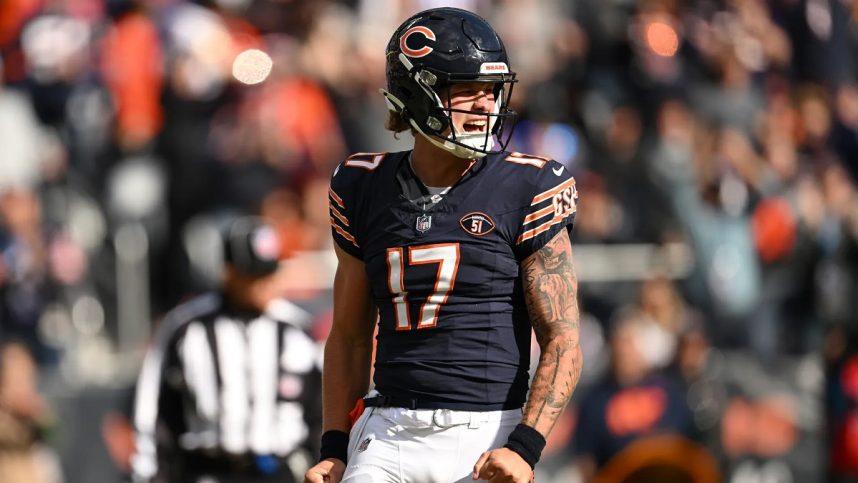 Two rookie quarterbacks might start for the Raiders (3-3) and Bears (1-5) on Sunday afternoon.
Rookie Tyson Bagent will replace Fields for the Bears. Bagent played his collegiate ball at a tiny Division II school called Shepherd University in West Virginia. Bagent's other claim to fame is that his father is a former arm wrestling world champion.
Garoppolo went down in the last play of the first half against the New England Patriots in Week 6. He was whisked away to a hospital for evaluation and X-rays. The Raiders said Garoppolo has a back injury, but avoided anything serious.
The Raiders have yet to name a starter against the Bears, but rookie Aidan O'Connell could get his second career start in place of Garoppolo. If O'Connell does not start, then veteran backup Brian Hoyer will make his first start at quarterback for the Raiders.
Jimmy G Out with Back Injury
The San Francisco 49ers did not offer Garoppolo a contract extension because of durability issues and a long history with injuries. Garoppolo signed with the Raiders, but suffered a concussion against the Pittsburgh Steelers in Week 3. He did not clear protocol in time and missed Week 4.
O'Connell, a fourth-round pick and former star at Purdue, made his NFL debut in a 24-17 loss against the Los Angeles Chargers in Week 4. He completed 61.5% of his passes for 238 yards and zero passing touchdowns, but he scored one rushing touchdown. He was picked off once and sacked seven times.
Head coach Josh McDaniels has not named a starter, but he's leaning toward O'Connell.
It's up to the coaches," said O'Connell. "It's how they see the best fit. I'm young, definitely just taking what they say and trying to do my best, whatever that is."
Hoyer, 38, is journeyman backup quarterback and spent several seasons as Tom Brady's backup in New England. Hoyer has a has a 16-24 record in 40 starts over his career. He has lost 12 consecutive starts, and last won a game as a starter in 2016, when he was with the Bears.
Hoyer replaced Garoppolo at halftime in Week 6, and led the Raiders to a 21-17 victory against the Patriots. He completed 6-for-10 passes for 102 yards. He did not commit any turnovers and was not sacked.
"Part of being in that role as a backup is you never know, and you always prepare for the best and prepare to help the team any way you can," said Hoyer.
Justin Fields Nursing Thumb Injury
Fields struggled in his first three games and threw only three touchdowns. He looked good in the next two games with eight touchdown strikes, including four in the Bears' first victory of the season against the Washington Commanders in Week 5.
The Bears lost Fields early in the third quarter against the Minnesota Vikings in Week 6. He exited prematurely with a hand injury, which was diagnosed as a dislocated thumb on his throwing hand.
Bagent came off the bench and replaced Fields for the remainder of the game. He completed 10-of-14 passes for 82 yards and zero touchdowns. The Vikings intercepted Bagent once and sacked him once. The Bears lost 19-13 and slipped to 1-5 on the season.
Tyson's got good arm talent," said head coach Matt Eberflus. "He's got good poise and pocket presence and we're excited to see where it goes."
Veteran Nathan Peterman is the only other quarterback on the Bears roster. Peterman played for the Raiders in the previous two seasons as a backup quarterback behind Derek Carr. He's 1-4 as a starter and has not won a game since 2017.
The Bears also have a banged-up backfield. Starting running back Khalil Herbert is on the IL with a high ankle sprain, and rookie Roschon Johnson has yet to clear concussion protocol.
Betting the Bears/Raiders in Week 6
The Bears find themselves as a +2.5 home underdog against the Raiders. The Bears are 1-4-1 against the point spread (ATS), and the Raiders are 3-3 ATS this season.
The Raiders/Bears game has a points total of 37.5 over/under. With two potential rookies starting in this nonconference game, it has one of the lowest totals on the board in Week 7.
Unders went 12-2-1 in Week 6, which was the best record in a single week since 1996. Teams are struggling to score points this season, especially with so many rookies and subpar quarterbacks in action. The under is 56-36-1 through six weeks this season.
The Kansas City Chiefs (5-1) are a popular betting favorite to win the AFC West at -500 odds. The Chargers (2-3) are +475 odds, and ahead of the Raiders at +1600, even though they have a better record. The disastrous Denver Broncos (1-5) are the long shot in the AFC West at +15000.
The Raiders are +340 odds to make the playoffs, but a favorite to miss the postseason at -450.
The one-win Bears are the long shot to win the NFC North at +4500 odds. The Detroit Lions (5-1) are the betting favorite to win the division at -550, followed by the Green Bay Packers (2-3) at +600, and the Vikings (2-4) at +1300.
The Bears are a long shot to qualify for the postseason at +2000 odds, and they're a massive favorite to miss the playoffs at -10000.
Eberflus from the Bears is a betting favorite to become the first head coach fired this season. He saved his job for a couple of weeks after the Bears finally got off the schneid with their first victory of the season in Week 5.