Las Vegas Raiders Quarterback Jimmy Garoppolo in Concussion Protocol
Posted on: September 26, 2023, 10:06h.
Last updated on: September 26, 2023, 02:43h.
Las Vegas Raiders quarterback Jimmy Garoppolo entered the NFL's concussion protocol after sustaining a head injury against the Pittsburgh Steelers on Sunday.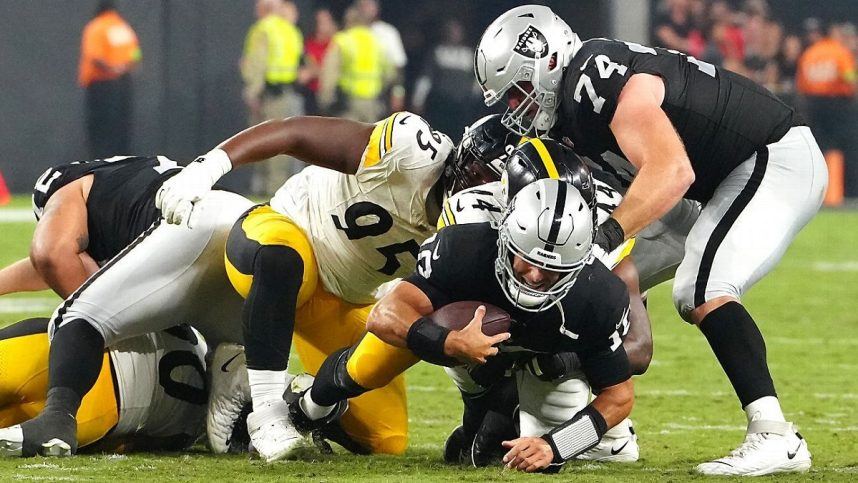 The Steelers went on the road and defeated the Raiders, 23-18, in Sin City on Sunday Night Football.
Congrats if you had a "Week 3 concussion" on your Jimmy G injury bingo card. Garoppolo had a sensational record at 38-17 as a starting quarterback with the San Francisco 49ers, but his durability was the big question mark.
The Raiders took a flier on Garoppolo in the off-season and let quarterback Derek Carr walk in free agency. Garoppolo reunited with head coach Josh McDaniels. The New England Patriots drafted Garoppolo in 2014 when McDaniels was on Bill Belichick's staff as the offensive coordinator and the quarterbacks coach of the Patriots.
Garoppolo is 1-2 with the Raiders through three games this season. They won the season's first game before dropping two in a row.
Raiders Didn't Know
Garoppolo completed 28-of-44 passes for 324 yards in a loss against the Steelers. He threw two touchdowns to Davante Adams. He also tossed three interceptions, and the Steelers sacked him four times.
Garoppolo played the entire game, and the Raiders didn't indicate when he sustained a head injury and concussion.
I'm not even sure what hit or if it was just an accumulation, I have no idea," said McDaniels. "There was never a conversation about that, so I'm not sure, so I'm not exactly sure when it took place, or if it was just a culmination of things."
Replays suggest that Garoppolo sustained a concussion midway through the fourth quarter when Steelers safety Minkah Fitzpatrick drilled him, and his helmet slammed into the turf at Allegiant Stadium.
Despite the huge hit, Garoppolo threw a touchdown strike to Adams two plays after the Fitzpatrick collision. He also completed an ensuing two-point conversion.
In three games this season, Garoppolo completed 68.1% of his passes for 709 yards and five touchdowns. He leads the NFL with six interceptions. His overall passer rating is 81.4, and he has a 51.9 QBR, according to ESPN's adjusted quarterback rating.
Next Man Up: Brian Hoyer or Aidan O'Connell
The Raiders play the Los Angeles Chargers in an AFC West divisional game in Week 4 in Los Angeles. Veteran quarterback Brian Hoyer, 37, is the next man up in the rotation if Garoppolo fails to clear concussion protocol. Rookie Aidan O'Connell is currently the third-string quarterback.
Hoyer spent over half his career and eight seasons as Tom Brady's backup in New England. He almost retired at the end of last season until McDaniels convinced him to join the Raiders as Garoppolo's backup. He started 40 games in his career, including a full season with the Cleveland Browns, and has a 16-24 record as a starting quarterback.
We'll prepare for everybody," said McDaniels. "Obviously, that would change things relative to Aidan if Jimmy was not able to progress through the protocol to be able to play. We'll have to manage that situation best we can as it progresses through the week."
The Raiders selected O'Connell with a fourth-round pick out of Purdue. O'Connell is a true grinder from the Chicago suburbs, and the Raiders loved his never-quit attitude. He wasn't scouted out of high school nor field any scholarship offers from Division I programs.
O'Connell played in Division II for one season before becoming a Purdue walk-on. He finally earned a scholarship and eventually started 28 games for the Boilermakers, where he was 17-11 as a starter and threw 65 touchdowns.
Betting the Raiders in Week 4
The Raiders always draw a large crowd on the road, especially in their former home of Los Angeles. Oddsmakers already accounted for this fact and the Chargers' minimal home-field advantage. More fans will likely be in attendance wearing black and silver jerseys than rooting for the Chargers.
The Chargers opened as a -4.5 favorite, but the line moved to -5.5 when the news broke about Garoppolo entering concussion protocol. The Raiders and the Chargers are both 1-2 this season and 1-2 against the point spread.
The short-handed Chargers will be missing two key starters in Week 4. Running back Austin Ekeler is nursing a sprained ankle and wide receiver Mike Williams tore his ACL and will be out for the remainder of the season.
Oddsmakers installed the Raiders with a win total of 6.5 over/under in the preseason, and they were projected to finish in last place in the top-heavy AFC West.
The Kansas City Chiefs (2-1) are the consensus favorite to win the AFC West at -300 odds, followed by the Chargers at +350, the Raiders at +1100, and the winless Denver Broncos at +3000.
The Raiders are +370 odds to make the playoffs and -500 to miss the postseason. They are among the bottom eight teams on DraftKings' NFL futures board at +10000 odds to win Super Bowl LVIII.
Most Read