Richmond Casino Backers Hurt Themselves With Insensitive Comments
Posted on: November 6, 2023, 10:50h.
Last updated on: November 6, 2023, 12:44h.
On Tuesday, Richmond voters will determine the fate of a proposed $562 million casino resort project called the Richmond Grand.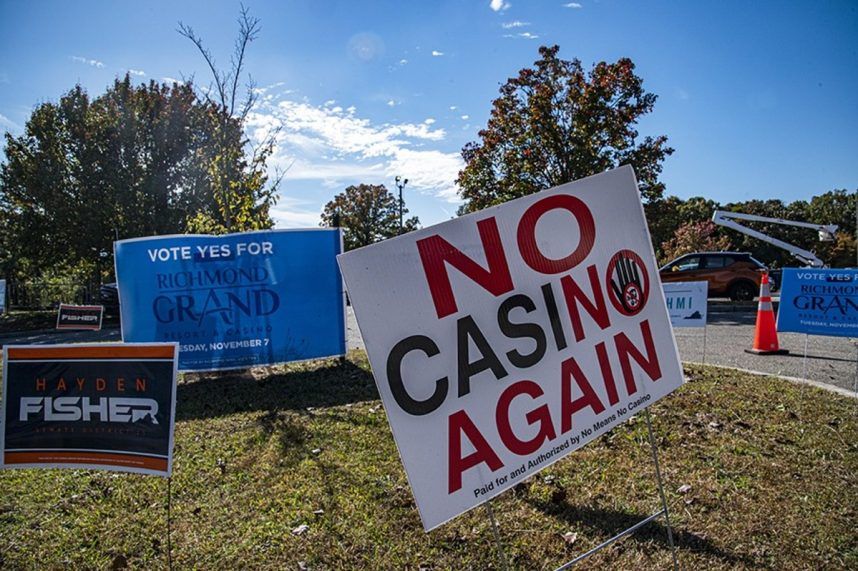 Pre-election polls show the electorate is split on whether allowing a Las Vegas-style casino resort on Richmond's Southside is in the Virginia capital's best interests. A similar project was narrowly defeated two years ago by a vote of 51%-49%. The "no" tally won by just 1,493 votes.
Urban One, the Black-focused media conglomerate that was previously known as Radio One until its 2017 rebranding, was behind the 2021 casino pitch and is behind this year's gaming effort, too.
Urban One officials and their new development partner, Churchill Downs, say the Richmond Grand would provide the capital with a much-needed economic boost, with 1,300 good-paying jobs. The casino group also says the city's tax share would likely be $30 million a year, money that could be used to invest in a stronger and safer city with better-funded schools and services.
Opponents say gambling shouldn't be a requirement of a resort, and those benefits could be realized without bringing the Las Vegas Strip to Interstate 95 near the Philip Morris plant. They argue that gambling will prey on uneducated, lower-income people and only disrupt families and cause more poverty on the Southside.
Disparaging Comments
Urban One founder Cathy Hughes is no fan of those who oppose her casino efforts. During a radio interview last week on one of her company's stations, Hughes, a Black woman, ignited claims of racism against her opponents.
Do not forget that they do not see you as a human being," Hughes said of her casino opponents, primarily Paul Goldman, a Jewish lawyer and Richmond political activist who is behind the "No Means No Casino" campaign. "Even though you may have a house like theirs, a car like theirs, and your children go to the same schools, they see you as a n*****."
Radio host Preston Brown later chimed in by saying Goldman is "a white Jew with a background of Judas," referring to the Biblical figure who betrayed Jesus. "He's a Jew who's got the same traits as Judas."
Urban One CEO Alfred Higgins, Hughes' son, reportedly apologized to Goldman for Brown's remarks. Urban One's Regional Vice President Marsha Landess additionally issued a statement in response to Brown's comments.
"The antisemitic comments … were made by a temporary guest host who was not an employee of the station. These statements were horrible and offensive. Once we heard the comments … I personally drove to the station and immediately removed him from the show. He will not be appearing again," Landess said.
Richmond Mayor Levar Stoney, one of the casino's biggest advocates, also condemned Brown's comments.
I unequivocally condem the antisemitic remarks made by a guest host on The Box 99.5 FM regarding Paul Goldman.

We must call hate out in all of its forms, and his remarks are completely unacceptable.

I'm pleased to hear the station has issued an apology and fired the…

— Mayor Levar M. Stoney (@LevarStoney) November 3, 2023
Final Days of Campaign
Goldman is using the divisive audio clips in hopes of winning over undecided voters before Tuesday's Election Day. On his "No Means No Casino" website, 19 audio clips of Hughes and other casino supporters making disparaging comments about opponents can be reviewed.
Goldman also issued a statement on the controversial remarks.
For the love of money, for personal gain, they are willing to turn their casino project into a wedge of division, to attempt to win by a divisive strategy serving only their selfish interests," Goldman said.
"No one needs to apologize to me. I know politics a little: They didn't publicly apologize immediately because they were hoping there would be no political backlash. So, no public apology. But when they saw their political gamble losing today, they started apologizing," Goldman added.