Rhode Island Casino Workers Vote to Strike, Walkout Could Commence Friday
Posted on: June 8, 2017, 01:00h.
Last updated on: June 8, 2017, 10:47h.
Rhode Island casino workers are threatening to walk off the job at Twin River in Lincoln unless their healthcare benefits are restored to previous levels.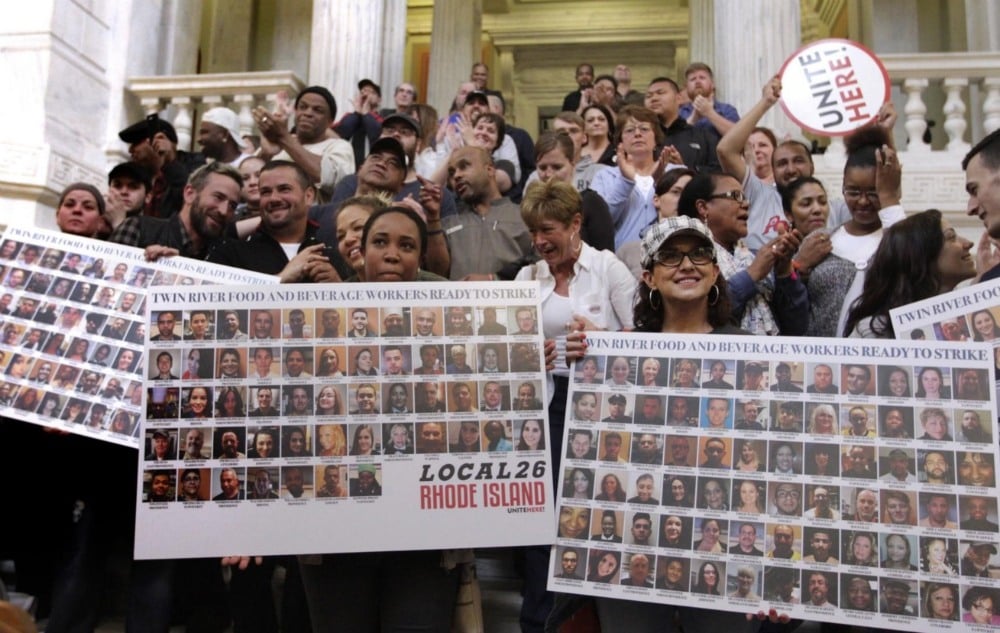 UNITE HERE Local 26, the Boston-based chapter of the national union that represents workers in hospitality industries, says Twin River Management slashed healthcare benefits for its members without any collective bargaining process.
The result, the coalition claims, costs employees hundreds of dollars a week in additional coverage costs.
After threatening a strike last month, and a public protest held on the steps of the Rhode Island State House, Local 26 voted overwhelmingly in favor of a walkout this week by a count of 327-5. "Twin River created a crisis for our families, and if they're serious about fixing it, we'll meet day and night to get this done," union rep Julie Procaccini told The Providence Journal.
The union workers are in the food and beverage, and hospitality departments, and does not encompass casino dealers.
Property Hiring
Twin River Management, which also owns Rhode Island's other casino, the Newport Grand, plus the Hard Rock Hotel and Casino in Biloxi, Mississippi, doesn't seem overly concerned with the strike threat from UNITE HERE.
Local 26 has given the company a 4 am Friday morning deadline to reach a new benefits deal, otherwise workers will leave their positions.
Twin River spokeswoman Patti Doyle said she had no comment on the strike action, but added, "We have immediate openings, and offer highly competitive wages and benefits."
The casino also added that should a strike occur, Twin River will remain open for business, and food and beverage service won't be interrupted.
A Facebook post by Twin River links to its job board. The majority of the listings are roles that would fall under the Local 26 union, including bartenders and cocktail servers, wait staff, dishwashers, hosts, cooks, and banquet positions.
Casino Strike Union?
Twin River's hiring spree might suggest that the casino is looking to rid its Local 26 affiliation and become a non-union property.
Though labor groups have been blamed for hampering profitability in Atlantic City, billionaire Carl Icahn's public feud with UNITE HERE the most recent example, that isn't the case at the Rhode Island casino. Twin River is actually generating record profits, and made a $20 million stock buyback last fall, much to the delight of shareholders.
But competition is closing in on America's smallest state, as Massachusetts' casino resorts near completion.
The Plainridge Park slots parlor is just miles north of the Rhode Island-Massachusetts border. And the $2 billion Wynn Boston Harbor, some 50 miles away, is on scheduled to open in 2019.
Twin River convinced Rhode Island to allow it to build a third casino in Tiverton in order to keep gaming dollars in the state. Currently under construction, the property is scheduled to open in July of 2018.
Though times are robust for Twin River at the moment, it might be looking to reduce its overhead to better position its company in the years ahead. Unfortunately for union members, that might come at their cost.