UNITE HERE Casino Union Threatens Strike in Rhode Island Over Healthcare Benefits
Posted on: May 31, 2017, 02:00h.
Last updated on: May 31, 2017, 02:01h.
Roughly 375 UNITE HERE Local 26 labor union members are prepared to strike at the Twin River Casino in Lincoln, Rhode Island, unless their healthcare benefits are immediately restored.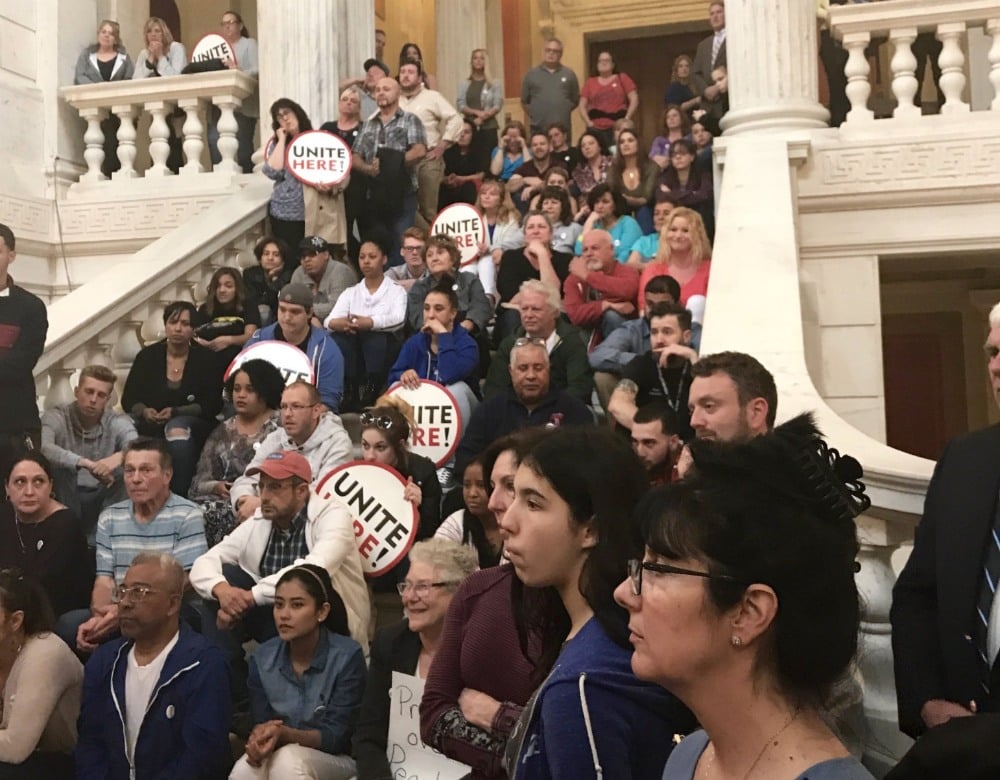 Beginning in January of this year, the union claims Twin River Management, the owner and operator of the casino, reduced healthcare coverage for employees from 100 percent to 80 percent. The new out-of-pocket expenses total over $100,000 for union members alone, according to the local UNITE HERE chapter.
The union took its voice to the steps of the Rhode Island State House yesterday to demand reinstatement of their insurance aid.
With about 100 workers in attendance, Local 26 Vice President Jenna Karlin told progressive political blog RI Future, and anyone else willing to listen, "Twin River has seen its share of gaming revenues more than double in the last seven years to over $225 million. Meanwhile, Twin River Casino cut its employees' healthcare coverage."
In addition to its Lincoln property, Twin River owns the Newport Grand Casino and Hard Rock Hotel & Casino in Biloxi, Mississippi.
Much at Stake
Few issues stir up a more passionate response in America than healthcare. With rising costs seemingly out of control and the complete lack of bipartisanship in Washington, companies are trying to keep their coverage costs as low as possible.
But if Twin River doesn't negotiate with the union, it would be a presumably risky endeavor.
The casino is currently in the midst of building a 135-room hotel at a cost of $25 million. The gambling venue doesn't currently have in-house accommodations.
Union members say walking off the job will cost Twin River much more money in delays and lost revenue than restoring their benefits to their 2016 levels.
While UNITE HERE represents only hospitality workers, the construction union hired to build the expansion, Teamsters Local 251, says they support their colleagues.
"So, the hotel wants to get built, and I can tell you right now the Teamsters bringing … your freight, they bring your concrete, they bring everything in that casino, and I'm telling you now, if UNITE HERE Local 26 walks out, Local 251 stands with you," Teamsters rep Mike Maini said.
Down This Road Before
While Twin River seems to have much at stake in dealing with the powerful union, workers might want to take a careful look to Atlantic City where one casino owner called their bluff.
It was only last fall that billionaire Carl Icahn refused to negotiate with the local chapter of UNITE HERE over benefits at Trump Taj Mahal. A bankruptcy judge had allowed the takeover specialist to suspend certain healthcare pay to workers as he tried to bring the the Boardwalk property out from underwater.
After failing to find common ground, Icahn announced he was closing the resort and taking a loss that exceeded over $100 million. The shuttering also meant the loss of some 2,100 jobs.
But there's good news on the horizon for those out of work. After Icahn sold the Taj to Hard Rock in March, the new owner announced it would establish a new contract with UNITE HERE.
Similar Guides On This Topic