Red Rock Casino Shooting Suspects Still on the Lam — Video
Posted on: September 27, 2023, 11:59h.
Last updated on: September 27, 2023, 02:07h.
The Las Vegas Metropolitan Police Department (LVMPD) on Tuesday released new surveillance video after last Wednesday's shooting at a local casino. It occurred outside Summerlin, Nev.'s Red Rock Casino Resort and Spa.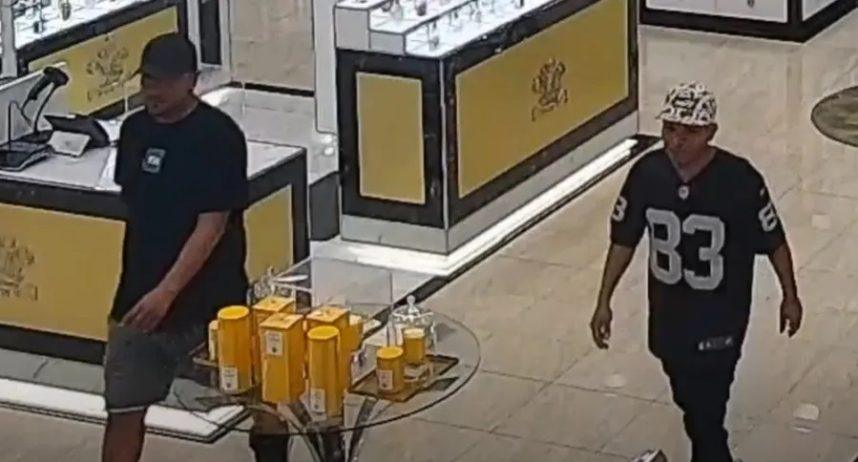 The video shows two men casually checking out products on the store's counters. In the footage, one man can be seen dressed in a black football-style jersey sporting the number 83 and wearing a white hat. The second suspect can be seen wearing a black baseball cap, shirt, and grey shorts.
Soon after the video was taken, the two suspects returned to their car and followed the intended victim, who was walking on South Pavilion Center Drive near the Red Rock casino's valet area. The man wearing the football jersey exited the car and tried to rob the victim.
He shot the victim shortly after.
The suspects then allegedly fled the scene in a black Chevrolet Camaro. It appears police couldn't locate the car after the shooting.
The LVMPD has released surveillance footage of the suspects. Watch the video below.
Non-Fatal Injury
The single bullet struck the victim in the jaw. The victim received initial treatment at the crime scene from EMTs before being rushed to the University Medical Center for further medical care. The victim survived his injuries, according to Las Vegas TV station KTNV.
No one else was injured during the incident.
LVMPD officers were notified about the robbery and shooting at 8:02 p.m. last Wednesday.
Armed and Dangerous
Officers have described the robbers as armed and dangerous, saying public members should use caution and immediately call local police if they spot the suspects. Anyone with information on the suspects should also contact authorities.
LVMPD Summerlin Area Command detectives are investigating the shooting and attempted robbery. So far, police haven't released the suspects' identities. Authorities have also not identified the victim.
If arrested and convicted, the suspects face charges, including attempted robbery, attempted murder, and conspiracy.
It's unknown if the victim or suspects had entered the casino on Wednesday night.
Las Vegas-based Station Casinos operate Red Rock.