Pedestrian Wounded After Shooting Near Chicago's New Bally's Casino
Posted on: September 11, 2023, 12:12h.
Last updated on: September 11, 2023, 01:02h.
A Chicago pedestrian was wounded early Monday after an unknown assailant opened fire. The violent crime occurred just a block from the new Bally's casino, which began operations less than 48 hours earlier.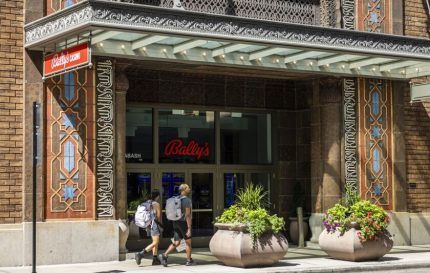 The shooter arrived in a Dodge pick-up truck at about 2:47 a.m. at the North State Street location, according to Chicago TV station WLS. After the blast of gunfire, the truck sped away. The 21-year-old victim was shot in the left leg while on the sidewalk in the River North neighborhood.
The wounded man was rushed to Northwestern Memorial Hospital. He was listed in good condition later on Monday morning.
It's unclear whether the victim or shooter had been inside the new, temporary Bally's Chicago Casino at Medinah Temple. It's also unclear if the two individuals knew each other before the shooting.
The North Wabash Avenue casino began operating on Saturday and was open when the shooting occurred, the Chicago Sun-Times reported. As of early Monday, no suspect had been apprehended.
In recent years, Chicago has gotten national headlines for its rampant shootings and homicides. As of July, the city saw 59 murders. That's a 12% decline in homicides compared to the numbers seen in July 2022.
As of July 2023, year to date, there were 363 murders in Chicago. During the same period in 2022, there were 387 murders in the city. Chicago police said there were 695 murders in 2022, according to Chicago TV station WFLD.
Chicago's New Temporary Casino
The temporary casino opened at 8 a.m. Saturday. It's the city's first legal casino. There was initially a line to get inside, Chicago TV station WBBM reported. Chicago cops had additional patrols by the casino during its opening weekend, the report added.
The gaming property is now open daily between 8 a.m. and 4 a.m.
The property has a 34,000-square-foot gaming floor. There are close to 800 slot machines and 56 table games. There are several bars and restaurants at the property, too. It's expected to generate $55 million in annual receipts for Chicago.
Permanent Casino Coming Soon
Eventually, perhaps in 2026, a permanent casino will open at the Chicago Tribune's publishing plant on West Chicago Avenue, according to Block Club Chicago, a local news outlet. That complex is called "Freedom Center." It's a 30-acre riverfront property.
The $1.7B permanent complex will have 3,400 slot machines and 173 table games. There will also be a hotel, a theater, and a dozen restaurants. Bally's permanent casino will generate $200M per year for the city, according to the Sun-Times.
The city's share of revenue from the Chicago gaming property will be directed to the city's police officer and firefighter pension costs. Under SB 516, Chicago and Illinois will take 22.5% to 74.7 % of the win on slot machines and 15% to 35% on table games, depending on the casino's gross gaming revenue (GGR).