Casino Crime Roundup: Shooting Near Suncoast Casino in Las Vegas
Posted on: October 10, 2023, 09:36h.
Last updated on: October 10, 2023, 12:12h.
Police continue to search for the person who wounded a male victim during a Friday night shooting near a Las Vegas casino.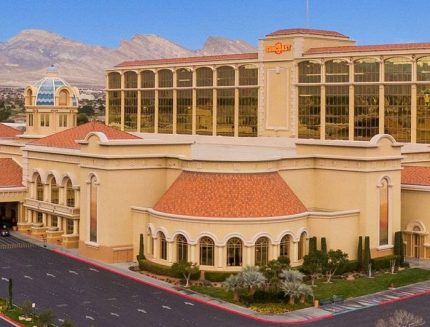 The shooting took place close to the Suncoast Hotel and Casino near the intersection of Alta Drive and Rampart Boulevard at about 7:35 p.m..
The unnamed victim was treated at a local hospital and there's been no update on his condition.
Police didn't reveal if they have a suspect in the case, and no description of the assailant was released by authorities.
98-Year Sentence for Armed Robbery
A man was sentenced last week to 98 years in prison for robbing two casino winners in Virginia.
Daquan Artis got the prison term on Friday in Prince William County court in Virginia. In March, Artis was convicted on several counts, including attempted aggravated murder, aggravated malicious wounding, two robbery charges, and four charges of use of a firearm in the commission of a felony.
The victims won the undisclosed jackpots on Dec. 19, 2019 at Maryland's MGM National Harbor casino.
The winners then were tailed to their Woodbridge, Va. home, where they were robbed by several suspects. The 33-year-old victim was shot, while the other victim was pushed to the ground by the armed suspects.
The masked bandits also stole a cell phone from the victims. The suspects fled in a dark SUV.
Police obtained warrants for Artis and the other suspects, including Daquan Tinker, Javontae Smallwood, and Tavon Vines, according to Washington, D.C. TV station WUSA.
Tinker was convicted of attempted aggravated murder, aggravated malicious wounding, two robbery charges, and for use of a firearm in the commission of a felony. He was sentenced to 98 years in prison, though 45 years of the sentence was suspended.
Vines was arrested for aggravated malicious wounding, two counts of using a firearm in the commission of a felony, and two counts of armed robbery. It's unclear how his case was adjudicated.
There's no word if Smallwood was ever arrested.
Casino Worker Sentenced for Theft
A former employee at Iowa's Diamond Jo Casino was recently given two years' probation for a theft plot at the gaming property.
Krysten Davis, 23, of Dubuque, Iowa, improperly placed credits on casino club card accounts, according to QueenB Radio Iowa. Davis then printed new cards with new pin numbers and gave the fraudulent cards to friends.
The scheme led to a loss of more than $1,500 for Diamond Jo Casino and involved more than two dozen accounts, police said.
Davis must successfully complete the probationary period, according to the sentence handed down by a judge at Iowa District Court of Dubuque County.
If she fails to complete the terms of the probation, Davis faces up to two years in prison and may be ordered to pay a $855 fine.
Davis worked at the casino as a player's club customer service representative between January 10 and February 3.