Ray Lesniak, New Jersey Not Giving Up on Sports Betting
Posted on: June 25, 2014, 05:30h.
Last updated on: June 24, 2014, 07:35h.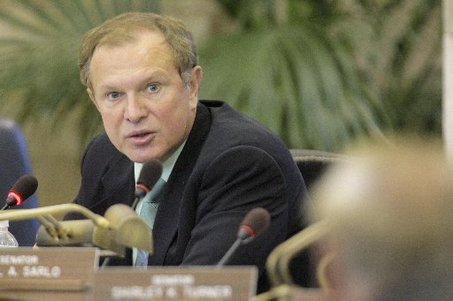 Typically, an appeal to the Supreme Court of the United States is a last resort. After all, there's no higher legal authority in the country. Even in the case of New Jersey's push to legalize sports betting in the state, it appeared that the Supreme Court would be the final stop: Governor Chris Christie even famously said that he wasn't going to appeal to "the galactic Supreme Court" if they didn't rule in his favor.
But not everyone in New Jersey feels that way. State Senator Raymond Lesniak (D-Union County) believes that the state can still find a method by which to offer sports betting, either through legal technicalities or through the implicit cooperation of federal authorities.
State Senators Vow to Fight On
"I plan on placing my first bet at Monmouth Racetrack on September 8th for the Giants to beat the spread against the Lions on Monday Night Football," Lesniak told reporters after the Supreme Court declined to hear the state's appeal of a federal appeals court ruling that said New Jersey couldn't regulate or legalize sports betting.
State Senate President Steve Sweeney (D-Cumberland County) agreed, saying that New Jersey couldn't afford to back down now.
"The economic impact that sports wagering can have on New Jersey is far too important to simply shrug our shoulders and move on," Sweeney said. "New Jersey has been held hostage by this unfair law and the national sports associations long enough. It's time to bring sports wagering to New Jersey."
Ruling Provides Wiggle Room
Lesniak offered two reasons to believe sports betting could be offered in New Jersey in the near future, though the two are not mutually exclusive and could work in concert.
On Monday afternoon, just hours after the Supreme Court announced they would not hear New Jersey's case, he introduced legislation that wouldn't legalize sports betting in the state, but rather decriminalize it.
"Sports wagering conducted at a racetrack or casino under procedures developed solely by the racetrack or casino shall not be considered unlawful gambling and a person shall not be subject to criminal or civil liability under the laws of this State for participating in, or conducting, sports wagering at a racetrack or a casino," the bill states.
This proposal is based on arguments made by both sides and confirmed by the Third Circuit Court's opinion, which found that the 1992 Professional and Amateur Sports Protection Act didn't stop New Jersey from repealing their own sports gambling prohibitions, even if the court found that the federal law would still apply. Essentially, they said that the law means states can't issue licenses to encourage sports betting activity, but they might be in their rights to simply allow unregulated bets to go unpunished.
Many legal experts think this is a long shot at best, and one that would draw fire from both the federal government and major sports organizations.
But Lesniak also pointed out that the Department of Justice could simply refrain from taking action if New Jersey started to allow casinos and race tracks to offer sports betting. In situations where state legislation and federal oversight are in conflict, this is far from unheard of: the most notable example at the present time being the legalization of marijuana in Colorado and Washington, which federal authorities have not sought to prevent. However, the decriminalization aspect of state vs. federal pot laws point out areas that could also be a tripping point for bettors in New Jersey, if the law is not changed at the federal level.
Changes to Federal Law Also Possible
While Lesniak looks to work around the ruling, others are suggesting a campaign to change federal law. Representatives Frank Pallone (D-New Jersey) and Frank LoBiondo (R-New Jersey) issued a joint statement to call for such a move.
"As New Jersey's options for appeal in this lawsuit have now been exhausted, we implore our colleagues in Congress to support federal legislation that will allow the state of New Jersey to implement its law and authorize legalized sports wagering," they wrote.