Saints and Pelicans Each Partner With Harrah's New Orleans Ahead of Lawmaker's Attempt to Revive Failed Sports Betting Proposal
Posted on: December 19, 2018, 02:01h.
Last updated on: December 19, 2018, 02:01h.
Sports betting is not legal in Louisiana, but that isn't stopping New Orleans' two major professional sports teams from partnering with one of the country's largest casino operators. On Wednesday, the Saints of the National Football League (NFL) and Pelicans of the National Basketball Association (NBA) each announced a casino sponsorship with Harrah's New Orleans in a joint press conference.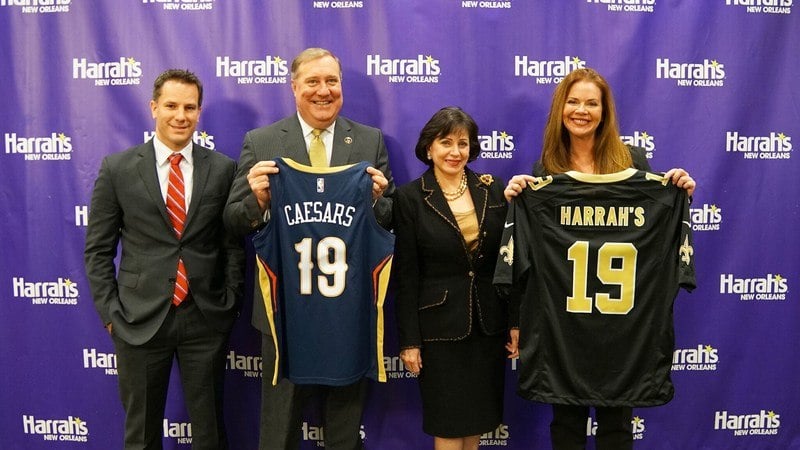 For the Saints, Harrah's will be called "an official casino partner" while the Pelicans will refer to the company as "a proud casino partner."
The agreement is a multi-year deal that begins next year and allows Harrah's to develop in-game features during Saints games. The deal will also permit a "Saints branded area on property" that will be "designated as an official post-game destination."
If the deal does come with a designated in-game area, it won't be the first of its kind for Caesars Entertainment, which owns Harrah's New Orleans.
The company already has a deal in place with the NHL's New Jersey Devils to build "The Caesars Club" – a 5,000 square foot restaurant – inside the Prudential Center where the Devils play home games.
If At First You Don't Succeed…
After the United States Supreme Court struck down a federal ban on sports gambling in May, several states, including Louisiana, moved to enact some sort of state legislation to allow for sports betting.
Senate Bill 266, proposed by State Senator Danny Martiny, never made it to the ballot, dying in a 6-3 committee vote. That hasn't discouraged Martiny from trying again during next year's legislative session, which is scheduled to begin on April 8.
According to a report from Watchdog.org, Martiny thinks that if the proposal makes it to the people, voters will approve sports betting and it could be operative in the state by 2020.
"The mindset of the average citizen now is, 'I don't gamble, I don't care for sports betting, but if somebody else wants to do it, and it reduces my tax liability, I'm all for it,'" he said, according to the report.
The bill was met in opposition in the state's Senate Finance Committee by lawmakers who did not want to expand gambling in Louisiana and who were reluctant to shell out the estimated $25 million it would cost the state to support the measure, according to a report from local news source The Advocate.
In neighboring Mississippi, $116 million have been bet on sports and the state has made over $1 million in tax revenue since sportsbooks in the state began taking bets in August.
Seeing Green
The agreement with the Saints and Pelicans expands on Caesars' growing presence within America's four major professional sports leagues. Along with the Saints and Devils, the company previously secured a stadium deal with the NFL's soon-to-be Las Vegas Raiders, as well as partnerships with the Baltimore Ravens of the NFL and the NBA's Philadelphia 76ers.
Dennis Lauscha, president of both teams, said in a press release that "Harrah's vision for development and commitment to the city mirror that of the Saints and Pelicans and we could not be happier about this partnership."
"New Orleans has a rich heritage in sports, and we are excited to further enhance the game day experience," Caesars CEO Michael Marino said in a press release Wednesday.
The NFL has long stood in staunch opposition to the permeation of sports betting into its league, but in recent months has softened its stance as others leagues and owners of professional sports teams have embraced the industry. A recent American Gaming Association study concluded that the NFL's brand is poised to benefit to the tune of several billion dollars annually as sports betting spreads across the country.