Pennsylvania Police Seeking Man Who Allegedly Ripped Off Skill Gaming Business
Posted on: October 11, 2023, 06:12h.
Last updated on: October 11, 2023, 09:50h.
Police in Pennsylvania are seeking to identify a man who allegedly robbed a convenience store in Dillsburg by presenting a cashier with fake skill gaming vouchers in the amount of $4,000.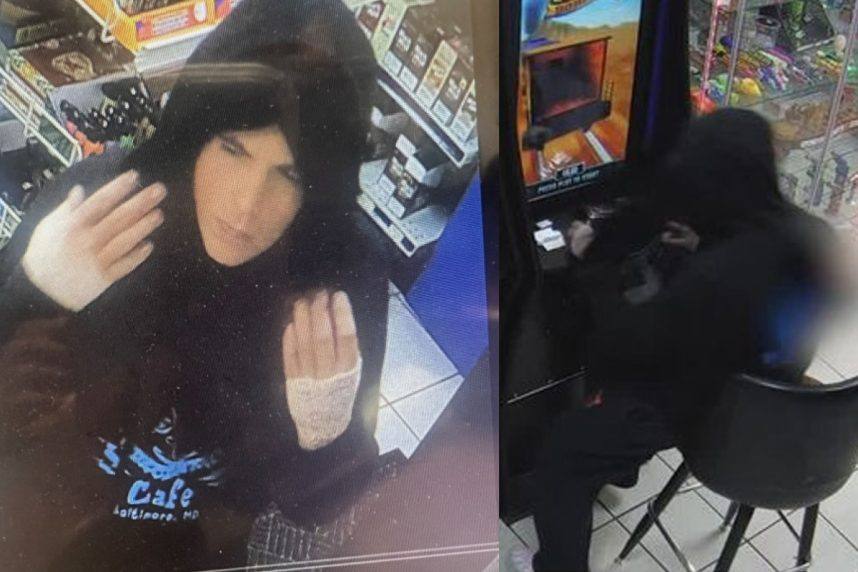 Officers with the Carroll Township Police Department said at around 9 p.m. on Saturday, October 7,  an unknown man wearing a black hoodie with the legend "Bad A** Breakfast Baltimore MD" entered the Dillsburg Tobacco Outlet located at 1 US Route 15 and gave the cashier eight skill gaming vouchers.
The cashier inspected the tickets and paid the man the $4,000 that he claimed to have won on one of the business's Pennsylvania Skill gaming terminals.
The Dillsburg Tobacco Outlet houses four Pennsylvania Skill gaming machines. The controversial gaming cabinets look like slot machines but require players to identify winning pay lines, which the games' supporters argue constitute an element of skill.
Man Allegedly Concealed Identity
Law enforcement said in a news release that the individual being sought apparently wore a wig with long dark hair while inside the tobacco store. He also wore gloves with his fingers exposed.
The alleged theft was uncovered when the route distributor of the games inspected the tickets and found them to be forgeries of valid vouchers. Each of the eight phony tickets was valued at $500.
Anyone with information on the incident or the man's identity is asked to contact the Carroll Township Police Department. More information can be found here.
Skill Gaming Dilemma
Pennsylvania law enforcement estimates that there are more than 70K skill gaming machines in operation across the commonwealth. State police have sought court approval to seize the games but judges have ruled that there's no law explicitly banning the machines, and therefore, law enforcement cannot confiscate the devices.
Pennsylvania's legal and regulated gaming industry, one of the largest in the nation with 17 brick-and-mortar casinos, iGaming, sports betting, truck stop video gaming terminals, and daily fantasy sports, is lobbying state lawmakers to outlaw skill games. The industry contends that the unregulated and untaxed gaming machines are poaching play from their casinos and that skill games provide no consumer protections.
A major argument from the casinos is that skill games can be easily accessed by problem gamblers and underage people, as store clerks and employees are typically responsible for making sure only adults are accessing the terminals. Those workers, the industry contends, are often untrained in gaming operations and don't nearly possess the same safeguards as casino security personnel.
A study commissioned earlier this year by the American Gaming Association found that 56% of US adults living in states where skill games are prevalent believe the machines "increase the risk of crime and endanger employees and customers of businesses where devices are located."
"Unregulated machine manufacturers have built their businesses by duping consumers and small businesses while avoiding taxes, oversight, and consumer protections," said AGA President and CEO Bill Miller. "These results are further evidence that Americans see these machines as a threat that should be eliminated, not regulated."