Pennsylvania Lawmaker Pleads Guilty to Aiding Illegal Gambling Ring
Posted on: August 16, 2017, 10:00h.
Last updated on: August 16, 2017, 12:56h.
Pennsylvania lawmaker Rep. Marc Gergely (D-Allegheny County) has pled guilty to charges of conspiracy and accepting an illegal campaign contribution in relation to his role in a gambling ring that unlawfully placed wagering terminals inside dozens of restaurants, bars, and bowling alley locations.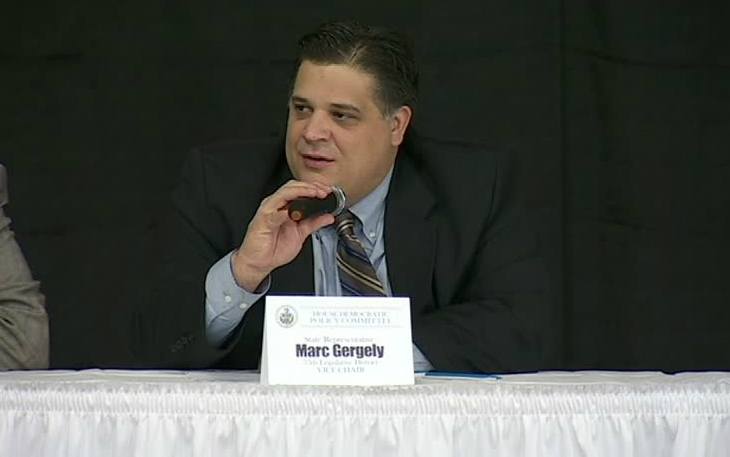 Gergely will be sentenced on November 6, at which time he will be required to resign from the State House, per his plea deal with the Fifth Judicial District Court of Pennsylvania.
Gergely, along with attorney Louis Caputo, who also pled guilty to criminal charges, was accused of colluding with Ronald "Porky" Melocchi to put illegal gambling devices in various establishments in Western Pennsylvania. 
With a state lawmaker and an attorney well versed in the state's liquor law by his side, Melocchi was able to ease business owners' concerns of allowing the gaming terminals into their establishments. Melocchi pled guilty to running the operation and was sentenced to 10 years of probation.
A total of 335 machines at 70 restaurants were confiscated in the bust. Melocchi routinely donated to Gergely's seven campaigns.
Gambling in Pennsylvania is reserved to 12 land-based casinos, pari-mutuel horse racing and off-track wagering, and the state lottery. Pennsylvania also permits some forms of tavern gaming, but only for charitable purposes.
Illegal, for Now
Pennsylvania lawmakers are currently considering a massive gambling expansion in order to bridge the underfunded $32 billion budget they passed in July. Governor Tom Wolf (D) allowed the spending blueprint to pass without his signature, despite being $2.2 billion short.
The Republican-controlled legislature is largely against any tax increase. Wolf wants to raise energy taxes on consumers, close corporate tax incentives, and increase tariffs on the production of Marcellus Shale natural gas.
With little middle ground between the General Assembly and governor, some are looking to new forms of gambling to generate revenue. That includes allowing slot machines in bars, restaurants, bowling alleys, and airport terminals, legalizing online gambling and daily fantasy sports, creating sports betting regulations, and authorizing smaller satellite casinos.
Delayed Resignation
Despite admitting to criminal actions, Gergely has no intentions of walking away from office until his November sentencing. The seven-term lawmaker plans to stay working in the Harrisburg capital until he's forced to resign on November 6, and House Minority Leader Frank Dermody (D-Allegheny/Westmoreland County) thinks that's just swell.
"It's good that Gergely took responsibility for his conduct. That's the right result. Obviously, it's necessary for the people in the 35th District to have representation when important issues are considered in Harrisburg this fall," Dermody concluded.
Ironically, one important issue might be whether to expand gambling.
The General Assembly has long maintained that any convicted legislator can stay in their roles until sentencing. However, the House recently passed a chamber rule that allows the leaders of the House Ethics Committee to motion for a legislator's expulsion immediately after conviction or admission of guilt.
Similar Guides On This Topic