Opposition MP Claims New Sri Lankan Crown Casino Is Illegal
Posted on: November 8, 2013, 05:30h.
Last updated on: November 6, 2013, 07:35h.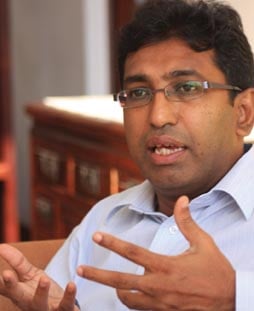 Seems new casinos won't be popping up in Sri Lanka without doing battle first these days. Not if the very outspoken Dr. Harsha de Silva has anything to say about it, anyway, and he most certainly does.
And now, Dr. de Silva – a noted economist and member of the Sri Lankan main opposition party known as the United National Party –  is challenging Deputy Minister of Economic Development Lasksham Yapa Abeywardena regarding the government's decision on future casino projects in Colombo, the nation's capital.
Special Favors Alleged
De Silva claims that much of a new casino bill actually is designed for the benefit of Australian casino mogul James Packer, who owns and operates casinos in Australia, as well as a joint venture in Macau and elsewhere. Packer has so far agreed to invest $350 million in order to build a 36-story skyscraper in the middle of Colombo. The enormous development will serve as a casino and gaming enterprise, and is set to open its doors in 2016 under the name of Crown Colombo.
It's De Silva's contention that the proposed casino bill in Sri Lanka is actually serving to provide tax concessions to what he terms Packer's "illegal casino."
Categorized under the Strategic Development Projects Act, Packer's project – which has been defined as a mixed development project – has been granted a 10-year exemption from income tax by the government, as well as an additional concessionary six percent tax rate for the subsequent 12 years.
The member of the United National Party said that Packer even stated that he was confident that Sri Lanka would approve tax benefits for the development during an annual conference of the Crown Casino.
"That means that the Sri Lanka Parliament is not being controlled by the Mahinda Rajapaksa government but by the Casino King in Australia, James Packer," De Silva claimed during a media briefing.
Discrepancies Over When Legislation Kicked In
De Silva has spoken out against the government's statement that casino legislations in the country have been in force since 1988, saying that the only time that legislation to legalize casinos in Sri Lanka were prepared was three years ago, under the Casino Business Regulation Act No. 17 of 2010, by the Rajapaksa government.
He states that the decision to legalize casinos in the country was adopted in November that same year, and no casino licenses have been issued, even though they had to be issued to casino operators by January 1st 2012.
Therefore, the parliamentarian claims that Abeywardena and Media Minister Keheliya Rambukwella's statement that no new casino licenses have been issued for the new development projects is false.
He stated that none of the casinos currently operating obtained licenses, and added that there was no way that non-existing licenses could be transferred. In addition, he explained that the law states that legal action should be taken against any casino operations being undertaken without a license, yet so far, only small village gaming dens have been targeted.
Going a step further, the economist alleges that in order to benefit from the "illegal" operations, the ruling government allowed these casino operators more than 12 months between the adoption of legislation and the issuing of licenses.
De Silva has now challenged the Promotion Minister to an open debate on the Sri Lankan government's casino issue, as he feels the government and the Minister are hiding the truth about the development of casinos in the capital city with their plan to move casinos currently situated near schools and religious areas.
As yet, there has been no rebuttal from the government to De Silva's claims.