Oklahoma Gov. Kevin Stitt Further Angers Tribes, Signs Two New Gaming Compacts
Posted on: July 3, 2020, 11:07h.
Last updated on: July 3, 2020, 12:12h.
Yesterday, Oklahoma Governor Kevin Stitt (R) signed two additional tribal gaming compacts — a deal the larger and more powerful Native American tribes in the Sooner State argue is illegal.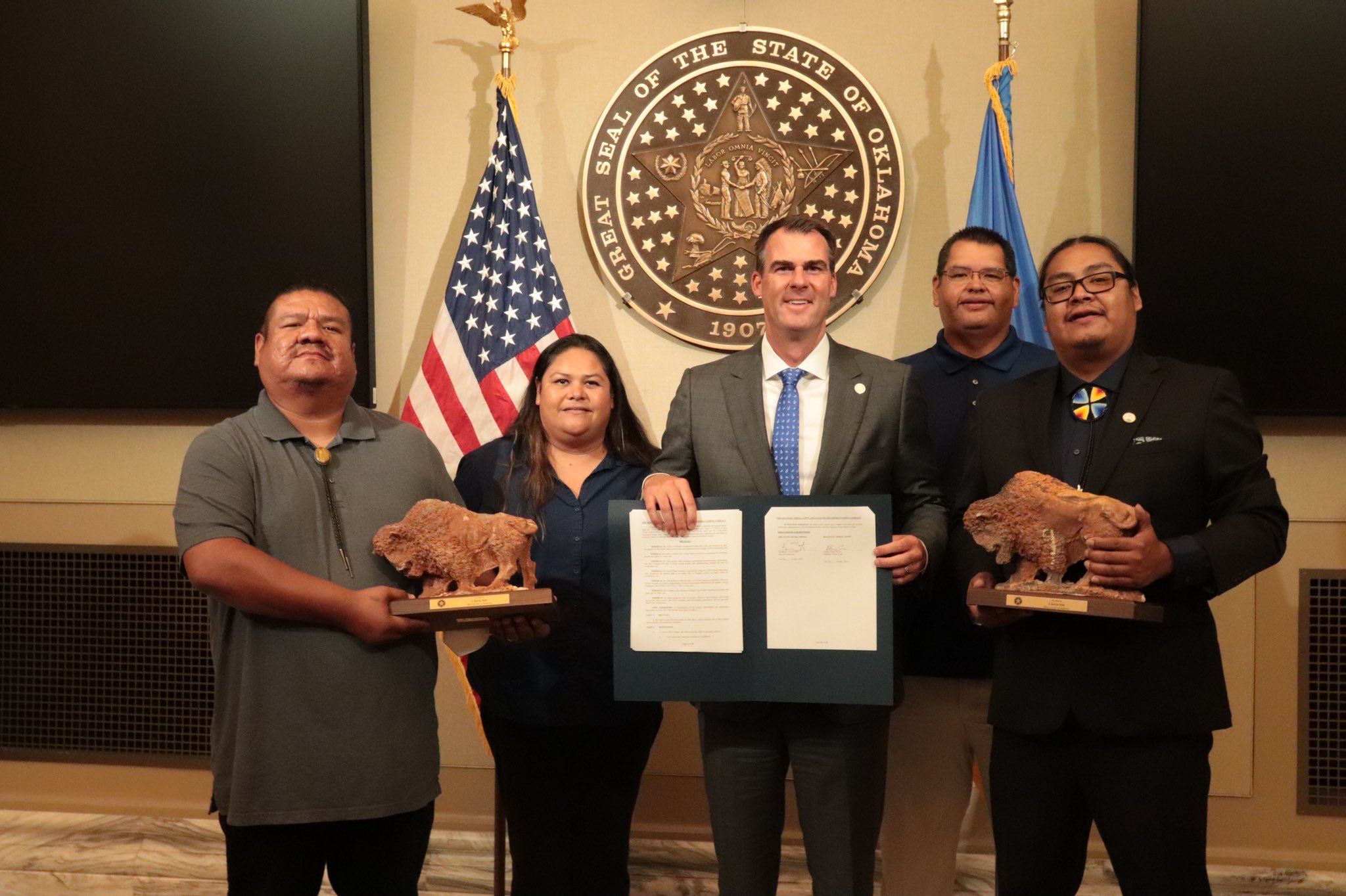 The first-term governor struck deals with the Kialegee Tribal Town (KTT) and United Keetoowah Band of Cherokee Indians (UKB). The arrangements allow tribes to build new casinos on newly acquired land off of their federally recognized reservations.
The KTT — pending federal approval from the US Department of the Interior — gained authorization from Stitt to construct a casino in eastern Oklahoma County at Choctaw Road.
Under the terms of the revenue sharing agreement, the tribe would give the state 12 percent of its gross gaming revenue (GGR) derived from slot machines for the first two years in operation. The rate would increase to 13-15 percent every year thereafter through 2035, the final percentage based on the total annual win.
The UKB compact allows the tribe to build a casino in Logan County, and share 12-15 percent of their slot machine win with the state based on total revenue.
Both compacts do not permit sports betting nor house-banked table games. Revenue from card games not banked by the house (poker, for instance) is taxed at 18 percent in both compacts.
Tribal Uproar
Gov. Stitt is in a legal fight with the state's three largest tribes: Chickasaw, Choctaw, and Cherokee nations. The state received $138.6 million from 35 federally recognized tribes that operate gaming in the latest disclosed fiscal year (2018). The three aforementioned tribes collectively accounted for $90.6 million.
Tribal GGR totaled over $2.92 billion in FY18. Stitt wants more of the gaming haul.
Under their previous unified gaming compacts, which Stitt argues expired after a 15-year run on January 1, 2020, Oklahoma tribes share between four to six percent of their slot machine win with the state. Table games are taxed at 10 percent.
Stitt is demanding the larger tribes negotiate with the state and has suggested a revenue-sharing rate of around 25 percent of their slot win. The tribes have sued the governor on claims that their previous compacts automatically renewed for another 15-year term.
Supreme Decision
The Chickasaw, Choctaw, Cherokee, and six other Oklahoma tribes are seeking input from the state Supreme Court to resolve whether new compacts are needed. They are also asking what sort of authority Stitt has in reaching gaming terms on a tribe-by-tribe basis.
The Native American leaders are additionally challenging the governor's power to expand gaming, as he did with the first two new compacts reached with the Otoe-Missouria Tribe and Comanche Nation by granting them sports betting privileges.
The new agreements signed between Gov. Stitt and the United Keetoowah Band of Cherokee Indians in Oklahoma and Kialegee Tribal Town are neither legal nor helpful," said Matthew Morgan, chairman of the Oklahoma Indian Gaming Association.
"We agree with Attorney General Mike Hunter that Gov. Kevin Stitt unilaterally entering into new gaming agreements with tribal nations violates state law," Morgan added. "For the past year, Gov. Stitt's actions have caused unnecessary strife, costly litigation, and have wasted the state's resources."
Stitt's attorney, Phillip Whaley, told the Oklahoma Supreme Court this week that the court has no authority in overturning the gaming compacts that have already been approved by the Interior Department.
"They are effective federal compacts. Regardless of what this court does, it can't undo that. Perhaps a federal court could," Whaley opined.