Oklahoma Supreme Court to Begin Review of Tribal Gaming Compacts, Sports Betting
Posted on: June 28, 2020, 12:04h.
Last updated on: June 29, 2020, 09:20h.
This week, the Oklahoma Supreme Court is scheduled to begin deliberating whether Gov. Kevin Stitt (R) had the legal authority to grant two Native American tribes sports betting powers under the terms of their new gaming compacts.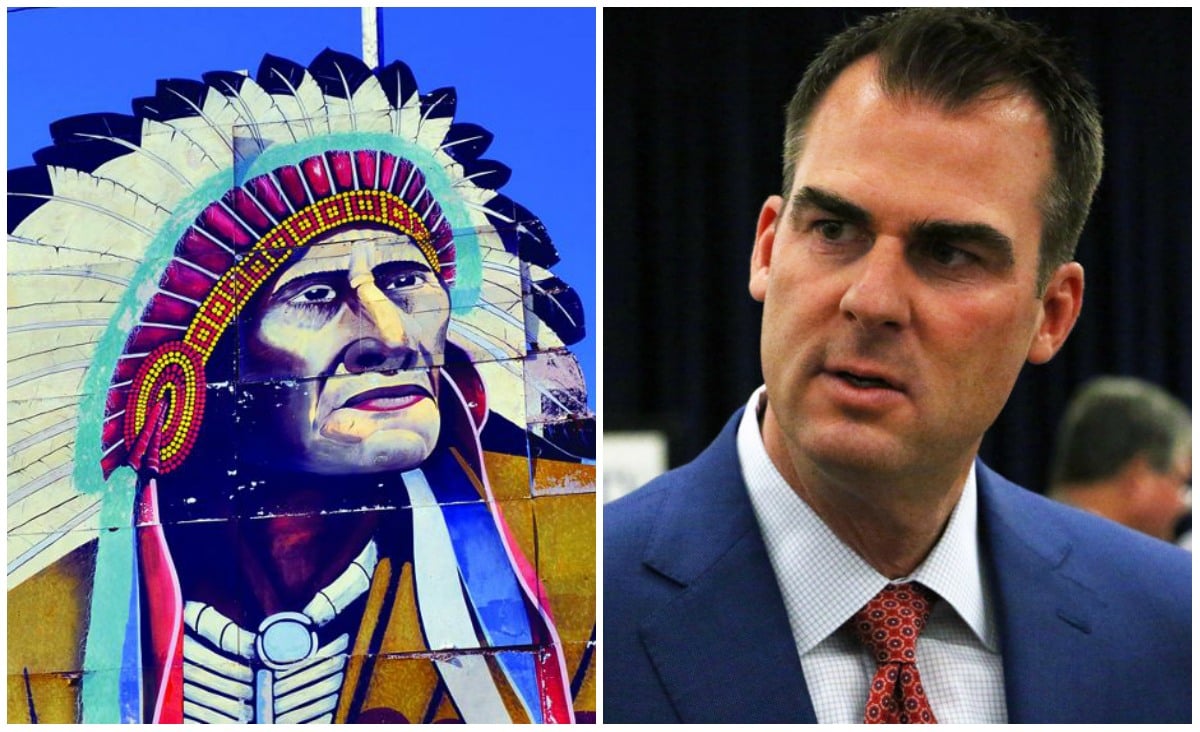 In April, Stitt announced his administration had reached new gaming compacts with the Otoe-Missouria Tribe and Comanche Nation. Those allow the Indian casinos to operate Class III gaming (slot machines and table games). The Otoe-Missouria and Comanche casinos will share between 4.5-6 percent of their gross gaming revenue with the state.
Their deal with Stitt additionally allows them to build new casinos, but new properties would be taxed higher. Most controversial is that the governor's deal with the two Native American groups allows them to operate sports betting — something currently not legal in the Sooner State.
This week, the Oklahoma Supreme Court will take on the matter. State Senate President Pro Tempore Greg Treat (R) and House Speaker Charles McCall (R) have requested the court review the governor's actions.
Stitt has argued that the state's 35 federally recognized tribes that conduct Class III gaming need to negotiate new compacts, as he is under the legal impression that their revenue-sharing contracts expired on January 1.
The state's highest court has several ruling options, including determining that Stitt cannot offer tribes sports betting or other new forms of gambling. The court could also rule that the new compacts have no relevance because their previous compacts automatically renewed for another 15-year term (as other tribes contest).
Complex Compacts
Under the previous compacts, Oklahoma tribes share four to six percent of their slot win and 10 percent on their table game revenue with the state. Stitt's decision to sign new compacts with the Otoe-Missouria and Comanches that actually allows them to pay less has been viewed by Cherokees, Chickasaws, and Choctaws as an effort to cause division among tribes.
Stitt wants more money from tribal casinos, and the Cherokee, Chickasaw, and Choctaw casinos account for roughly 35 percent of all gaming money the state receives annually.
Oklahoma Attorney General Mike Hunter has also opposed the governor's actions. The Republican says Stitt "lacks the authority" to allow tribes to operate sportsbooks.
How a state enters into a gaming compact with a tribe, including whether the Governor may do so unilaterally in contravention of state statute, is a core concern of the state's constitutional structure and is therefore a matter of state law," Hunter wrote the US Department of the Interior (DOI).
However, despite Hunter's request for the Interior Department to reject the new compacts, the DOI accepted them.
State Matter
Oklahoma City federal judge Timothy DeGiusti has been thrown into the legal battle.
Stitt asked the federal district court to provide clarification on his gaming compact powers. But DeGiusti dismissed the motion in mid-June, saying it "would be inappropriate for a federal court to interfere in the resolution of such a sensitive state law matter."
Hunter says that while he was "deeply disappointed" the DOI accepted the gaming compacts, the Otoe-Missouria Tribe and Comanche Nation "cannot begin operating under the terms of these compacts until the many questions that remain pending before the Oklahoma Supreme Court are resolved."