Ohio Daily Fantasy Sports Bill Would Effectively Eliminate DFS
Posted on: September 27, 2016, 03:00h.
Last updated on: September 27, 2016, 03:05h.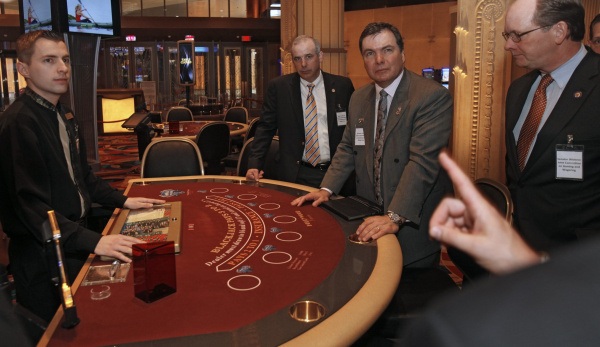 Ohio daily fantasy sports (DFS) remains an unregulated online activity that continues to accept wagers from participants on the outcomes of sporting events. Ohio State Senator Bill Coley (R-District 4) wants to change that reality.
On September 26, Coley introduced legislation in Columbus that would restrict DFS operators like DraftKings and FanDuel from taking a cut of fantasy sports betting pools in exchange for facilitating the contests.
If passed and signed into law by Governor John Kasich (R), SB 356 would revise the state's current law to classify fantasy sports and eSports as "schemes of chance," and grant authority to the Ohio Casino Control Commission to make sure the pools aren't conducted for profit.
Of course, that would essentially eradicate daily fantasy sports in Ohio. Without a financial return for operating the contests, DraftKings and FanDuel would abandon the Buckeye State.
"When you're taking a rake off the top, you're breaking the law and you need to stop doing that in the state of Ohio," Coley said this week.
Rake Over Rake
Coley's legislation would mean that if DraftKings offered a $10 entry contest and 1,000 players partook, the platform would be required to distribute $10,000 in winnings. Current rake varies by entry amount and operator, but the norm ranges between four and 10 percent.
The lower the buy-in level, the higher the rake. DraftKings and FanDuel typically take 10 percent off the pool for a $5 contest.
For higher, premium DFS offerings, the sites reduce the rake. But to lessen your payment to the DFS operators, players must participate in buy-ins that range in the hundreds of dollars.
In a joint statement, DraftKings and FanDuel said, "Sen. Coley is completely on an island, isolated from Ohioans who love fantasy sports . . . Eight states have already passed laws affirming millions of fantasy sports fans can continue to play."
Ohio Lottery Study
Though DFS might be going away should Coley's motion gain momentum, other forms of gaming expansion in Ohio could be on the way.
Kasich, a former presidential candidate who continues to refuse to endorse Republican nominee Donald Trump in critical Ohio, recently commissioned a study on the state's lottery.
Kasich's administration hired Spectrum Gaming Group, a New Jersey-based research firm, at a cost of $601,600, to study the Ohio Lottery. The group concluded that the Ohio Lottery should move from a government operation to a "quasi-public" corporation.
Spectrum found that the lottery's operations are inefficient, and slow to react to market conditions. In addition to recommending that the Ohio Lottery become a somewhat public entity, Spectrum also believes Ohio should consider online gambling and allow the state's seven racino racetracks to install video poker and electronic table games.
Coley, who opposed the state spending over $600,000 on a study, said he's in no hurry to overhaul the lottery or land-based casino industry.
Trump desperately needs to win Ohio to beat Hillary Clinton on November 8. Ohio has correctly selected 28 of the last 30 presidential elections.
Texas Senator Ted Cruz finally endorsed Trump late last week, leaving Kasich and Jeb Bush as the only former Republican primary contenders refusing to back the GOP candidate.