Northern California Wine Country Casinos Offer Shelter Following Firestorm Devastation
Posted on: October 19, 2017, 01:00h.
Last updated on: October 19, 2017, 12:17h.
Northern California's wine country casinos are providing temporary shelter for those recently displaced by the  wildfires that have burned over 36,000 acres in Napa, Sonoma, and Lake counties.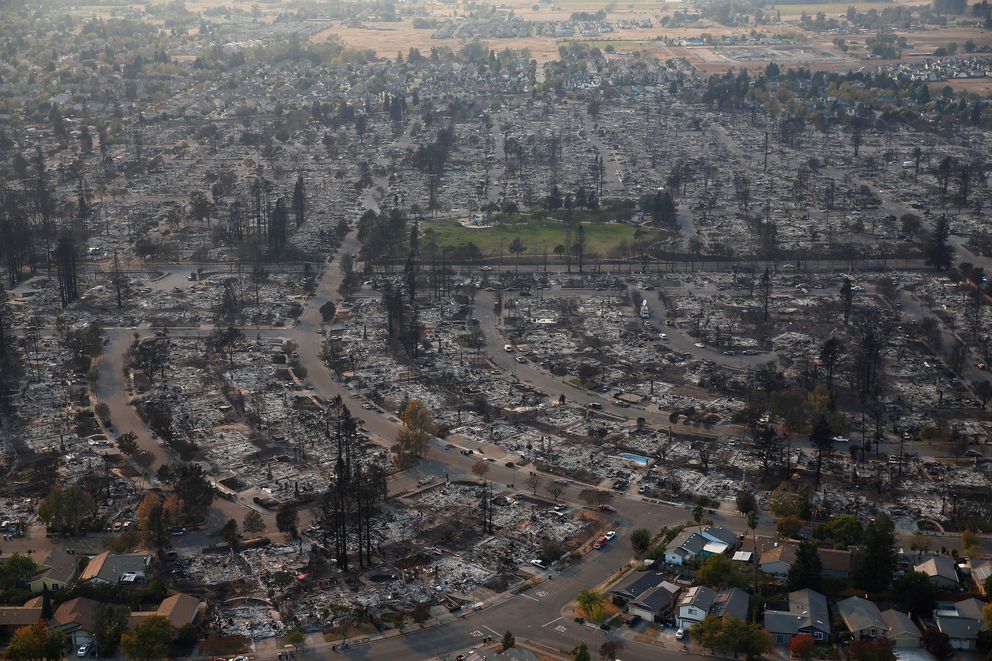 Twin Pine Casino in Middletown and Graton Casino in Rohnert Park both became evacuation centers earlier this month, as a dozen large fires simultaneously broke out on October 8. The collective blazes, known as the Tubbs Fire, are responsible for 19 fatalities and the destruction of more than 5,100 homes and buildings.
Owned and operated by the Middletown Rancheria of Pomo Indians, the Twin Pine Casino transformed its event center into a Red Cross Shelter. The casino said it has taken in hundreds of people from when it opened its doors to the displaced on October 6, which has continued through this week. Only about 30 people remain in the shelter, and the resort plans to close it next week.    
The Federated Indians of Graton Rancheria also pitched in, but instead of creating a shelter, offered some of their casino's 200 hotel rooms for evacuees at no charge. The Graton Casino has also pledged $1 million to fire relief.
"We are heartbroken for the countless neighbors, families and friends whose lives have dramatically been affected by this ongoing devastation," Graton Rancheria Chairman Greg Sarris said.
Helping Hands and Handouts
When it comes to providing aid in the wake of both natural and man-made disasters, gaming operators have been on the forefront of those industries that have stepped up.
In California's wine country, it's nothing new.
Twin Pine's 25,000-square-foot casino featuring slots and table games has only been open for two years. And during that short time, it's already become an evacuation center on four occasions.
"We've been through so much in the last two years, it's insane," Twin Pine spokesman Kyle Lewis told the San Francisco Chronicle. In addition to three fires, Twin Pine also provided shelter in January during the Hidden Valley flooding.
Macau, China's special gaming zone, was hit by Typhoon Hato in August. The strongest storm to hit the city in 53 years, casino operators quickly opened their checkbooks to provide aid. Las Vegas Sands gave $12.3 million, while Wynn Resorts donated $3.75 million.
And it's not only when casualty strikes a region where casinos are invested. After Hurricane Harvey pummeled Houston, Texas, Wynn Resorts gave $3.75 million to assist local families, specifically the financially disadvantaged.
In response to the deadliest mass shooting in modern US history, Las Vegas Strip properties have donated both money and resources to help the hundreds of victims and their families.
Fire Cause Still Unclear
There's still no clear cause as to what ignited the recent Tubbs Fire. Right now, fire experts believe that high winds may knocked down power lines at numerous locations as their best guess.
Pacific Gas and Electric Company (PG&E) initially said winds were at "hurricane strength" in the days after the fire began. But investigators say that's not true, and weather data shows that wind speeds topped out at around 41 mph.
State law mandates that power lines be built to withstand wind speeds of at least 56 mph. The first lawsuit against PG&E has already been filed.
Similar Guides On This Topic