NHL Winger Thomas Vanek Questioned in Gambling Ring Case
Posted on: July 23, 2014, 05:30h.
Last updated on: July 22, 2014, 09:57h.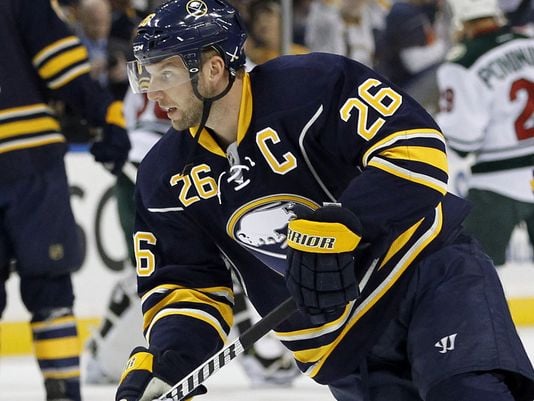 Thomas Vanek has a lot to look forward to in the seasons to come. The winger just signed a three-year contract with the Minnesota Wild that's worth a total of $19.5 million after spending more than eight years with the Buffalo Sabres. But his time in upstate New York may have also landed Vanek in the middle of a situation that has nothing to do with his on-ice performance.
Vanek has become a part of the investigation into the Marina Restaurant and Bar near Rochester, New York. That establishment was raided last month in connection with money laundering and illegal gambling activity, some of which reportedly included betting on sports events.
Tip Leads to Media Attention
The hockey star was spotted at a federal courthouse Monday, reportedly there in some capacity connected to that investigation. It was likely that Vanek's participation would have gone unnoticed if not for a tip to local media that led television station WHEC-10 to send a camera crew to interview him as he left the building.
Predictably, Vanek offered no comment at the time. However, he did later release a statement that gave some explanation of his appearance in Rochester.
"Representatives of the US Federal Government have asked for my cooperation in an investigation," said the statement distributed by Vanek's agent, Steve Bartlett. "I am not the subject of any investigation or prosecution. I will fully cooperate with the US Federal authorities in their investigation or in any proceedings arising out of it." Bartlett also told local media that Vanek is only a witness in the case.
Local Connections for Vanek
It's not clear what Vanek's relationship with the Marina is exactly, though there are a couple of hints that could suggest a connection. Most obviously, Vanek's time in Buffalo (and before that with the AHL's Rochester Americans) put him in the general vicinity of Rochester for much of his professional career. In addition, one of the restaurant's owners is Nathan Paetsch, a defenseman who spent parts of six seasons playing with Vanek on those teams.
Paetsch was not one of the three men indicted after the raid on the restaurant, however. Two managers, Paul Borrelli and Joseph Ruff, were arrested at their homes around the time of the raid, while a third man, Mark Ruff, was also charged in the case. Police allege that the three men used offshore Internet gambling sites in order to run an illegal gambling business from 2012 to 2014.
If the defendants were to be convicted on all charges, they could potentially face both jail time and significant financial penalties. According to some reports, the group could be forced to forfeit as much as $76 million, which is the amount of all wagers made through the illegal gambling business.
Vanek has been a solid NHL player since his debut with the Buffalo Sabres in the 2005-2006 season. He remained with Buffalo into the 2013-14 season, when two separate trades took him first to the New York Islanders and then to the Montreal Canadiens. Vanek played in the 2009 NHL All-Star Game, and was a 2nd Team All-NHL player for the 2006-2007 season.