New Hampshire Gov. Chris Sununu Tells Boston Radio Station Sports Betting Will Start By January
Posted on: October 26, 2019, 10:58h.
Last updated on: October 27, 2019, 11:41h.
New Hampshire Gov. Chris Sununu couldn't pass up the opportunity to get in a little dig at his neighbor last week. The Republican made a surprise call to WEEI, a sports radio station in Boston, after host Mike "Mut" Mutnansky lamented that Massachusetts hasn't acted on it yet.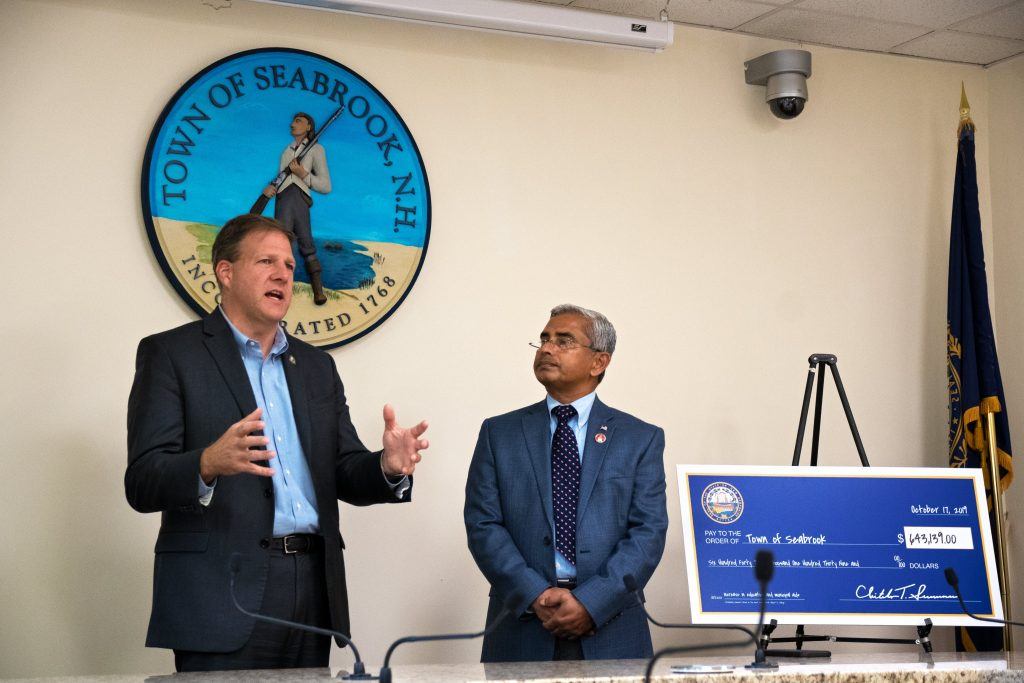 New Hampshire, meanwhile, has received proposals from vendors wanting to offer online applications and brick-and-mortar sportsbooks. The New Hampshire Lottery is also looking for a vendor to run its portion of the state's sports betting operations.
Sununu told radio host Mut that sportsbooks of some type would open in New Hampshire before the NFL season ends, and the governor can't wait to bet on the New England Patriots.
I told my team, I said, 'Look, I don't care how we do this, but we're going to be fair about it,' and I'm going to be placing a bet on Tom Brady and the over before this season is done," Sununu said. "You guys have got to go fast, fast, fast. And it looks like we're on track, we're hoping to get some stuff open as soon as January."
The governor later added that he's been a proponent of legalizing sports betting since the Supreme Court overturned PASPA in May 2018. When the New Hampshire legislature met earlier this year, they passed a sports betting law that allows the state lottery to regulate it.
Lottery: No New Details Yet
According to a timeline the lottery published when it released the solicitation back in August, officials expected to begin contract negotiations with selected vendors on or around Oct. 17.
Last month, the lottery announced it received 13 proposals, but it did not break down how many of those responses were for the lottery portion, the online portion, the retail portion, or any combination of those.
A spokesman told Casino.org last week they were still "working through the RFP process" and would share additional information later.
Per the lottery's initial timeline, state officials expect to approve final contracts on Nov. 20. Six weeks from that date is New Year's Day.
'A No-Brainer'
When New Hampshire takes that first bet, it'll join Rhode Island as the only New England states to offer legal sports betting. Like Rhode Island, New Hampshire expects to court Massachusetts residents to cross the state line and place bets.
"It's just like a no-brainer, and it's always baffled me why Massachusetts has kind of put the brakes on this one," Sununu said.
He later added:
"When it comes to sports betting, it's just an awesome opportunity for us. I know Rhode Island jumped into it, they've been doing very well with it. Massachusetts seems to be this black hole, so we're going to pick up the slack until Massachusetts figures out what to do. But until then, again, in the next few months, you're going to see it up here, and I think it's going to be an awesome opportunity for everyone."
New Hampshire's population is only about 1.4 million, so it will look to Massachusetts – particularly, the Boston metropolitan area – to generate a good portion of its sports betting revenue. The region is one of the most frenzied sports markets in the US, with teams in all four major sports leagues that have passionate fan bases.
Boston's metropolitan population is 4.7 million, with about 4.3 million residing in Massachusetts. Nearby, the Worcester, Mass. metropolitan area consists of more than 900,000 residents who are also within a short drive to the New Hampshire border.