NFL Combine Odds Released, Top College Prospects Prepare for Their Biggest Test
Posted on: February 27, 2019, 11:22h.
Last updated on: February 27, 2019, 11:22h.
NFL Scouting Combine 2019 is officially underway, as the best draft-eligible players in college football converge on Indianapolis this week to be poked, prodded, timed, interviewed, and measured for their pro potential.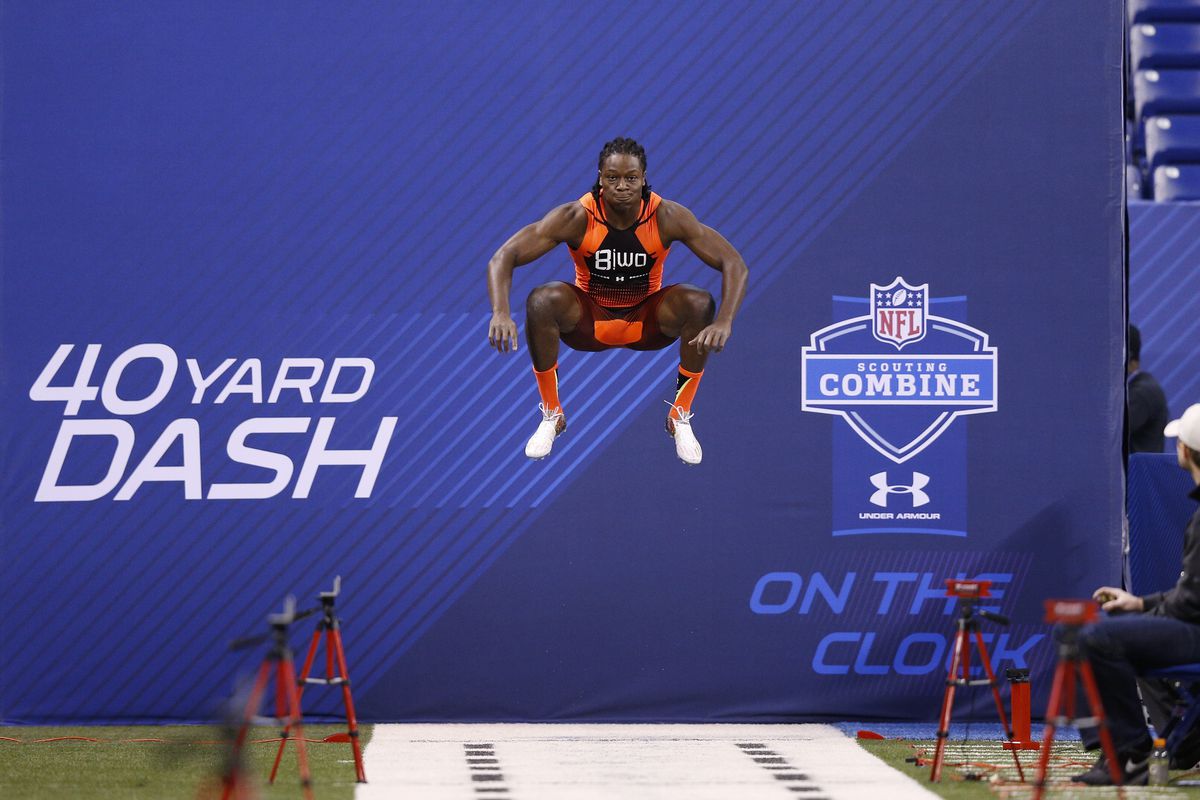 The first wave of players started arriving on Tuesday for measurements and medical exams, and the actual workouts will run Friday through Sunday.
It's a critical few days for all the NFL prospects. A slow time in the 40-yard dash can knock a running back's stock down a few rounds and potentially cost him millions of dollars on his first contract. Meanwhile, a fifth-round prospect who lights up the drills can scream up a scout's draft board in a hurry.
Two years ago, Washington University wide receiver John Ross blew everybody away by breaking an eight-year-old record in the 40-yard dash. Considered a second-round pick by some at the time, the Cincinnati Bengals took him ninth overall after watching his scintillating 4.22 time.
Will Records Fall?
The 40-yard dash is the premier event at the Combine, so it's no surprise that most of the prop bets being offered on the event focus on the sprint.
Whether or not someone will break Ross' record is one of the bets you can make, with +200 odds on "Over 4.22 seconds" and -300 on "4.22 seconds or more."
It's the first time Americans can legally bet outside of Nevada on the NFL Combine since the US Supreme Court struck down a federal ban on sports betting last May. A total of eight states have regulated sports betting in some form to date.
One New Jersey-based sports book is offering 40-yard dash odds on a handful of the Combine's highest-profile players.
Oklahoma QB Kyler Murray — over/under 4.37 (-110)
Stanford RB Bryce Love — O/U 4.38 (-110)
Penn State QB Trace McSorley — O/U 4.65 (-110)
Oklahoma WR Marquise Brown — O/U 4.39 (-110)
Ole Miss WR D.K. Metcalf — O/U 4.59 (-110)
While bettors in the Garden State can finally place a legal bet through a regulated operator, this list also shows just how far the market has to go. Bryce Love suffered a late-season ACL injury and won't run, and neither will Marquise Brown, which makes one wonder how closely oddsmakers are actually keeping tabs, with some still showing these players in their odds as of Wednesday.
Run, Rich, Run!
While he won't be drafted, the NFL Network's Rich Eisen will continue his tradition of running the 40-yard dash, suit and all.
Eisen has run the race in an average of 6.05 seconds since ditching the dress shoes for cleats a few years ago.
And yes, you can bet on that, too. In fact, Eisen claims he's been hard at work training, and bookmakers are expecting him to go low — his over/under has been set at 6.02 seconds, with heavy juice on the under (-180).