New York Regulates Daily Fantasy Sports
Posted on: August 4, 2016, 12:15h.
Last updated on: October 12, 2016, 03:28h.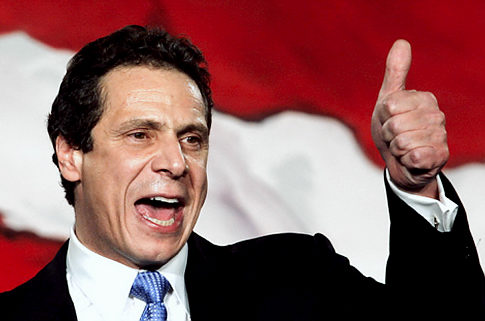 Daily fantasy sports is back in action in New York State, as Governor Andrew Cuomo signed a bill into law last night that legalizes, licenses and regulates the contests.
New York becomes the seventh state to regulate DFS, and by far the largest. It is the industry's second biggest market after California, with an estimated 600,000 customers shared by both DraftKings and FanDuel.
When New York AG Eric Schneiderman successfully litigated to have the contests closed down, protestors took to the streets.
Schneiderman targeted DFS in the wake of the Ethan Haskell insider trading scandal, launching an investigation that ultimately concluded the contests amounted to illegal gambling and accused DraftKings and FanDuel of false advertising and "repeated and persistent fraudulent acts," in its use of first deposit bonuses.
DFS on Death Watch
Following various legal skirmishes, the two sites agreed to shut down their operations in New York and in return Schneiderman would refrain from pursuing litigation which would hold them accountable for billions of dollars in fines.
There was a suggestion then that DraftKings' and FanDuel's eventual compliance could have been down to their reasonable confidence that New York was willing to pass laws to legalize DFS.
"Last fall, amidst national controversy, some pundits put fantasy sports on death watch," said FanDuel's CEO Nigel Eccles in an official statement.
"But when the calendar turned to 2016 and fantasy sports fans had the opportunity to be heard and legislators had the opportunity to act, the dynamic quickly shifted, and one by one states began to recognize this is a game loved by millions; millions who should be able to play and deserve the basic protections afforded to consumers in all major industries."
Eccles noted that more than 10,000 letters had been sent and nearly 3,000 calls made to lawmakers backing his company's case.
Litigation for Past Infractions Remains
"As I've said from the start of my office's investigation into daily fantasy sports, my job is to enforce the law and protect New Yorkers from illegal or unscrupulous conduct," said his old adversary, AG Schneiderman.
"Today, the Governor has signed a bill that amends the law in order to legalize daily fantasy sports contests, with consumer protections for New York players. I will enforce and defend the new law."
But Draftkings and FanDuel aren't completely out of the woods yet, according to Scheiderman, who said that his false advertising and consumer fraud litigation against the sites would continue to move forward.
Senator John Bonacic, the main sponsor of the bill, meanwhile said that he hoped his legislation might serve as a model for the rest of the country.
Similar Guides On This Topic