New Hampshire & The Return Of The "Frankenstein" Casino Bill
Posted on: February 24, 2015, 01:16h.
Last updated on: February 24, 2015, 01:16h.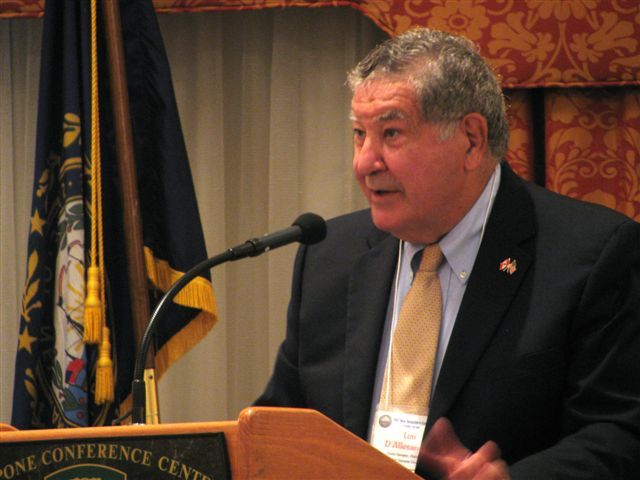 New Hampshire's casino bill is back from the dead, and Senator Lou D'Allesandro, its main sponsor, is nothing if not dogged. He also has a nice assortment of one-liners.
D'Allesandro, who has sponsored a New Hampshire casino bill every year for the last 16 years, introduced his new bill to the legislature this week with the words: "This thing has been examined and re-examined; I feel like a cardiologist."
Unfortunately, his opponents have their own witty comebacks: "If the senator feels like a cardiologist, then this bill is Frankenstein," said Steve Duprey, of Casino Free NH.
D'Allesandro sees himself as the new Larry Pickett, the New Hampshire politician who established the New Hampshire Lottery in 1964 following a legislative push that lasted 10 years, although the senator is now lagging a full six years behind his role model.
Killed Off by One Vote
Last year he got agonizingly close. In fact, in 2014 it would have been impossible for New Hampshire to come closer to legalizing casino gambling without actually doing it. Following a two-hour debate, D'Allesandro's casino bill was killed off by one vote. Deputy Speaker Naida Kaen, who was presiding over the session, cast the deciding vote following a 172-172 tie.
The new bill is similar to the last bill in that it would authorize the creation of two casinos in the state, with up to 5000 slot machines and 240 table games. It proposes one large casino resort with a license fee of $80 million, and a smaller casino with a fee of $40 million.
D'Allesandro said communities would reap an estimated $25 million in revenue sharing, with 3 percent of gross slot revenues of a projected $10 million going to the local host community. Meanwhile, just over $3 million would be divided between the host county, the state Department of Health and Human Services for problem gambling and adjoining communities.
16th Time Lucky?
Despite D'Allesandro's near miss last year, there remains significant opposition to casino gambling in the state, not least from Duprey and his organization. Many feel that casino gambling is an unsatisfactory quick-fix solution for a cash-strapped legislature. "No legislature can bind a future legislature," complained Representative Patricia Lovejoy. "This is a gimmick, a feel-good provision, and one that's been tried before."
D'Allesandro may have a powerful ally, however, in the form of Governor Maggie Hassan who has said she believes that a casino would boost the state's economy. It's unknown whether she would support a bill that proposed two casinos, although she has said she would be "responsive to constructive dialogue" on the subject.
Should it prove to be 16th time lucky for the tenacious senator, however, there will be concern next door in Massachusetts, which recently voted to expand its own casino industry. Casino gaming across the state border would undoubtedly harm the casino market there.