MtGox Files for Bankruptcy in Japan as Bitcoins Disappear
Posted on: March 4, 2014, 05:30h.
Last updated on: March 3, 2014, 09:55h.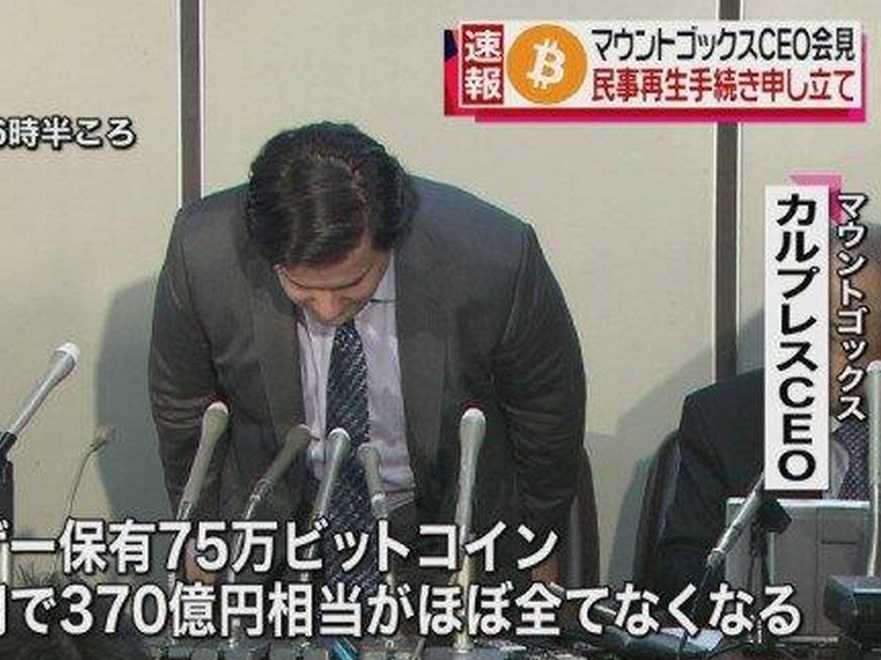 Following our story last week about the shutdown of the Tokyo MtGox Bitcoin exchange, if Bitcoin users were hoping it was just a small bump in the road, it's looking as though there won't be a quick solution to their problems. Late last week, the site announced that it had filed for bankruptcy protection in Japan, admitting to the world that the site had lost a total of 850,000 Bitcoins over the past few years.
"There was some weakness in the system, and the Bitcoins have disappeared," said MtGox CEO Mark Karpeles during a Tokyo news conference. "I apologize for causing trouble."
Massive Loss of Bitcoins Unexplained
Overall, the company says that it lost 750,000 Bitcoins that belonged to customers at the exchange site. Another 100,000 Bitcoins that belonged to the site itself were stolen. At the time of this writing, those Bitcoins would be worth approximately $555 million, based on the trading price on the Bitcoin Price Index at CoinDesk.
In addition to the lost Bitcoins, MtGox also said that it had debts of about $63.6 million.
The problems that plagued MtGox were not unique to that exchange, however. Hackers had found ways to create transactions that were fraudulent, meaning that MtGox employees had to independently verify each transaction after sifting through thousands of bogus exchanges.
But while other exchanges had found ways to address and solve these issues, MtGox had not been able to do so nearly as quickly or effectively.
"It was a well-known issue that every major exchange in the Bitcoin community knew about and had solutions for," said Jordan Kelley, CEO of Robocoin, a Bitcoin ATM manufacturer. "MtGox did not."
The Bitcoin Association agreed with this assessment, saying that the issues involved only affected those exchanges that were not using "the most current best practices."
Perhaps most amazing about the MtGox theft is the sheer scale of the issue. According to estimates, the 850,000 stolen Bitcoins means that approximately seven percent of all Bitcoins in existence are now missing. Experts say that the problem could have been even larger if MtGox still enjoyed as big a market share as it did a couple of years ago. However, many experts on Bitcoin have been shying away from the site for some time now.
"Most professional users moved away from MtGox months ago," Reuters quoted one anonymous core developer of Bitcoin as saying. "By June 2013, the final nail was in the coffin for U.S. users."
Recent numbers support what this developer says; last May, MtGox processed over 66,000 transactions each day. But by January, that number had fallen to just 9,000.
The problems for MtGox aren't over yet. At least one Bitcoin user has filed a lawsuit against the company. Gregory Greene – who says he had about $25,000 in equivalent Bitcoins – filed a lawsuit in the U.S. District Court in Chicago last week, accusing MtGox of failing "to provide users with the level of security protection for which they paid."
Despite the issue, CEO Karpeles said that he didn't want his company's failings to be seen as a problem for Bitcoin itself.
"The Bitcoin industry is healthy and it is growing," Karpeles said. "It will continue, and reducing the impact is the most important point."