Michigan Man Wins $4M Instant Lottery Game for Second Time
Posted on: June 23, 2020, 12:42h.
Last updated on: June 23, 2020, 06:45h.
Michigan's instant lottery has made one man very wealthy, as a 50-year-old from Monroe County hit a $4 million jackpot for the second time in his life.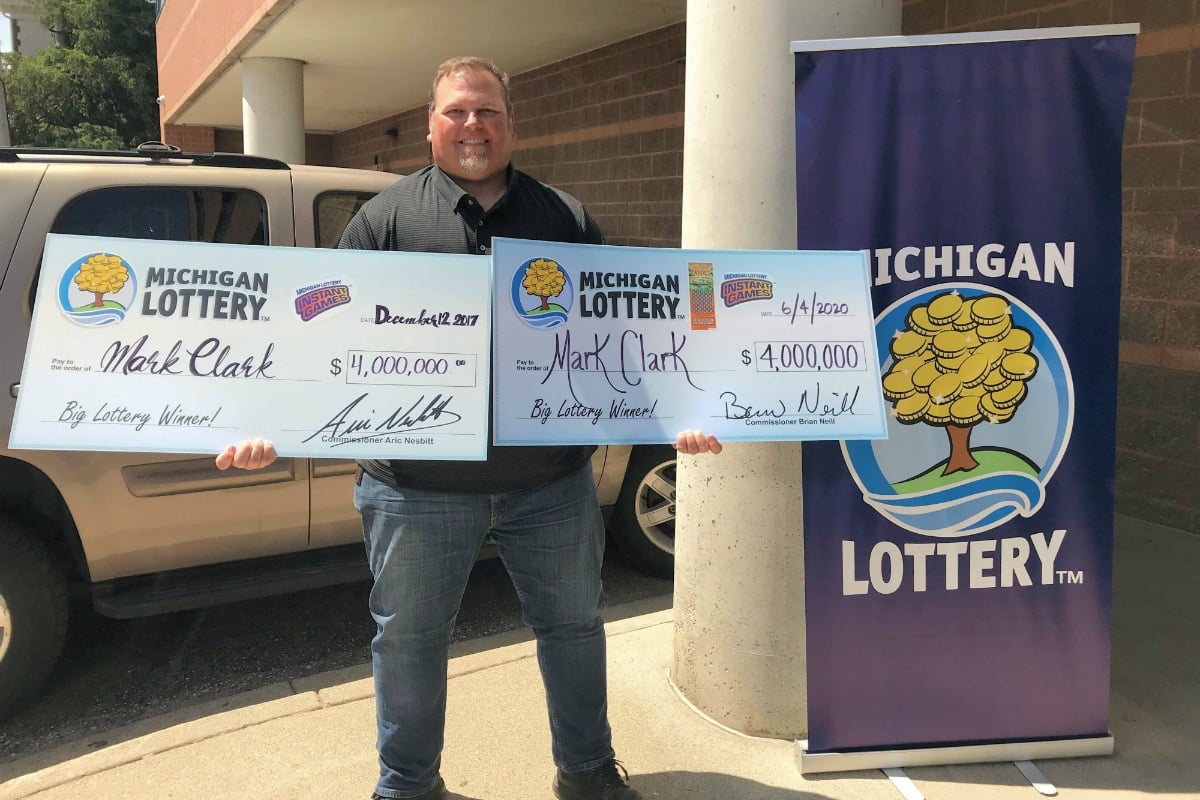 Mark Clark might just be the luckiest man in all of Michigan. This week, he bought a $30 instant lottery scratch-off at the Ash Market convenience store Carleton.
After he scratched off the $150,000,000 Payout instant game ticket, he discovered he had hit the jackpot – a $4 million prize. The game printed three winning $4 million tickets, and Clark was the fortunate buyer of the third and final grand prize.
I scratched the ticket off in the store with a coin my dad gave me about 10 years ago. We lost him about a year ago after some health struggles, and I can't help but think maybe that lucky coin helped me win this," said Clark.
In December 2017, Clark won $4 million playing the Michigan Lottery's Millionaire's Club instant game.
"You don't think you'll win millions once, and you definitely never think it would happen twice," added Clark. "It's hard to put into words exactly what I am feeling."
Insurmountable Odds
People play the lottery for decades without ever winning anywhere near $1 million, let alone $4 million. But to do it twice? A CNBC report in 2019 focused on a recent string of lottery winners striking it rich more than once. It's an unexplainable phenomenon.
"If someone already wins the lottery, then the chance that the person wins the lottery a second time will be exactly the same as the probability they win the lottery if they had not previously won the lottery before," said Harvard statistics professor Dr. Mark Glickman. "In other words, having previously won the lottery does not improve or make less likely the chance of winning the lottery in the future."
The more lottery tickets one purchases does slightly improve one's chances of winning, but the odds for each ticket remain the same. For instance, Powerball jackpot odds are 1 in 292,201,339. If a person buys three tickets, their odds are 3 in 292,201,339.
Ronald Wasserstein, executive director of the American Statistical Association, says additional tickets "increases your relative chance. But your absolute chance is so tiny that people don't grasp it."
Fortunate Son
The Michigan Lottery's $150,000,000 Payout game comes with overall odds 1 in 3.12, meaning one out of a little more than every third ticket will win some prize although most wins are relatively small.
Clark said he retired after the first time he won the lottery and spent more time with his family. That included fishing with his father until his death last year.
I've had a lot of ups and a lot of downs in my life, but everything is pretty amazing right now."
Clark took the one-time cash lump sum of $2.5 million rather than the annuity payments for the full amount.