MGM Resorts Bringing GameSense Program to NFL Stadiums
Posted on: September 1, 2023, 12:30h.
Last updated on: September 1, 2023, 01:47h.
MGM Resorts is bringing GameSense, a responsible gaming program developed by the British Columbia Lottery Corporation (BCLC), to nine NFL stadiums where sports betting in some form will be allowed this season.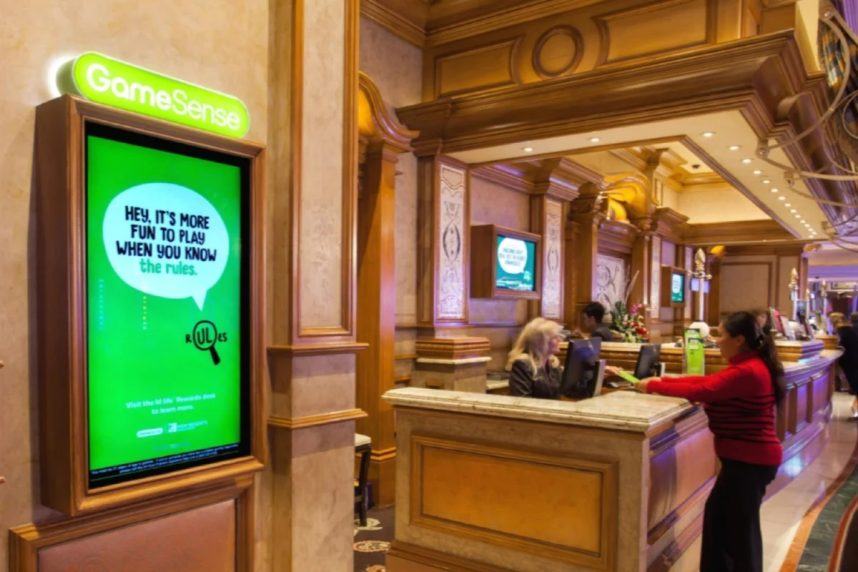 MGM partnered with GameSense in 2017 ahead of its opening of MGM Springfield in Massachusetts. Bay State gaming regulators mandate that the GameSense program be offered inside its commercial casinos.
MGM later expanded its GameSense license and partnership with the BCLC to all of its North American properties. Many MGM casinos today offer GameSense kiosks or staffed outlets to provide responsible gaming assistance.
GameSense is a player-focused responsible gaming initiative. It encourages gamblers to adopt behaviors and attitudes that reduce the risk of developing gambling disorders. GameSense provides educational materials on casino games so players can better understand the odds they face and the house's advantage. The resource additionally provides players with tools to manage their play to ensure that gambling remains a form of entertainment.
GameSense Rollout
MGM Resorts announced Thursday that it will promote the GameSense program inside nine NFL stadiums this year.
Those venues are Acrisure Stadium (Pittsburgh Steelers), Allegiant Stadium (Las Vegas Raiders), Empower Field at Mile High (Denver Broncos), Ford Field (Detroit Lions), GHEA Field at Arrowhead Stadium (Kansas City Chiefs), M&T Bank Stadium (Baltimore Ravens), MetLife Stadium (New York Jets, New York Giants), Nissan Stadium (Tennessee Titans), and State Farm Stadium (Arizona Cardinals).
Online sports betting is permitted in each of those nine states. MGM is live in all nine through its BetMGM sportsbook platform. BetMGM is an official sportsbook partner of the NFL and sponsors NBC's Sunday Night Football. 
"This is an extraordinary moment as we work with our team partners to raise awareness about responsible gaming," said Rhea Loney, chief compliance officer at BetMGM. "Throughout the season, GameSense will play a pivotal role in reminding football fans who bet to do so responsibly."
Words of Advice
An MGM spokesperson told Casino.org that GameSense images will appear alongside BetMGM branding on stadium screens inside the nine venues. BetMGM reps earlier this year pledged to elevate its responsible gaming messaging in the sportsbook and iGaming operator's messaging.
The GameSense program, as it relates to sports betting, encourages bettors to understand the various markets, such as moneylines, point spreads, over/under, and props.
GameSense recommends that bettors decide how much they want to bet and how much they are comfortable losing before making their first wager.
"If you lose it, it's gone, and you're done. Don't try to win it back," the program stresses. Chasing losses is one of the most common problems that lead to gambling disorders.
Along with bringing GameSense to the NFL fields, MGM and BetMGM announced that the companies will jointly contribute at least $1 million annually to responsible gaming initiatives centered on relevant research, advocacy, and prevention.
NFL Stadium Sports Betting
NFL owners signed off on allowing in-stadium sportsbooks to remain open during games earlier this year. Only the Washington Commanders' FedExField has a stadium sportsbook beyond the ticket gates.
State Farm Stadium, home of the Arizona Cardinals, has a standalone sportsbook on the stadium grounds that's operated by BetMGM. The BetMGM Sportsbook at State Farm Stadium is a 17,000-square-foot sportsbook equipped with a massive video screen, 27 self-service wagering kiosks, and a staffed sportsbook counter. The venue is open 365 days a year, with gameday reservations highly encouraged.
Though in-stadium sportsbooks won't be available this year at the nine NFL venues where GameSense messaging will be prominent, fans of legal betting age will be able to place bets from their mobile devices.