MGM, Caesars and Red Rock Revenues Rise as Vegas Casino Sector Thrives
Posted on: November 8, 2016, 03:00h.
Last updated on: November 8, 2016, 10:23h.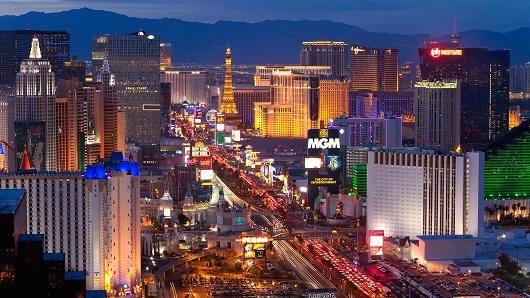 A booming Las Vegas Strip helped Nevada's casino giants to a positive Q3, as MGM Resorts International, Caesars Entertainment Corp and Red Rock Resorts each posted their financial results for the quarter this week.
Although in the case of Caesars, it's still a work in progress.
MGM Resorts' Jim Murren said that a strong showing in Vegas offset results in Macau and helped domestic properties to their best quarter of net revenue since the advent of the last recession.
"Boy, we've been waiting for this call," Murren told investors on Monday morning, as he delivered results well above analysts' expectations. Overall earnings skyrocketed 675 percent to 93 cents per share, while total revenue rose 20 percent to $2.73 billion, above Wall Street's expectations of $2.39 billion.
Strength of the Market
Domestic net revenue climbed 16 percent to $1.9 billion, while domestic casino revenue rose 23 percent, aided by the company's acquisition of the Borgata in Atlantic City and an increase in both table games and slots revenue.
"We continue to see strength in the Las Vegas market and believe that the company can drive growth across all room segments in the fourth quarter, despite a challenging comparison," said Murren. "Based on these current trends, we remain confident in our ability to further increase room revenues in 2017."
Caesars Revenues Increase $643 Million in Losses
Caesars financial results are a little more complicated to decipher. The company is attempting to extricate its main operating unit (CEOC) from a messy Chapter 11 bankruptcy as it tries to reorganize some $18 billion of its industry-high debt burden. Thus, CEOC is not a reportable, nor is the segment, and those that are reportable are referred to as "Continuing CEC".
Continuing CEC reported a 3 percent increase in revenue for Q3 to $986 million, yielding a net income of $5 million and an overall loss $643 million.
Despite this, Caesars' CEO Mark Fissora urged us to look at the bigger picture. "We achieved another solid quarter of performance, with a 3 percent increase in revenues paced by strong results in Las Vegas, our largest market," he said. "We also continued to expand margins, a testament to the progress we have made to manage costs effectively while delivering enhanced customer service."
Meanwhile, it's not just the Strip going from strength to strength, the Vegas locals market is in robust health too.
Red Rock Resorts, Station Casinos' parent, reported that net revenues increased 7.3 percent to $347.1 million, the 14th consecutive quarter of year-over-year growth. Net income was $33.4 million, up 59.2 percent, year-on-year.