Manchester United Becomes First Soccer Club to Launch Branded Online Casino
Posted on: October 14, 2016, 04:00h.
Last updated on: October 14, 2016, 03:01h.
Manchester United has launched its own branded online casino, a move the club is hailing as a "world-first for both United and football."
The casino, operated by the team's official betting partner, Marathonbet, will offer classic live-dealer casino games like roulette and blackjack to fans, while they are "immersed in a Manchester United-themed environment."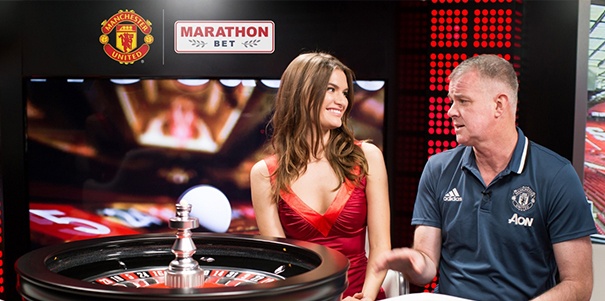 Meanwhile, club greats Andy Cole, Gary Pallister and Jesper Blomqvist turned out for a star-studded official launch at Man Utd's Old Trafford stadium on Thursday evening.
"Our aim is to offer an immersive environment where players can enjoy online live roulette while having the feel of being part of Manchester United," said Christian Melin, Marathonbet's Head of Gaming R&D. "It's also a chance for fans to mix with like-minded players. The co-branded environment is truly one of a kind in the industry and offers players a unique gaming experience."
Alternatively if you're a City fan, it's probably your idea of hell.
Betting On Red
The synergy between soccer and sports betting is nothing new, especially in the UK, which is the world's biggest regulated sports betting market. Most English Premier League teams host some type of sports book offering linked to their fan websites, as they seek to monetize their huge global fan-bases.
Meanwhile, fans ramp up their engagement in the games by adding a financial investment to their existing emotional one. It's win-win. And Man Utd has a lot of fans, allegedly 659 million of them across the globe, according to the club's own dubious research. That's one in ten of the entire global population.
But, other than the fact that Manchester United play in red and black, the tie-in with roulette is less clear. And it's likely to draw criticism in a country already alarmed at the amount of gambling advertising linked to its sporting events.
Much has been made of the fact that, this season, exactly half of all Premier League teams have the logos of online casinos or sports books emblazoned across their shirts.     
Gambling Backlash
There is also concern about the ubiquity of ads for online bookmakers sandwiching daytime TV soccer games, and a fear that they are "normalizing" gambling to children.
Last week it was reported that the UK government could be about to ban all gambling advertising on TV and social media before the 9pm "watershed," which in the UK, refers to the point in the evening after which it is permissible to broadcast adult content.   
Much of the UK press has turned against the gambling industry, partly as a result of the perceived proliferation of gambling advertising, and Man Utd's new online casino will add fuel to the fire.