Luis Suárez World Cup Bite Becomes Payday for Lucky Gamblers
Posted on: June 26, 2014, 05:30h.
Last updated on: June 26, 2014, 03:24h.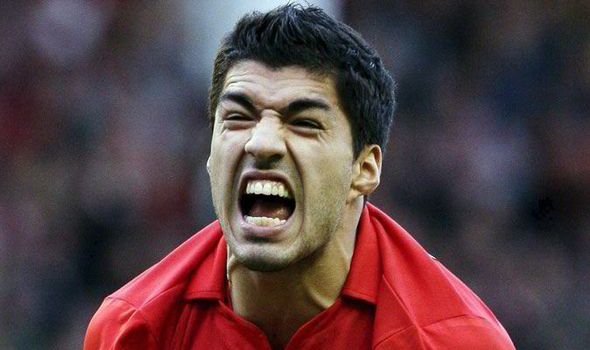 When Luis Suárez bit Giorgio Chiellini during Uruguay's World Cup match against Italy, 60 million Italians were outraged. When Diego Godin scored minutes later, 3.3 million Uruguayans celebrated their team's move into the tournament's knockout stages. And for perhaps 200 or so gamblers on various sports betting sites, Suárez's appetite for Italian earned them some quick cash.
While the entire world is outraged at Suárez's behavior on the soccer field (or football pitch, if you prefer), a few lucky bettors had the foresight to think that he might just get back to his chomping ways. Lucky individuals on Betsafe, Betsson, and perhaps other sites placed bets before the tournament that Suárez would bite at least one player, and are now finding themselves more than a few bucks richer as a result.
A History of Biting Opponents
That might seem like a very unusual prop bet, but it makes a lot more sense if you're aware of a little bit of Suárez's playing history. Back in 2010 while playing for Ajax, Suárez bit PSV player Otman Bakkal on the shoulder. The Royal Dutch Football Association would suspend him for seven games, and Suárez apologized.
But apparently, he hadn't learned his lesson. In 2011, he was transferred to Liverpool of the English Premier League, and enjoyed two reasonably successful years with the club before biting Chelsea player Branislav Ivanovic in April 2013. This time, Suárez was banned for ten games in an attempt to send a strong message about his behavior.
Hundreds Cash In
With that in mind, it's not surprising that a few gambling sites might let their customers have a little fun with a prop bet on Suárez biting an opponent for a third time. And with odds of 174-1 or so, it may not even have been an awful wager, given the player's history.
Sure enough, many gamblers bit on the offering. And when Suárez bit on Chiellini's neck, their faith in Suárez's temperament paid off.
According to ESPN's Darren Rovell, a total of 167 gamblers cashed in on bets at Betsson. Some winners showed off their unlikely winning bets on Twitter and other social media sites, seemingly as surprised as anyone else that they won the bet. According to Rovell, one Norwegian won as much as $3,300, thanks to the bite.
Similar tales came in from Betsafe. At that site, about 40 more players cashed in on Suárez bite bets, with one winning nearly $3,000. And while this is the kind of bet that can potentially lead to controversy (there was no foul called on the play, though not even Suárez appears to be denying it happened at this point), a spokesperson for the site assured bettors that they would be paid off. After all, they said, it was "obvious" that Suárez bit Chiellini.
While it's all fun and games (and profits) for the bettors who cashed in on the incident, it may not be a laughing matter for Suárez. FIFA is currently investigating the incident, and another ban seems likely for Suárez, which could be devastating to Uruguay's World Cup hopes. Meanwhile, 888 Poker has said that they are reviewing their sponsorship relationship with Suárez.
"We will not tolerate unsporting behavior," the company said on Twitter.