Las Vegas Strip Pro-Israel Rally Attracts Hundreds After Deadly Massacre
Posted on: October 9, 2023, 07:37h.
Last updated on: October 9, 2023, 10:59h.
Several hundred people assembled in front of The Venetian on the Las Vegas Strip Sunday to show their support for Israel.
Many waved Israeli flags or sang to support the Jewish state at the "Stand Up Against Terror. Stand With Israel" rally.
The gathering came after Hamas terrorists invaded Israel on Saturday. They brutally killed over 800 victims and wounded more than 2,000, mostly civilians, on the Jewish holiday of Simchat Torah. A hundred or more victims were abducted and are believed to be held hostage now in tunnels in Gaza.
Among those who died in Israel were 260 concertgoers.
The Las Vegas Review-Journal spoke to several individuals at the rally. Some of the supporters were born or had direct ties to Israel. Others spoke about wanting to fight against anti-Semitism.
Attendees Speak Out
Anna-Lee Brody was among those who showed up at the rally on the Strip. She was born in Israel and served in its military. For 20 years, she has been residing in Las Vegas. Her Israeli cousin hid for 25 hours to prevent being kidnapped by the terrorists on Saturday. The Israel Defense Forces (IDF) eventually rescued him.
If we don't start standing up as a world and saying we need to put a stop to anti-Semitism, we need to put a stop to the destruction of the Jewish people, it will never stop," Brody told the Review-Journal.
Meital Barda, born in Israel and has resided in the U.S. for 12 years, was also in attendance.
This is just to show solidarity with my country," Barda told the Review-Journal.
Rivka Lagstein also spoke to local media. She and her daughter, Nicole, attended the rally.
It feels like a second Holocaust," Rivka Lagstein, who also was born in Israel, told Las Vegas TV station KLAS. "Israel has never had anything like this before. I feel helpless that I cannot do more but to rally."
"My heart is shattered into pieces, and I am broken," UNLV student Gaia Steinberg further told KLAS. "When I tell friends of mine who don't have a direct connection to it, they don't understand."
Remembering Concert Victims
On Sunday, U2's Bono remembered the killed concertgoers during his Las Vegas show, according to reports from The Jewish Chronicle. 
"We sing for our brothers and sisters, who they themselves were singing at the Supernova Sukkot festival in Israel," Bono said during the concert. "We sing for those. Our people. Our kind of people. Music people, playful, experimental people. Our kind of people. We sing for them."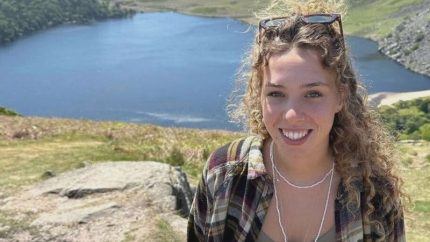 During the Israeli concert, heavily armed terrorists flew onto concert grounds using paragliders or drove there in vans.
Numerous victims were gunned down or reportedly had their legs shot off by the terrorists so that they couldn't run away. Others died after terrorists threw grenades into the crowd. There are reports that some concertgoers have been kidnapped and sexually assaulted during the attack.
The concert, Universo Paralello Festival, was held in a rural area near the border with the Gaza Strip. About 70 percent of the concertgoers were from Israel. Others in attendance were from the U.S., Europe, and Australia, according to Yedioth Ahronoth, an Israeli news outlet.
Among those in attendance was Kim Danti, 22. She is an Irish-Israeli. Danti has now been reported missing. She reportedly called her family when the shooting started, but they have not heard from her since.
Her mother, Jennifer Danti, spoke to ABC News over the weekend.
"They just shot everywhere. They just shot them, slaughtered them like dogs," Jennifer Danti said. "I want the world to condemn this behavior."
Remembering Vegas Shooting
Saturday's mass shooting at the Israeli concert comes six years after a mass shooting on the Las Vegas Strip. Shooter Stephen Paddock injured 546 concertgoers and the security guard, Jesus Campos, who confronted the shooter shortly before the massacre.
Initially, 58 died from the shooting spree. Two additional victims later died from their wounds. An additional unnamed victim who passed away recently was added to the list of 60.
Most Read