UNLV, Las Vegas Jewish Residents Heartbroken Over Atrocities in Israel
Posted on: October 11, 2023, 01:30h.
Last updated on: October 11, 2023, 03:22h.
UNLV's Jewish students and members of the wider Las Vegas Jewish community continue to mourn following widespread massacres in Israel.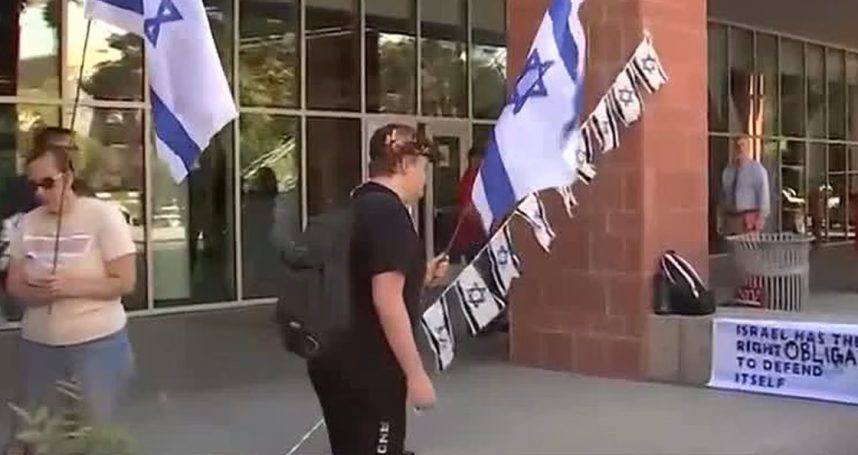 Events are being held on campus this week to remember the victims killed in atrocities undertaken by Hamas terrorists who snuck into Israel from the Gaza strip on Saturday, and massacred innocents ranging in age from infants to grandmothers.
We are hurting and coming together as a community," Rabbi Tzvi Bronchtain, who directs the Chabad Jewish student organization at UNLV, told Casino.org. "Almost everyone knows someone who was affected."
The terrorists murdered over 1,200 people. Many were gunned down in their homes. Some 260 young concertgoers were killed, as well.
Among the dead are at least 22 Americans.
Approximately 3,200 Israelis also were wounded. Dozens of civilians and military personnel were taken hostage, including Americans. They are now believed to be held in tunnels in Gaza.
Kat Huddleston, who helps direct UNLV's Hillel Jewish student organization, said she and the students "are heartbroken."
It is painful to watch the images of young people fleeing a peaceful music festival, women and children running for their lives, and the pictures of those who are still hiding out in their safe rooms and bomb shelters in order to stay safe from Hamas," Huddleston told Casino.org.
Reports emerged this week, too, of brutal atrocities, including babies who were decapitated and women who were gang raped.
More recently, enemies of Israel began attacking from other fronts, such as from Syria and Lebanon, news reports revealed.
The Israeli military is expected to invade Gaza soon to try and destroy the Hamas operation and attempt to recover the hostages.
Since news of the attacks, Bronchtain said the Jewish community at UNLV began praying, as well as performing acts of kindness in memory of those who were killed. They are also educating students on the campus about the difference between cold-blooded murder and "unfortunate civilian deaths" during a war, he added.
Campus Events
Hillel Las Vegas and other groups are holding a candlelight vigil at 6:30 p.m. Thursday on the campus's Valerie Pida Plaza to remember the victims. Members of the wider community are welcome.
The organization also will sponsor a support meeting for students on Wednesday.
On Monday, a "Stand with Israel" rally was held at Pida Plaza. It was organized by the Students Supporting Israel chapter at UNLV.
The organization's president, Gaia Steinberg, an Israeli American, is a student at UNLV, but her current thoughts are on Israel.
"It feels like my heart is in Israel and it's just breaking into little pieces," she told Las Vegas TV station KSNV.
Las Vegas Residents Activated
Many UNLV students have friends and family in Israel, many of whom are in the nation's military. They are among the 360K reservists currently being activated by the Israel Defense Forces (IDF).
First-year UNLV medical school student, Miriam Borvick, told KSNV on Monday about her brother and cousins.
He is in a bomb shelter and there are rockets flying over his head," Borvick said. "We have dozens of cousins who are being called up right now who are being deployed. We even have friends here in Vegas who've been called back, and we are worried that my husband could be called back too."
In recent days, residents throughout Clark County have been gathering to show solidarity with Israel. A pro-Israel rally was held on the Las Vegas Strip. U2 singer Bono recalled the Israel massacre during a Las Vegas concert.
Nevada Gov. Joe Lombardo, R, also recently spoke at a local synagogue where he said:
"In the face of this devastation, we must come together — now more than ever — and stand with our Jewish brothers and sisters and the state of Israel."