Las Vegas Strip Pro-Israel Demonstrators Demand Release of Hostages
Posted on: October 30, 2023, 07:52h.
Last updated on: October 30, 2023, 01:53h.
Hundreds of people assembled in Las Vegas Sunday night to call for the safe release of hostages who were kidnapped from southern Israel and continue to be held by Hamas.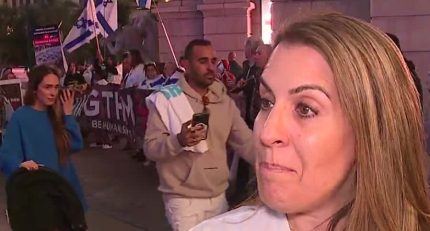 The "Bring Them Home Now!" rally was held outside the Forum Shops at Caesars on the Las Vegas Strip, next to Caesars Palace.
During the rally, protesters held Israeli and U.S. flags and sang the Israeli national anthem, "Hatikvah," to show support for the embattled nation. Organizers also placed some 30 empty strollers on the sidewalk. In each stroller was a picture of a missing child who was kidnapped.
"We are demanding to bring them back home right now. With no conditions," Ofra Etzion, Israeli American Council regional director, was quoted by the Las Vegas Review-Journal.
Hamas is believed to be holding 239 hostages in a maze of tunnels in the Gaza Strip. More than half of those being held have passports from 25 different countries, Reuters reported. Included are several Americans. The hostages were kidnapped from southern Israel during an October 7 massacre.
Some 1,400 victims were killed during the day of atrocities, with reports indicating some were beheaded, raped, set on fire, or slaughtered in front of their families.
In recent days, some relatives of the hostages have backed the idea of exchanging the hostages for Hamas members now imprisoned in Israel.
No Exchange for Prisoners
The Israeli government and many others apparently reject the proposal.
"The whole exchange thing, that has been brought about, of exchanging thousands of terrorists for the life of one Jew, I think is wrong," Dafna Noury of Las Vegas said at the rally.
If you are going to trade for hostages, how do you prevent this from happening again — until you wipe out Hamas?" Las Vegas resident Marjie Shapiro added. "And then, can you really trust Hamas?"
So far, only four of the kidnapped hostages have been released by Hamas.
Israeli military forces are currently attacking the Gaza Strip to target Hamas leadership and destroy its infrastructure. Many on both sides have been killed or injured during the conflict, which is also hampering the ability of humanitarian organizations to deliver aid to Gaza residents.
As the situation unfolds, violence and threats of violence to Jews have spread to other parts of the world, including the U.S.