Las Vegas Soccer Stadium Approved by City Council
Posted on: December 19, 2014, 11:41h.
Last updated on: December 19, 2014, 11:42h.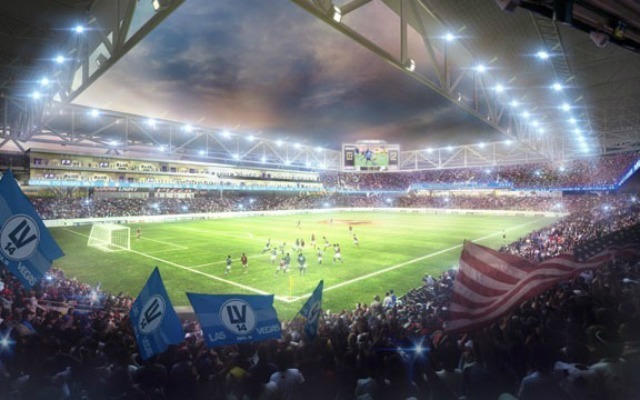 Major League Soccer in Las Vegas moved one step closer to the goal line this week, as the Las Vegas City Council voted 4-3 to approve subsidies for a controversial $200 million stadium project that hopes to entice the sport to the city.
The City Council has agreed to contribute $25 million towards the construction of the 24,000-seat venue in Symphony Park, plus a further $31.5 million on improving infrastructure at the site.
Meanwhile, the developers will contribute $133.5 million toward construction costs and will cover the cost of acquiring the franchise, which is expected to top $100 million.
According to, Justin Findlay, managing partner of co-developers Findlay Sports and Entertainment, the stadium would take 18 to 24 months to build.
Should Las Vegas not be chosen by MLS as an expansion team in advance, the stadium would not be built.
Mixed Feelings
Despite a real desire for a major league team in Las Vegas, reactions to the idea of a soccer team have been mixed, mainly due to concerns about the cost to the taxpayer, and perhaps partly because Americans aren't completely sure whether they love soccer enough yet, a factor that could affect the profitability of the venture.
However, the Las Vegas sports books are always a better indicator of the public mood in the matters than any survey ever could be, and the record handle taken at the World Cup in June would suggest a Las Vegas appetite for soccer, and betting on it, is huge.
The sports books reported the biggest handle ever recorded during the month of June, usually the slowest time of the year. Some large sports books on the Strip even reported "NFL Football-like" crowds watching Team USA matches.
The City Council has been negotiating the stadium deal with development partners Cordish Cos. and Findlay Sports and Entertainment since last May, however the concept of a downtown stadium has been in the pipeline for years, and Mayor Carolyn Goodman, one of its most vocal proponents, said it will create jobs and boost economic development.
Forward Thinking 
"Our charge is to help the downtown sustain a viability as a place to come to," she said. "We're forward thinking and none of us like the status quo. You can't go backwards."
MLS was quick to issue a statement praising the council's decision. "We applaud Mayor Goodman and the Las Vegas City Council for approving the measure to support a public-private partnership to build a new soccer stadium in downtown Las Vegas," it said. "We look forward to continuing our discussions with the Cordish Company and Findlay Sports & Entertainment regarding a possible expansion team for Las Vegas."
And it might not be the only major sports team winging its way to Las Vegas soon.
MGM Resorts International is understood to be in preliminary talks with a group that wants to bring a National Hockey League Team to Las Vegas to play at its $350 million new sports arena.
The 20,000-seater MGM-AEG Arena is currently under construction behind New York New York and is expected to be completed in early 2006.