Adam Meyer "Sports Consultant to the Stars" Charged With Extortion, Claims Insanity 
Posted on: March 19, 2015, 04:19h.
Last updated on: March 19, 2015, 04:19h.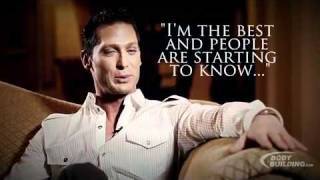 Adam Meyer, the self-proclaimed "Sports Consultant to the Stars," who was arrested in December and charged with wire fraud, extortion, racketeering and brandishing a firearm, is pleading insanity. In order to hammer the point home, he is also claiming he's a secret government agent.
Meyer, the CEO of betting consultancy site Real Money Sports, which charged clients up to $250,000 for sports betting advice, made frequent TV and radio appearances as a handicapper.
A tireless self-promoter, he claimed he had a "64.8 percent edge" over the bookies and that he won over $1 million betting on the Green Bay Packers at Super Bowl XLV. According to his website AdamWins.com, "Adam is box office money, and the heavy hitters know it. His client list reads like the front page of Variety."
However, according to the indictment against him, he also bilked one of his clients, Gary Sadoff, 64, owner of the Badger Liquor Company of Wisconsin, out of $25 million. The indictment states that Sadoff began buying tips from Meyer back in 2007.
The handicapper initially referred Sadoff to a group of bookmakers with whom he falsely claimed he had no commercial relationship. In 2008, Sadoff was tricked into wiring $1.2 million to accounts secretly controlled by Meyer.
Wong Number
When Sadoff later decided he wanted to put the kibosh on his gambling habits, Meyer told him his life was at risk because Meyer owed money to a fictional bookie gangster named Kent Wong.
Meyer explained to Sadoff that Wong believed that, because the two men were business partners, Sadoff was also accountable for the debt. Meyer would even telephone Sadoff pretending to be Wong, threatening and demanding money from the businessman.
The situation escalated when Sadoff explained he could no longer send any more money. Meyer and "an associate" flew to Wisconsin and threatened Sadoff with a gun, until he agreed to provide a further $9.8 million.
Hedging his Bets
Meyer is employing the "public authority" defense, claiming that his crimes were committed at the behest of the US government and law enforcement agencies for whom he was an undercover agent. The relevant authorities deny this.
According to documents obtained by the Milwaukee Journal Sentinel, he also claims that he was working for Major League Baseball, the National Basketball Association and an NCAA Division 1 football team investigating illegal betting operations.
And in case that fails, he's also pleading insanity, just to hedge his bets.
Meyer, who is now out of jail having posted a $1 million bail bond thanks to the Green Bay Packers, is currently confined to a drug rehabilitation center in his native Florida.