Las Vegas Sands Launches Global Philanthropic Program
Posted on: April 8, 2014, 05:30h.
Last updated on: June 13, 2022, 10:07h.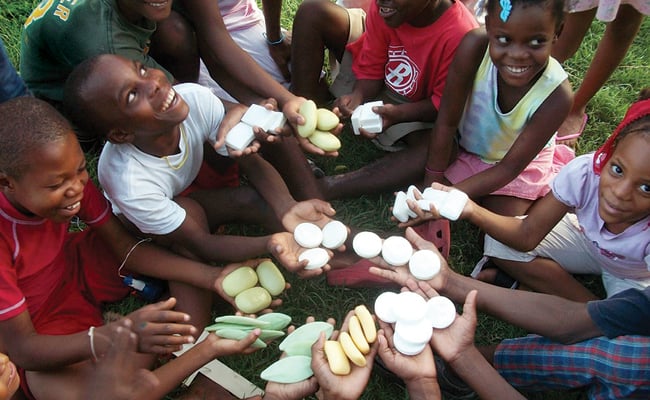 While we may not always be the biggest fans of his efforts to stamp out online gambling in the US here at casino.org, we are prepared to admit that Sheldon Adelson may not be all bad. Nope, we haven't been on grandpa's hooch again, we're merely applauding the news that Las Vegas Sands Corp has unveiled a multimillion-dollar philanthropic corporate citizenship program that aims to promote good causes in the US and beyond.
The program – known as Sands Cares – is to be funded from Adelson's own sizeable pockets (he's worth a cool $38 billion) and has already pledged $7 million to the University of Nevada at Las Vegas (UNLV), plus $1 million to the Clean the World charity, a global nonprofit organization that recycles discarded soap and shampoo products for use in Third World countries.
Civic Responsibility
"We need to take our place globally as a company," said Las Vegas Sands president Michael Leven. "In my view, we really haven't been good enough at this type of stuff in the past."
Leven added that the company is in now in a "much better place financially" than it was a few years ago. He's not kidding; LVS has a market capitalization of more than $67 billion, the largest in the gaming industry. "It speaks to the employees that we have a global perspective," he added. "We have to take our rightful place. I think we want to be recognized globally in terms of civic responsibility. That goes with the territory."
The initiative at UNLV – which spans five years –  will benefit the Las Vegas William F. Harrah College of Hotel Administration (generally considered one of the best hotel training schools in the country) and help create a new building for the school, as well as a "global professional and executive education program." The Center for International Hospitality and Gaming Education – which is being created through the Las Vegas Sands donation – will train future hotel-casino industry executives to work in Nevada and around the world.
Clean the World
Meanwhile, the donation to Clean the World, which amounts to the charity's largest gift ever, will help to promote global hygiene. Moreover, Venetian and Palazzo employees will volunteer their time to create hygiene kits to be used in Las Vegas homeless shelters, while 100,000 more kits are earmarked for global disaster relief efforts. LVS began supporting Clean the World in 2011, and has since helped recycle waste products into 367,000 bars of soap. It made a donation to the charity in the wake of the Philippine Typhoon, but, as Leven says, it's too easy to help only during emergencies: "Write the check and away it goes. What we wanted was a planned program where we don't have to wait for emergency. We're going to do this as part of our budget process."
"This partnership is monumental for our mission to propel the global hygiene revolution," co-founder and executive director of Clean the World Shawn Seipler noted. "LVS' willingness to step beyond the normal product recycling partnership shows a deep commitment to this cause."
The program has also pledged to offer a "more cohesive approach to corporate giving and support in local communities where Las Vegas Sands operates," promising to "fine-tune its efforts to address the most pressing issues in its local communities through property-level support of initiatives that make local communities more livable and attract people to the area."
Sands Cares will certainly help to show large casino companies in a positive light, perhaps a necessity for the industry at a time when voters in America and around the world decide whether to allow new casino resorts into their communities. Plaudits, Mr. Adelson, and until the next anti-online-gambling tirade, we take it all back.
Similar Guides On This Topic