Las Vegas Football Stadium, Backed by Sheldon Adelson, Subject of Contention at Tourism Meeting 
Posted on: March 24, 2016, 02:36h.
Last updated on: March 24, 2016, 02:37h.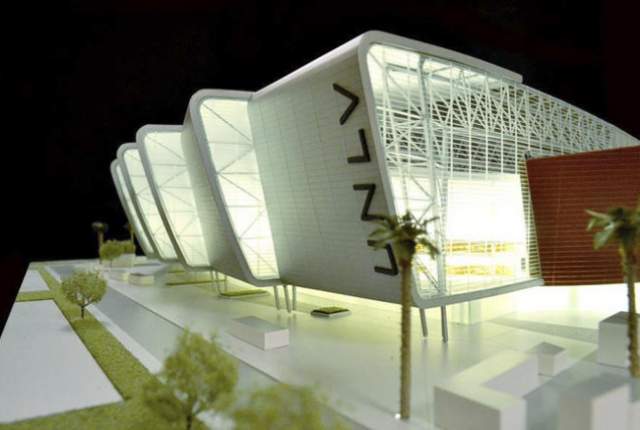 The $1.2 billion Las Vegas football stadium being pushed by billionaire Las Vegas Sands CEO Sheldon Adelson will take center stage when the Southern Nevada Tourism Infrastructure Committee meets Thursday on the UNLV campus.
Adelson will send his Venetian and Palazzo President and COO George Markantonis to do his bidding. His job will be to sway the committee members towards embracing building a domed football stadium on the vacant lot just off the Las Vegas Strip should take top priority in tourism-related initiatives.
Adelson and Oakland Raiders owner Mark Davis met in January to discuss the possibility of moving the NFL franchise to Las Vegas, should the stadium be built on the 42-acre site.
Following their meeting, the two posed for a picture that was shared on Twitter by LVS with the caption, "Our chairman Sheldon Adelson had a great visit w/ Mr. Mark David. Looking forward to future conversations."
The stadium would also host UNLV football games, bringing the university's gridiron contests much closer to the Las Vegas Strip and downtown areas, and out of the deteriorating Sam Boyd Stadium on the east side of town.
According to previous proposals, Sands, along with UNLV and Majestic Realty Co., would finance $420 million of the $1.2 billion project. The remaining $780 million would come from public financing.
Not Everyone On Board
But not surprisingly, there are several opponents to building a 65,000-seat stadium near the Strip. In addition to the NFL's long hesitation to allow a franchise to relocate to Sin City due to its legal sports betting markets, MGM Resorts International believes refurbishing the current Las Vegas Convention Center (LVCC) would be money better spent.
Perhaps not coincidentally, MGM is also planning to open its own 20,000-seat sports and entertainment venue, the T Mobile Arena, in just weeks. Hosting basketball, hockey, boxing and MMA events, and concerts, it's not hard to see why MGM might want money to go elsewhere than a potential competitor for tourist dollars.
MGM President Bill Hornbuckle is representing the pro LVCC viewpoint at today's hearing.
With several of its properties, including the MGM Grand, New York-New York, Excalibur, Luxor, and Mandalay Bay, all located within walking distance of the proposed site, Hornbuckle's team could take the tack that too much congestion from building such a venue might impose during busy weekends. Of course, the other argument could be made that the stadium's proximity would only help keep rooms occupied.
Another concern worth noting is that the stadium would be located literally steps from the McCarran International Airport runway. Departing and arriving commercial jetliners just feet over the stadium might not only make for some noisy conditions, but also some jittery fans.
For Las Vegas locals, on the other hand, already familiar with planes whose wheels can practically be touched as they come in over shops in the chichi outdoor mall Town Square on the South Strip, that's already a shoulder-shrugging reality.
Residents Mixed
The Southern Nevada Tourism Infrastructure Committee isn't expected to make any recommendations until May or June, and one should not be envy the role of the 11-member panel.
Deciding on whether to recommend improvements to the Convention Center, a vital component of the overall Las Vegas economy, or look to the future by bringing (more) professional sports to the region, is no easy task.
As for the citizens, they too are mixed. In fact, depending on which poll you believe, the data presents two very different opinions.
A study commissioned by MGM found that 67 percent of Nevadans want monies collected from hotel occupancy taxes to fund the convention center and not the construction of a football stadium.
However, a study commissioned by the Las Vegas Sands painted a different picture, claiming its research revealed 60 percent of Nevada voters want city room taxes to support the stadium.
Could it just be a coincidence that each backer's study supported the results they hope for? Call us cynics, but just maybe.