Kentucky Gov. Andy Beshear Calls on State Lawmakers to Pass Sports Betting Bill
Posted on: February 6, 2020, 01:41h.
Last updated on: February 6, 2020, 01:51h.
FRANKFORT, Ky. – Flanked by lawmakers, business leaders, and other proponents of sports betting, Kentucky Gov. Andy Beshear called on the General Assembly Thursday to pass a bill that would allow the state to join the 20 states and the District of Columbia that have legalized sports betting.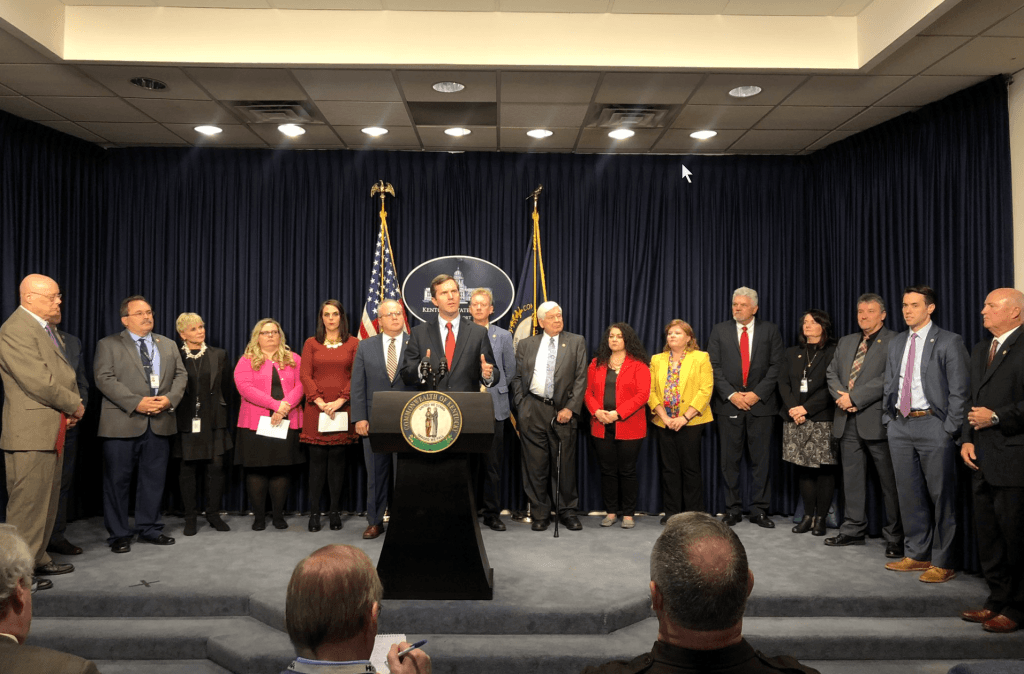 Beshear, who took office just two months ago, said at a press conference held at the state Capitol that the tax revenue generated from sports betting is needed. The state seeks new revenue to bolster public education and shore up its underfunded public pensions plans.
We are with business, education and pension leaders, Republicans and Democrats, working together on the same team," Beshear said. We all agree that passing sports betting is the right thing to do and we are working together to help move the state forward."
The governor's comments come a day after a key state Senate leader told the Louisville Courier Journal that sports betting would likely pass in the Senate if it passed in the House.
Beshear said he's confident that sports betting can generate $22 million or more for the state.
"Sports wagering is a win-win for Kentucky," said Ashli Watts, the president and CEO of the Kentucky Chamber of Commerce. "It's good for business, good for taxpayers, and we encourage the legislature to take action this General Assembly."
House Bill 137, sponsored by state Rep. Adam Koenig (R-Erlanger), passed out of a House committee unanimously last month. Koenig's bill has 38 sponsors out of the 100-member House.
Beshear: Constitutional Amendment Unnecessary
Beshear, who ran his successful campaign last year on an expanded gaming platform, added that neither sports betting nor casino gaming would need a constitutional amendment to become legal in the state. The former Attorney General said that's because the question was addressed when the voters approved an amendment allowing the Kentucky Lottery back in 1988.
"There's already an Attorney General opinion on that. In fact, there are two," Beshear told reporters. "When the lottery was reeled out through a constitutional amendment, it addressed those constitutional prohibitions. But it would still take a statute" to make them legal.
In December, before the General Assembly convened, attorney Daniel Wallach, who opened the country's first practice devoted exclusively to sports betting, told lawmakers after he reviewed state records that a sports betting bill did not require a constitutional amendment.
The difference is critical, because not only does an amendment require voter approval, it also requires three-fifths majorities to pass in both chambers. A bill during a budget session only requires a simple majority.
Bill Has the Votes
Koenig told reporters that if the bill was brought to the House floor now, it would pass. However, when pressed about waiting, he said he's still trying to round up more Republican support for the bill.
The GOP currently holds a 61-37 majority in the House, with two seats unfilled.
"We're trying to get as many of our members on our side comfortable with it," the lawmaker told reporters.
Beshear, a Democrat, said he supports Koenig's strategy, especially since there's still two-thirds of the 60-day General Assembly's session left.
The opposition to the bill, most notably by the Family Foundation of Kentucky, has been very vocal, Koenig told Casino.org after the press conference. That opposition has led Koenig to file an amendment to his bill that he said would ensure that his bill would not lead directly to casino gaming.
If passed, the bill would allow the state's race tracks and the Kentucky Speedway to operate retail sportsbooks. The bill also allows for online gaming, but there would be a requirement to register in person at the sponsoring track for the first 18 months. Koenig's bill also would regulate daily fantasy sports and online poker.