Kentucky Derby Futures Pool Ending Sunday Evening as Bettors Like Tiz the Law
Posted on: February 9, 2020, 08:19h.
Last updated on: February 9, 2020, 10:48h.
The second round of Kentucky Derby futures betting at Churchill Downs closes on Sunday evening, and the morning-line favorite remains the top choice on the board.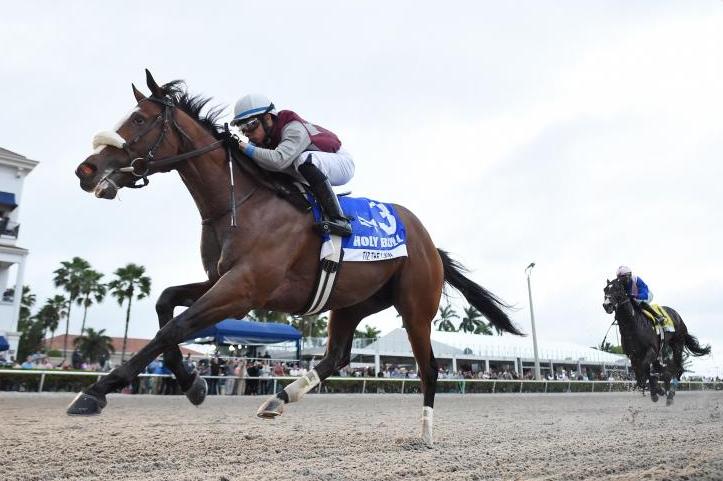 Tiz the Law opened at 8-1 when pari-mutuel betting started on Friday. The Barclay Tagg-trained colt's odds have moved slightly to 9-1 as of 10 am ET Sunday morning, but he remains the only individual entry in single digits. The "field" entry, which represents any horse besides the 23 listed in the pool, is at 3-2.
On Friday, Sackatoga Stable, the colt's owner, announced Tiz the Law would next run in the March 28 Florida Derby at Gulfstream Park. That came just six days after he won the Holy Bull Stakes in impressive fashion at the Hallandale Beach, Fla., track.
Under Manuel Franco, Tiz the Law took the lead at the stretch and pulled away to a three-length victory in the 1-1/16-mile race. It looked, though, like he had plenty of power left to run the 1-1/4 miles needed to win the Kentucky Derby.
Jack Knowlton, Sackatoga's managing partner, said the March 21 Louisiana Derby had also been considered.
There really are a number of factors, starting with how well he ran in the Holy Bull. He obviously liked the racetrack, so that's one box that we checked in a major way," he said. "Barclay typically likes home games rather than away games. It's a lot easier for him and arguably easier for the horse to get out of his stall on Saturday morning and go 45 minutes down the road to Gulfstream, rather than ship or fly over to Fair Grounds. Those are two major things."
Tiz the Law finished the first round of futures betting back in November as the individual favorite with 11-1 odds.
Dennis' Next Moment May Come at Gulfstream
Another horse targeted for a Derby prep at Gulfstream is the current second choice.
Dennis' Moment started the round at 12-1 and has since moved to 11-1. Trained by Dale Romans, the colt has not run since a horrid start ruined his trip in the Breeders' Cup Juvenile, where he finished eighth. Prior to that, he'd won his last two starts. That included a sold performance in the Iroquois Stakes at Churchill Downs.
Romans is pointing Dennis' Moment for the Feb. 29 Fountain of Youth. That will mean he'll have about a four-month layoff between races. Still, the colt is showing top form. In a Saturday workout at Gulfstream, he breezed five furlongs in 1:00.22. That was the fourth fastest workout at that distance.
"Everything went well, exactly what we were looking for," Romans said. "He hasn't missed a beat. His progression has been great."
Independence Hall Drops After Loss
Other top horses on the board have also had little, if any, movement from their morning-line odds. That includes a trio of Bob Baffert-trained colts. Nadal has stayed at 12-1 and Thousand Words remains at 15-1. Authentic started at 15-1 and is now 14-1.
The biggest mover among the top horses in the pool has been Independence Hall. The Michael Trombetta-trained colt started as the second choice at 10-1 but has seen his odds grow to 15-1 after finishing second in the Sam F. Davis Stakes Saturday at Tampa Bay Downs.
Independence Hall led down the stretch of the race but was caught by Sole Volante, who ended up winning by two-and-a-half lengths. Still, Independence Hall's connections remain undeterred by the ending.
"Huge effort in defeat…" tweeted Eclipse Thoroughbred Partners, the principal ownership group. "He may have lost the battle today, but we think we have the horse to win the war."
Betting on the second round of Kentucky Derby futures ends Sunday at 6 pm ET. Wagering on Derby futures is available at off-track betting parlors that carry Churchill Downs' signal, as well as such online sites as TwinSpires.com, TVG, and NYRABets.
Kentucky Derby Futures Odds
Number Horse Odds (as of 10 am ET Sunday)
1. Anneau d'Or 31-1
2. Authentic 14-1
3. Basin 50-1
4. Chance It 48-1
5. Dennis' Moments 11-1
6. Enforceable 27-1
7. Exaulted 99-1
8. Gold Street 64-1
9. Gouverneur Morris 33-1
10. Honor A.P. 36-1
11. Independence Hall 15-1
12. Max Player 51-1
13. Maxfield 16-1
14. Nadal 12-1
15. Palm Springs 90-1
16. Premier Star 99-1
17. Silver State 64-1
18. Storm the Court 31-1
19. Structor 30-1
20. Thousand Words 15-1
21. Three Technique 33-1
22. Tiz the Law 9-1
23. Violent City 99-1
24. All Other 3-Year-Olds 3-2
Latest Casino Stocks:
Retrieving stocks data...
Retrieving stocks data...
Retrieving stocks data...
Retrieving stocks data...
Retrieving stocks data...