2020 Kentucky Derby Futures Betting Opens at Churchill Downs with Tiz the Law the Early Favorite
Posted on: November 30, 2019, 11:04h.
Last updated on: December 1, 2019, 11:08h.
Betting ends Sunday evening on the first round of Kentucky Derby futures betting at Churchill Downs.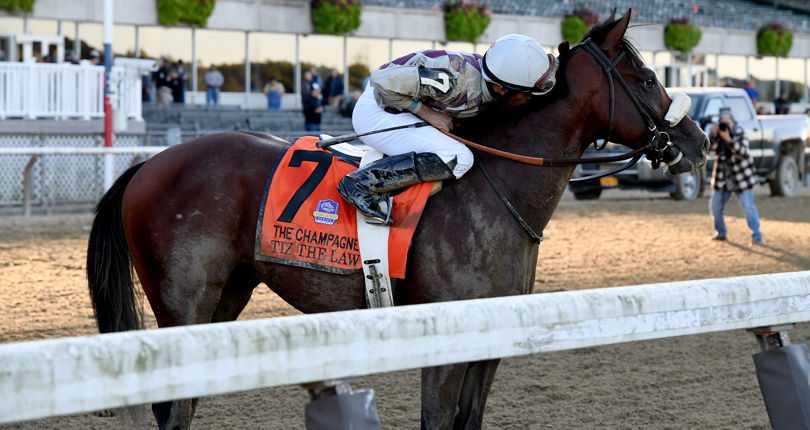 The Louisville track is offering 24 entries in this round. That includes 22 2-year-olds, a field entry for any other filly, and a field entry for any colt or gelding. Currently, the colt/gelding field entry is the favorite among bettors in the pari-mutuel field at 6-5 odds as of Saturday night.
Among the individual entries, the Barclay Tagg-trained Tiz the Law has the shortest odds at 8-1. The winner of the Grade I Champagne Stakes at Belmont on Oct. 5 ran at Churchill Saturday in the Grade II Kentucky Jockey Club. The colt finished third in the 1-1/16-mile race on a sloppy track. Ridden by Manuel Franco, he stayed near the leaders for the entire race, but never seemed to respond to Franco down the stretch.
The co-second choices are Dennis' Moment, a Dale Romans-trained colt, and Maxfield, a colt trained by Brendan Walsh. Their current odds are 12-1. Independence Hall, a colt trained by Michael Trombetta, is currently at 14-1.
Dennis' Moment caught people's attention when he broke his maiden in a win by 19-1/4 lengths at Ellis Park in July. He followed that up with a victory in the Grade III Iroquois Stakes. However, he finished eighth in the Breeders' Cup Juvenile.
Romans is one of the top trainers ever at Churchill Downs, but he has yet to win the Derby.
Storm the Court, the Peter Eurton-trained colt who won the Breeders' Cup Juvenile at Santa Anita, is at 36-1.
A list of the current futures field is available here. Bettors can make their wagers at Churchill Downs, off-track betting parlors that receive the track's feed, and online at TwinSpires.com, NYRABets.com, and other racing sites.
Wagers can be made until 6 pm ET Sunday, and exacta wagering is also available.
Churchill Offers Sire Futures Again
In addition to betting on the actual winner, Churchill Downs is also offering futures wagering on the sire, or father, of the next Kentucky Derby winner.
Constitution, whose sons include Tiz the Law and Independence Hall, is the current betting favorite at 4-1. Other entries of note include 2014 Triple Crown winner American Pharoah (12-1), 2007 Derby winner Street Sense (17-1), and 2010 undefeated 2-year-old champion Uncle Mo (7-1).
A field entry is available, and its odds are currently 8-1.
The full list of entries is available here.
Through Saturday night, TwinSpires.com noted that this year's Derby Futures first pool had a handle of about $179,000. The sires pool was at about $19,000.
According to a statement from Churchill Downs, the first pool of last year's Derby Features betting received more than $290,000 in wagers. Nearly $259,000 of that was placed on the Derby futures.
Churchill Downs will run additional Derby futures pools in February, March, and April. The Derby will be run on May 2.
Futures Betting Available Elsewhere
The host track isn't the only place where Derby futures betting is available.
William Hill's racebooks in Nevada have Tiz the Law and Independence Hall available at 8-1 odds. Storm the Court and Maxfield are at 12-1, while Honor A.P. is at 15-1. Odds on Dennis' Moment are at 16-1.
Offshore, USRacing.com has Tiz the Law and Dennis' Moment at 14-1, Maxfield at 16-1, and Independence Hall and By Your Side at 20-1.