Jimmy Kimmel's Cousin Sal Announces NFL Sports Betting Show
Posted on: September 10, 2016, 10:00h.
Last updated on: September 9, 2016, 03:22h.
Cousin Sal, as his older cousin Jimmy Kimmel affectionately calls him, is launching his own NFL sports betting and daily fantasy sports (DFS) show on Facebook.
The NFL season kicked off Thursday night with the reigning champion Denver Broncos once again defeating the Carolina Panthers in a Super Bowl 50 rematch. For fans in Nevada looking to put some money on upcoming NFL contests, and for those in states with legalized or at least permissible DFS framework, Cousin Sal is here to help.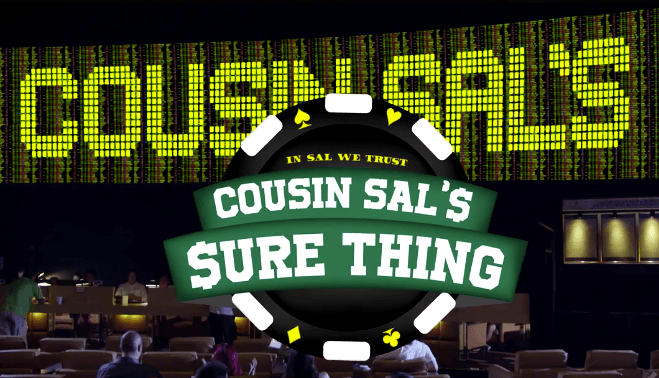 Over the last two NFL seasons, Sal has been giving weekly picks to ESPN. He's been incredibly accurate, with Sal's "Best Bets" being correct 79 percent of the time against the point spread in Las Vegas.
Now he's teaming up with Facebook to launch a new online social media program titled "Cousin Sal's Sure Thing." Sponsored by Dollar Shave Club, Sal will post his weekly picks each Friday at 12 noon ET, and "go live" on Facebook during Sunday games.
Sal will predict three "sure thing" bets, and also select a fantasy football gem and bust.
"Let this be a warning to Las Vegas," Kimmel says in the show's promo. "This husky gentleman is about to shut you down."
Sal is making his picks at the Caesars Palace sportsbook in Las Vegas. Facebook viewers can enter to win prizes such as free Dollar Shave Club razors.
Week One Picks
So who does Cousin Sal like in week one?
His first pick is the Tennessee Titans playing at home against the Minnesota Vikings. The Titans are spotting the Vikings just two points, and Cousin Sal likes those odds.
With Vikings QB Teddy Bridgewater out for the game after recently suffering a season-ending knee injury, Sal believes the Titans are poised for victory.
His second pick is the Detroit Lions (-3.5) against the Colts in Indianapolis. Sal believes quarterback Matthew Stafford will pick apart the Colts' secondary with cornerback Vontae Davis out for at least a month.
Cousin Sal's final pick, which is his "Best Bet of Week One," is the Chicago Bears (-6) over the home team Houston Texans.
"The Bears front seven should be dynamite this season. They'll put a lot of pressure on Brock Osweiller (Texans QB)," Sal states. "Six is too many points to lay opening week for a flawed Texans team."
Atlanta quarterback Matt Ryan is Sal's fantasy gem of the week, while New York Jets running back Matt Forte is his bust of the opening Sunday.
Disclaimers Abound
Cousin Sal would like to inform all of his viewers that his show is for entertainment purposes, and that he does not condone or encourage gambling, ahem.
Sports betting is illegal everywhere in the United States, except Nevada.
It's also worth noting that Sal isn't actually betting with his own cash, but $10,000 of Dollar Shave Club money.
In week one, Sal put $770 on the Titans, $1,320 on the Lions, and $1,980 on the Bears for a total of $4,070. Two bad weeks and "Cousin Sal's Sure Thing" could be a monumental bust.