MGM Resorts Scores Slam Dunk With NBA, Becomes League's Official Gaming Partner
Posted on: August 1, 2018, 06:00h.
Last updated on: August 1, 2018, 06:30h.
MGM Resorts International and the National Basketball Association (NBA) announced Tuesday that the two parties are teaming up to deliver fans and sports bettors integrated content and real-time data services.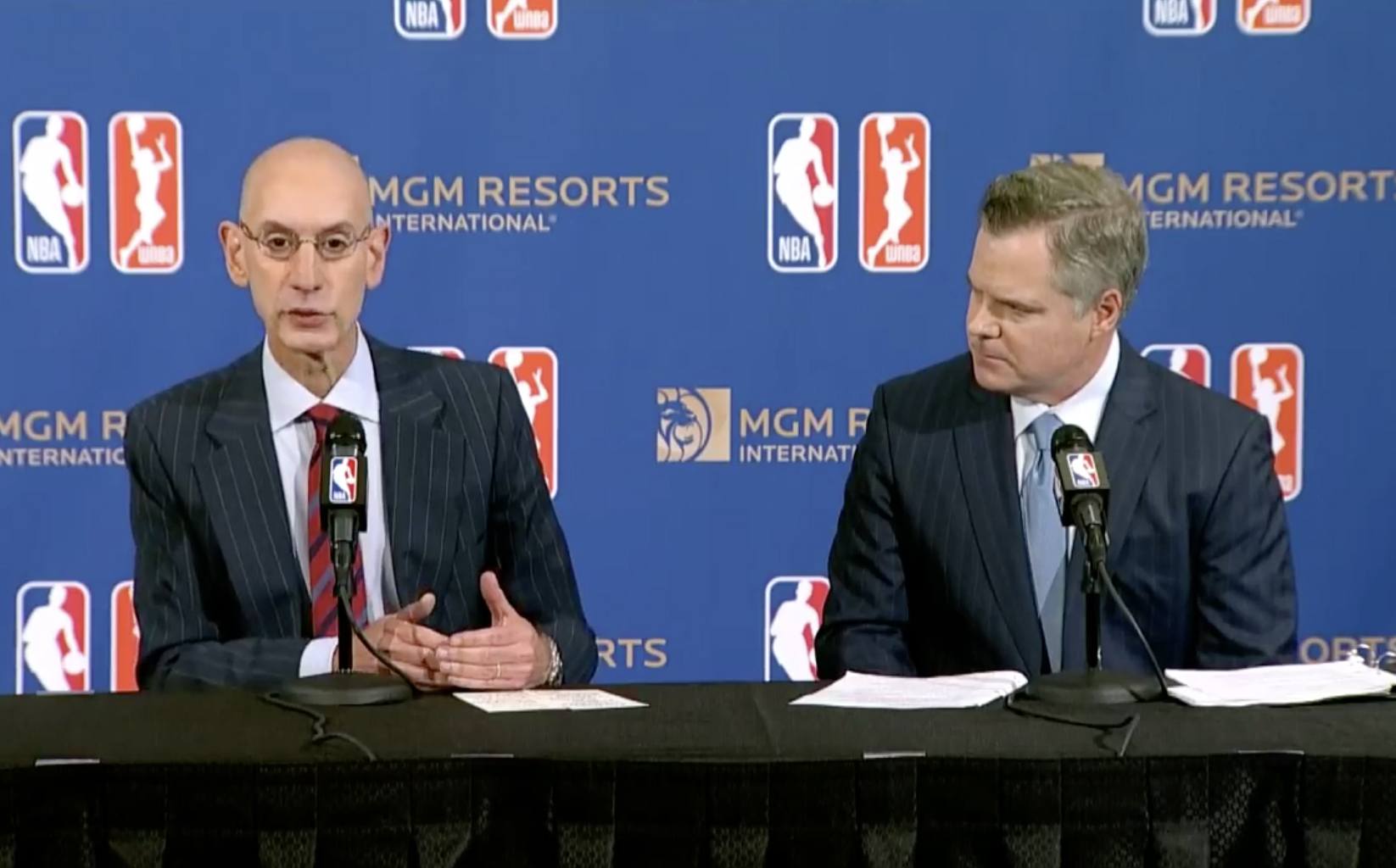 The agreement makes MGM the official gaming partner of the NBA and WNBA. Specific terms of the deal were not disclosed, but ESPN is reporting that MGM is paying $25 million for a three-year contract.
"As the landscape for sports betting in the US continues to evolve at a rapid pace, MGM Resorts is a proven gaming leader for us to work with on this groundbreaking partnership," NBA Commissioner Adam Silver declared.
Our collaboration will result in the best possible gaming and entertainment experience for consumers through the use of accurate, real-time NBA and WNBA data, and our collective efforts to maintain and enhance the integrity of our games," Silver asserted.
While Silver and MGM CEO Jim Murren praised each other's operations and standing in their respective industries, details on what the partnership specifically means were limited. MGM owns the WNBA's Vegas Aces, a franchise that relocated from San Antonio to Sin City for the start of the 2018 season.
Trusted Operator
The NBA said its deal with MGM gives the casino company "non-exclusive" rights to NBA and WNBA data and branding for both its land-based and digital gaming operations. The league says it will additionally share its real-time data with MGM.
Murren says MGM being bestowed the official gaming partner title of the NBA is important in assuring sports bettors that the data they're being offered is accurate.
"Integrating the NBA's assets and having official NBA data showcased across the MGM Resorts platforms will provide us with a distinct advantage and instill more confidence in knowing that our data is directly from the NBA," Murren concluded.
Concerning Integrity
The Supreme Court of the United States (SCOTUS) overturned the Professional and Amateur Sports Protection Act in May. The 6-3 decision provides states with the freedom to set their own laws and regulations on sports betting.
Delaware and New Jersey have already joined Nevada in offering full-fledged sportsbooks. New York, Pennsylvania, Rhode Island, West Virginia, and Mississippi have passed bills to govern the activity, and 14 others are reviewing proposed legislation.
For the NCAA and Big Four (NFL, MLB, NBA, and NHL), the paramount concern is protecting the integrity of sports as betting on games expands across the country.
Silver, MLB Commissioner Rob Manfred, NHL Commissioner Gary Bettman, and several NCAA schools have said they deserve a cut of the sports betting revenue if gambling is to occur on their games. Integrity fees, as the so-called earmarks are often referred to, are said to be necessary by those advocating for them to cover increased costs to make sure events aren't being rigged or compromised.
Nevada sportsbooks don't share sports betting revenues with the NCAA or pro leagues, and MGM and the NBA didn't address the issue during Tuesday's partnership announcement.
Integrity fees have been proposed ranging from 0.20 percent to as high as one percent of total gross handle. Sportsbooks are adamantly against such fees, as they point to the fact their margins are already thin.