Jim Murren Leaves MGM Resorts International Early, Tabbed by Gov. Sisolak to Lead Nevada COVID-19 Task Force
Posted on: March 22, 2020, 06:19h.
Last updated on: March 22, 2020, 07:00h.
Jim Murren's tenure at MGM Resorts International ended even more prematurely than planned, as the gaming company's chairman and CEO – who less than six weeks ago announced his plans to step down – became the head of a public-private partnership to help Nevada battle the COVID-19 crisis.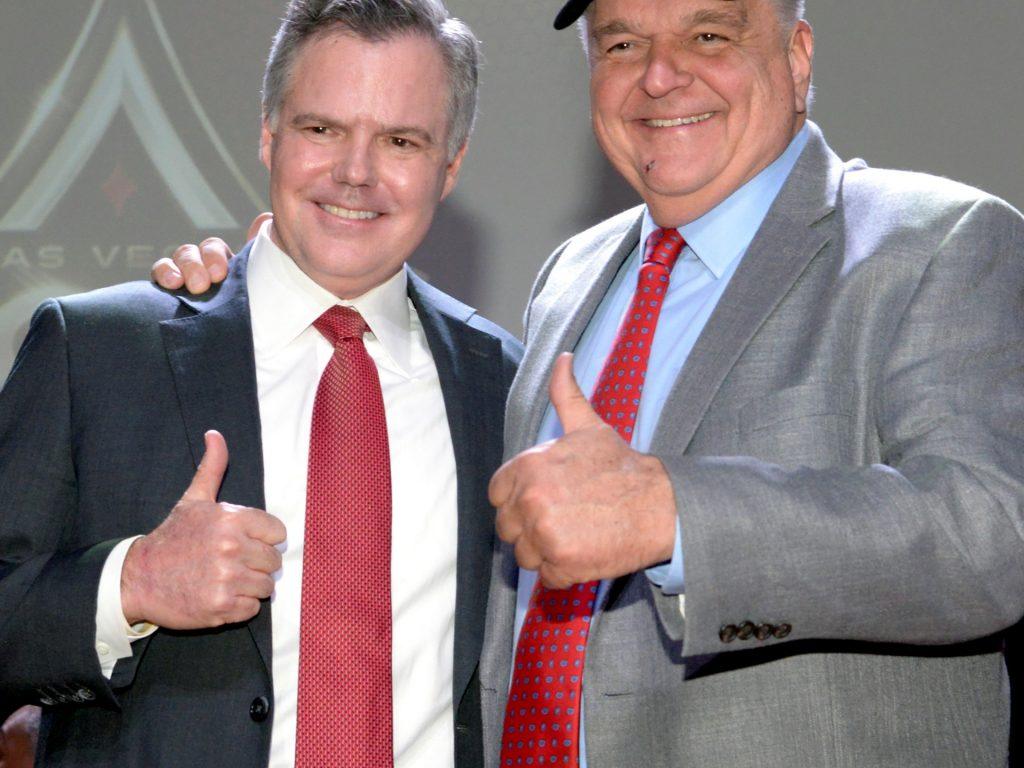 Nevada Gov. Steve Sisolak made the announcement late Sunday afternoon, just moments after MGM revealed its new leadership team. Murren will leave Las Vegas-based MGM immediately to serve as the chairman of the state's COVID-19 Response, Relief, and Recovery Task Force.
The Democratic governor said Murren will help the state get the necessary supplies, such as COVID-19 test kits and personal protection equipment, that the federal government is unable to provide at this time.
That is one of the reasons (for) having this task force assembled, with the assets and the resources of an individual like Jim Murren can open, doors that otherwise, I, as governor, can't open up," Sisolak said. "We cannot get enough resources and equipment from the federal government. That's clear. So, we are fighting with the federal government, hand in glove. But that being said, we're on our own as well, to try to acquire as many of these assets and resources as we can, and I'm proud of the fact that we've got a group that we're putting together that's going to help us access those resources."
Murren will serve in this capacity without compensation.
Sisolak added that Murren's knowledge of the state's gaming industry, his relationships with organized labor, and his connections in Washington, DC, will make him particularly useful for the state. Just last week, Murren was in the White House taking part in a COVID-19 tourism industry round table with President Trump and other White House leaders.
Murren "Humbled" by Opportunity to Lead Panel
One of the first jobs for the task force is to determine what assets are available in the private sector to help combat the spread of the coronavirus, and how they can best be deployed.
"There's nothing more important right now than helping our state and each other through this crisis. I am humbled by the opportunity to help the Governor in providing relief to the many families suffering personally and economically during this difficult time," Murren said. "When we defeat this pandemic, I am confident that our state will come roaring back, as we have from the great hardships of the past. Working with the many committed business and community leaders in Nevada, The Nation and around the world, we will obtain important resources our state needs to fight and win this battle."
Reaction from Nevada seemed mixed, with some questioning why a gaming industry insider would be picked. Jon Ralston, a veteran Nevada reporter and editor of The Nevada Independent, said he has been impressed with Sisolak's handling of the crisis so far. But he admitted on Twitter the governor may get some criticism for the announcement.
"I am sure people already are tweeting about Murren getting a huge payout when he left MGM. But he's doing this for free and could be on an island away from this nightmare. It will be interesting to see who else is on the task force, whether it actually deserves a blue ribbon," Ralston said.
When the task force starts, transparency will be essential to earn the public's trust, Ralston said.
COVID-19/MGM Timeline
Murren said he would leave MGM on Feb. 12 and said he would stay on board until his successor was announced. He even told stock analysts on the quarterly earnings call later that day that he would be on the next call. The company announced that his separation package would be valued at more than $30 million.
A lot has changed in the world over the last five-and-a-half weeks.
Murren's announcement came roughly three weeks after the first COVID-19 case was identified in the US. Even at that point, while federal government officials had organized a task force on the contagious virus, few seemed publicly concerned about the virus' impact. In the weeks ahead, though, the coronavirus started crippling various sectors of the US economy, most notably the travel and tourism industry.
Fears of spreading the virus led to major conventions being canceled in February. Then, US-based sporting leagues banned fans from attending games, and then suspended or canceled their seasons. In the days after that, states started ordering its casinos and non-essential businesses to close.
MGM took the initiative to close its Vegas strip casinos days before Sisolak on Thursday ordered all gaming equipment in the state to shut down for 30 days.
On Sunday, MGM announced that Bill Hornbuckle will take over as acting CEO and Paul Salem would step in to serve as the new chairman of the company's Board of Directors.