Silver State Shutdown: Sisolak Closes Casinos, Non-Essential Businesses in Nevada for 30 Days, Tells Residents to Stay Home
Posted on: March 17, 2020, 05:59h.
Last updated on: March 18, 2020, 10:05h.
In a stern voice underlying the stakes at hand, Nevada Gov. Steve Sisolak announced Tuesday evening all non-essential businesses – including casinos – would be shut down for the next 30 days, as the state looks to control the spread of the COVID-19 coronavirus.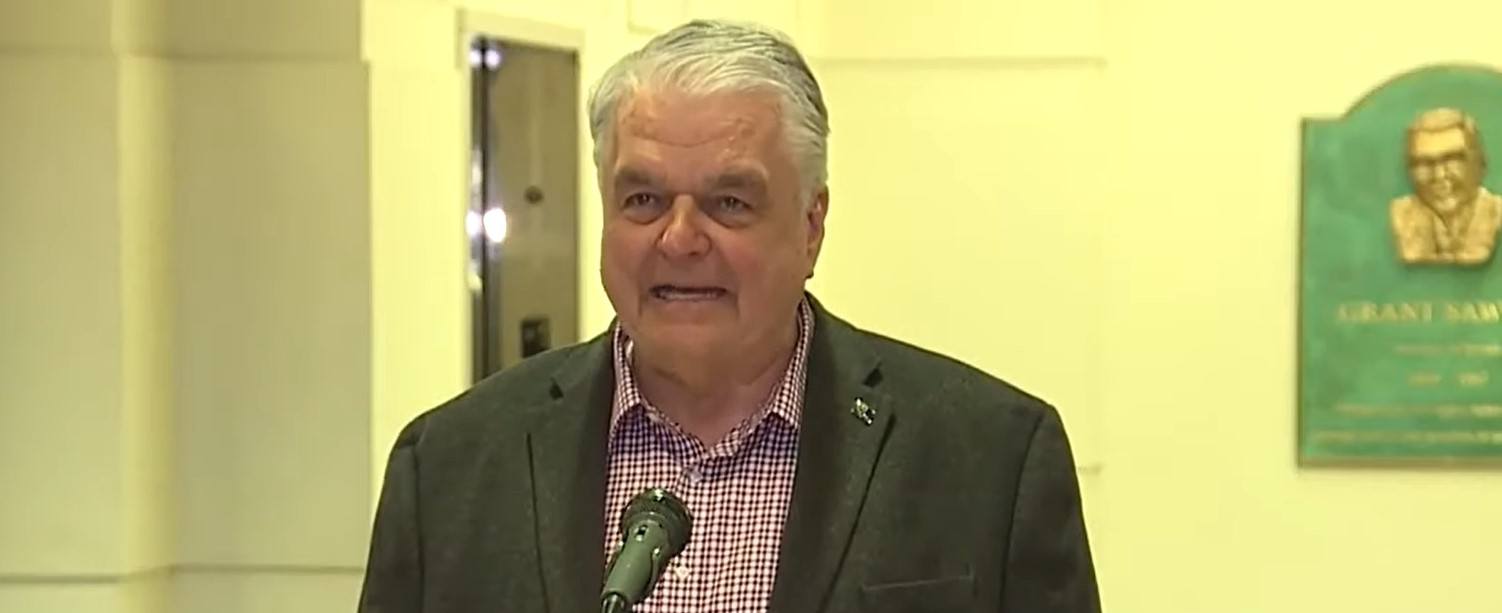 "You're being told not to go out," he told Nevada residents during a nearly 20-minute press conference announcing the shutdown.
For most non-essential businesses, such as gyms, beauty shops, and theaters, the shutdown takes effect at noon PT on Wednesday.
Gaming devices, though, were another matter.
Every gaming device must be turned off by midnight tonight," he said. "The casinos will not be open and have any gambling activity. That includes the bars, includes the convenience stores, includes the grocery stores. All gaming operations must cease by midnight tonight."
Businesses that will remain open for the next 30 days include grocery stores, pharmacies, banks, hardware stores, and convenience stores. He also discouraged residents from hosting parties or sleepovers or to take part in athletic events.
So far, more than 50 people have tested positive for the virus in Nevada, with one death already reported.
"My ultimate goal here is to come together as Nevadans to save lives," he said. "That requires aggressive strategies aimed at mitigating community spread. Medical professionals have made it abundantly clear that there is no treatment. While the vaccine is being developed, we don't have time to waste."
Other Communities Taking Similar Action
The unprecedented shutdown of the gaming industry took place after several casino chains, including MGM Resorts International and Wynn Resorts, have already announced they would shut down because of the pandemic that has crippled business in tourist-dependent Las Vegas.
It also comes after several counties in California's Silicon Valley issued a similar shelter-in-place advisory on Monday that limited the types of businesses that could remain open through April 7. The New York Post has reported that New York City Mayor Bill de Blasio is considering similar action in America's largest city.
https://twitter.com/GovSisolak/status/1240102596083200000
Sisolak only wanted to talk Tuesday about maintaining the health and well-being of the general public during the COVID-19 outbreak. Hospitals in Nevada now have the bandwidth to handle the most critical patients suffering from the effects of the coronavirus. However, since 80 percent of those who have the coronavirus have little, if any, symptoms, it's still important for people to remain at home to keep the virus from spreading out of control to the point it overly taxes the state's medical resources.
He added that the only made the decision after conferring with the White House, the US Centers for Disease Control and Prevention, medical professionals, and business and labor leaders.
"I'm not here to talk about money and bailouts today," he said.
Casinos Complying With Order
Within moments of Sisolak's proclamation, the casinos that had remained open announced they would be abiding by the directive.
"I'd like to thank our loyal guests for their support and all of our employees for their hard work during this crisis," tweeted Derek Stevens, who owns The D Casino and Hotel and the Golden Gate Hotel and Casino. "Although this is a devastating time for our community, I'm confident the Las Vegas resiliency will allow us to rise again, stronger than ever."
While casinos will be closed in Nevada for the time being, online sports betting applications, like Stevens' Circa Sports, William Hill, and BetMGM, will remain available. However, even those applications are limited for the time being, due to most sporting events having been canceled or rescheduled because of the coronavirus outbreak.