President Donald Trump Asks Las Vegas Tycoon Sheldon Adelson Why He's Not Doing More to Help Reelection Campaign
Posted on: August 9, 2020, 09:10h.
Last updated on: August 10, 2020, 01:17h.
President Donald Trump reportedly grew angry with Las Vegas billionaire Sheldon Adelson during a phone call last week for not better supporting his reelection campaign.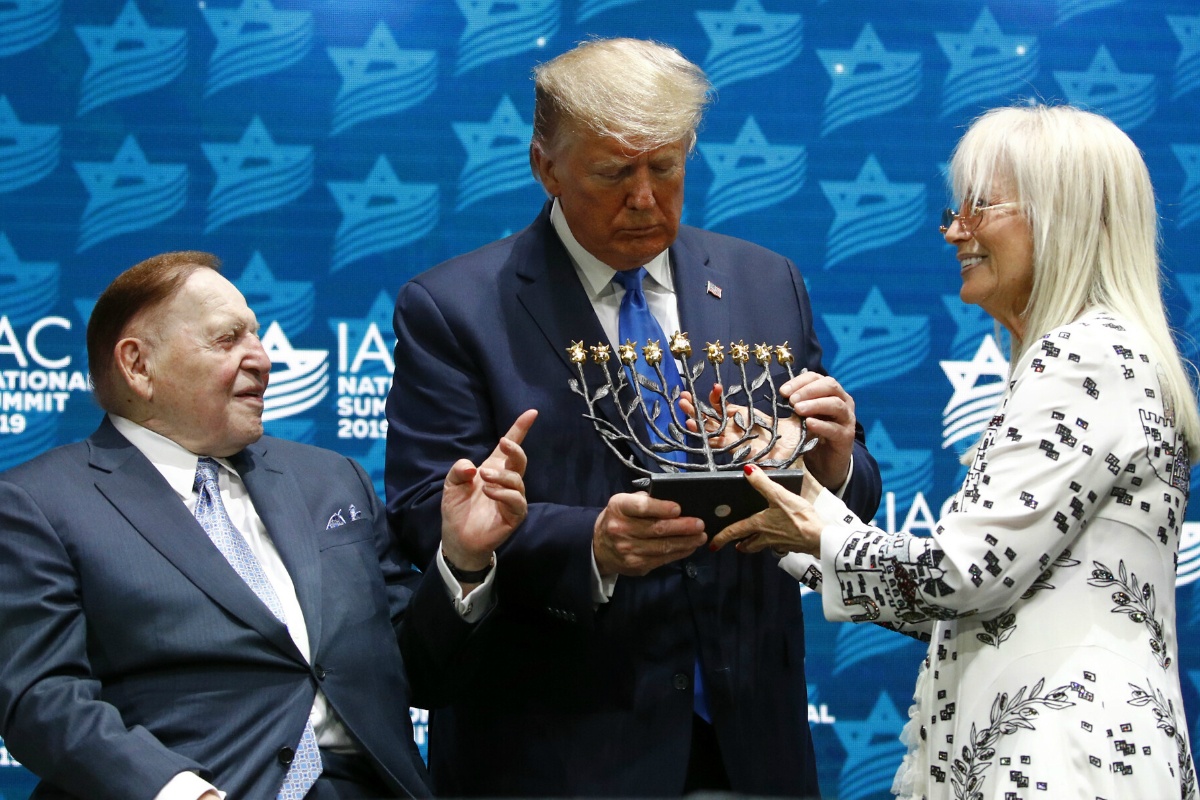 The 87-year-old founder of the Las Vegas Sands empire, currently estimated to be worth some $30 billion by Forbes, called his former casino-colleague-turned-US-President to discuss further coronavirus relief and the economy. But people with direct knowledge of the call told Politico the conversation soured quickly when Trump asked Adelson why he's not giving more to his 2020 reelection effort.
The casino magnate reportedly didn't fire back at the President, and instead the call was soon ended.
Adelson and his wife, Dr. Miriam Adelson, collectively gave $82.59 million to Republican campaigns in 2016. They were Trump's largest financial backers. They increased their political giving in the 2018 midterms to $123.25 million in an effort to retain a GOP majority in Congress. Republicans lost the House, but kept the Senate.
The Adelsons have been the GOP's largest political contributors in each of the last two election cycles.
Lackluster Enthusiasm
Political pundits believe many of the Republican Party's principal benefactors are losing hope on Trump winning another four years. His handling of the coronavirus, Politico's Alex Isenstadt says, has turned off some of the GOP's wealthiest donors.
The President needs the money. With less than three months until the election, he is overwhelmed by a flood of liberal super PAC spending that his party has failed to match. Since this spring, outside groups supporting Joe Biden have outspent their pro-Trump counterparts nearly 3-to-1, an influx that's helped to erase the President's long-standing financial advantage," writes Isenstadt.
According to the Federal Election Commission, Adelson and his wife gave $1,161,200 to Trump Victory in February. He also gave $12.5 million to the Senate Leadership Fund in June.
Biden remains the heavy favorite for November 3. PredictIt bettors give the presumptive Democratic nominee a 57 percent chance of winning the White House. UK bookmakers have Biden at 4/6 (-150, implied odds of 60 percent).
Las Vegas Billionaires Back Trump
If Adelson was turned off by his call with the President, Trump still has plenty of allies in Southern Nevada.
Billionaire Phil Ruffin, the owner of Treasure Island and Circus Circus, gave $500,000 to Trump Victory. Disgraced former casino tycoon Steve Wynn gave $486,500. Station Casinos billionaires Lorenzo and Frank Fertitta III gave $1.44 million. South Point owner Michael Gaughan gave $100,000. Golden Nugget billionaire Tilman Fertitta gave $71,000.
Blackstone owner Stephen Schwarzman, whose private equity firm owns the land assets of the Bellagio, MGM Grand, and Mandalay Bay, gave $3 million to America First Action, a PAC working to reelect Trump. UFC President Dana White gave $1 million.
Casino.org found two exceptions to the Trump support among Nevada casino executives. Former MGM Resorts CEO Jim Murren, a longtime Republican, switched his vote in 2016 to pick Hillary Clinton, and campaign finance records show he's given the $2,800 maximum direct individual contribution to Biden's campaign for 2020.
D Casino, Golden Gate, and Circa owner Derek Stevens has made several small contributions to the Biden campaign totaling $285.
Latest Casino Stocks:
Retrieving stocks data...
Retrieving stocks data...
Retrieving stocks data...
Retrieving stocks data...
Retrieving stocks data...