Jackpot: 106-Year-Old Wins $1K While Celebrating Birthday, Casino Then Doubles Payout
Posted on: August 29, 2023, 03:25h.
Last updated on: August 30, 2023, 11:44h.
A 106-year-old woman won twice the amount of her slots jackpot last week after Wisconsin's Potawatomi Hotel & Casino gave her an extra special birthday present.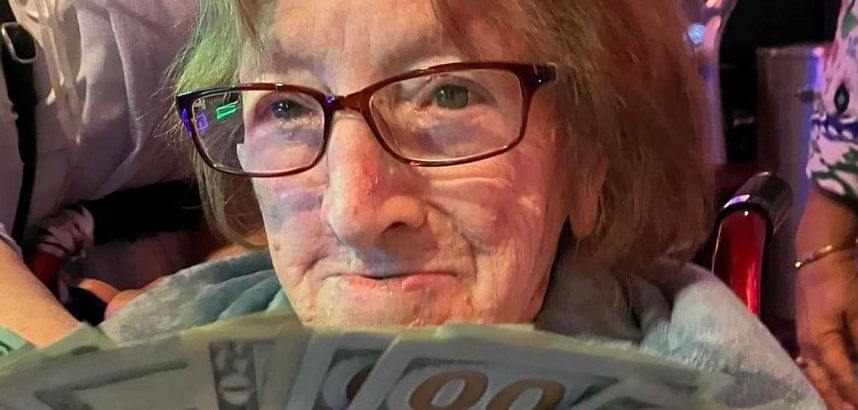 Serafina "Sarah" Papia Peterson hit a $1K jackpot on her own last Wednesday at the Milwaukee gaming property.
Casino management was thrilled with the win, and when the casino's CEO heard about her jackpot on Friday, he chose to double the amount.
"We were all elated when we heard about her big win, and wanted to make her 106th birthday even more special," casino CEO Dominic Ortiz told Milwaukee TV station WISN.
Peterson, too, was elated.
I'm happy to win this money," Peterson was quoted by WISN. "I don't know what I'm going to do with it, but I'm going to make a good choice."
Turns out the win was actually because of an accident. Peterson's niece, Marge Larson, told Milwaukee TV station WDJT that her aunt pressed 400 rather than the intended 50.
"All of a sudden, we see 'jackpot,' and we looked down," Larson recalled.
I told my niece I thought I was going to win today but never thought I'd receive a surprise like this," Peterson added to Fox News.
Peterson is a casino regular who has celebrated her birthday at the gaming property for many years.
"We've welcomed Sarah every year for her birthday and are grateful that she and her family celebrate with us," Ortiz said.
Last week's birthday celebration for Peterson included a custom-baked cake from the casino and the birthday girl wore a sash to mark the occasion. She also was given a sweatshirt from Cream City Coffee.
The secrets to her longevity? Peterson neither smokes nor drinks alcohol. She says her dog, Happy, keeps her going, too.
I want to live for my dog, he's not a dog, he's a person," Peterson told WDJT. "He takes good care of me."
Also, her relatives and caregivers take good care of her.
"That's what means a lot," she added. "That they love me. Everybody loves me and I love them too."
Peterson has always lived in the Milwaukee area, though she resides in Menomonee Falls, Wis.
She never thought she would reach 106, but she's happy she's reached the milestone.
"I've lived a good life, that's all I can say," Peterson said.
Yaamava' Resort & Casino Pays Out $1.3M
A mystery player from Southern California won a jackpot worth more than $1.3M at Yaamava' Resort & Casino at San Manuel, Calif. on Thursday.
The total payout was $1,315,761.19 and the lucky winner collected her winnings after betting $25 while playing the Dragon Link Panda Magic slot.
"We are thrilled to share in the joy with one of our lucky Club Serrano members, following an amazing win last night," Kenji Hall, general manager at Yaamava' Resort & Casino, told California's KBIG radio station following the win. "We strive to create once-in-a-lifetime moments for all our patrons across the resort every day … last night's $1.3M jackpot win is an unforgettable moment for all of us."
Caesars Palace Player Collectively Wins Over $2M
An unnamed player at Caesars Palace Las Vegas won 10 jackpots earlier this month over two days.
The exact total was $2,072,831. The wins were on August 19 and 20, with the player winning five times each day.
The player won $1,052,500 on the 19th and an additional $1,020,331 on the following day, according to a statement from Caesars Entertainment. There's no word on what the lucky winner will do with the cash.