Northwest Indiana Casinos Negatively Impacted By Cubs' World Series Win
Posted on: November 11, 2016, 03:00h.
Last updated on: November 11, 2016, 03:41h.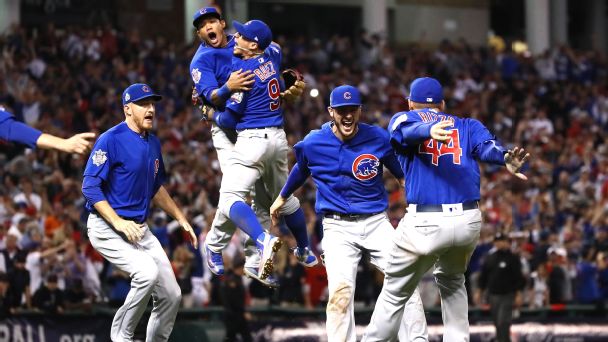 Northwest Indiana casinos rely heavily on Chicago crowds, but city residents largely stayed put in October as they watched their Cubbies make a historic run through the MLB playoffs.
Located some 20 miles southeast of Chicago, Indiana's five northwest riverboat casinos hit triple 7's in October, but in terms of revenue, that's a bust.
Horseshoe Casino, Ameristar, Majestic Star, Majestic Star II, and Blue Chip generated $77.7 million in gaming revenue during the month.
That equates to a 3.8 percent decrease compared to October 2015.
Horseshoe collected the most gaming revenue with $34.5 million, but also experienced the biggest drop year-over-year at 5.1 percent.
Analysts blame the Chicago Cubs' playoff run for the revenue fall. The Cubs won their first MLB title since 1908 earlier this month by beating the Cleveland Indians.
"The entire area had baseball fever," Horseshoe Casino Senior VP Dan Nita told the Chicago Tribune. "Both die-hard Cubs fans and those excited in the heat of the moment."
Ameristar's General Manager Matt Schuffert echoed Nita's sentiments. "When a Chicago sports team does well, we're usually negatively impacted," Schuffert revealed.
Indiana gambling income has been down across the board in 2016. Through October, revenues year-to-date are in the red by two percent compared to 2015.
Not All Bad
Though gaming revenues missed the mark in October, there were some bright spots in the Indiana casino report.
Slot machine win was down, but casinos made up for some of their losses on food and beverage, as well as table games. Schuffert points to higher-than-expected table game revenue as one October positive.
"We're very happy with the continued growth in our table games," Schuffert told The Northwest Indiana Times. Schuffert also explained that while slots weren't as profitable during October, the casino's Stadium Sports Bar was lively thanks to the Cubs.
The performance by northwest Indiana casinos, though down 3.8 percent, also beat the collective sum of casinos in Illinois. The state's 10 riverboat casinos posted a 7.83 percent drop year-over-year.
Fall Classic, Falling Earnings
Nevada sportsbooks collected more wagers on the Cubs' victory over the Cleveland Indians than they did in any other World Series in the history of baseball. While the series that went seven games provided big revenues for FOX and Vegas books, it did no favors for casinos in Illinois and Indiana.
In Ohio, things were even worse.
Gambling at the Buckeye State's four casinos totaled $62.6 million, its worst performance in more than two and a half years. Downtown Cleveland's Jack Casino was hurt the most, as revenues plummeted 13 percent to just $15.4 million.
Though Jack sits directly next to Progressive Field, home of the Indians, residents and guests apparently had little interest in gambling.
The city was packed throughout October as fall baseball returned to Cleveland and LeBron James' champion Cavaliers kicked off their NBA title defense, but patrons stayed in their stadium and arena seats.
While TV viewership for the NFL is down 11 percent, the 2016 World Series posted its highest ratings since 2001. Nielsen estimates 40 million Americans watched the Cubs clinch in game seven.
Most Read