Harry Reid's Brother Arrested for DUI, Battery
Posted on: April 9, 2015, 06:18h.
Last updated on: April 9, 2015, 06:18h.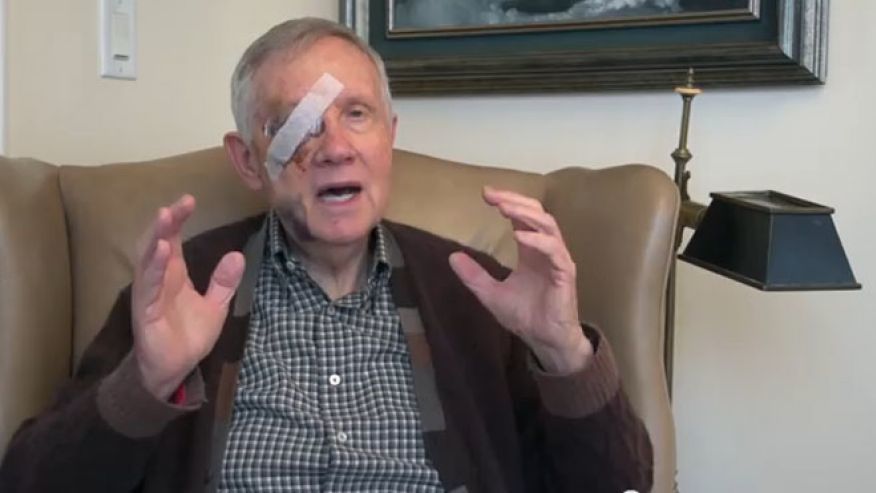 Senator Harry Reid (D-Nevada) has been sightless in his right eye since the beginning of the year, despite hours of surgery on that eye.
According to Reid, that was the result of an exercising accident on New Year's Day, when exercise bands he was using snapped, causing him to fall, resulting in several broken ribs and damage to his eye and face.
But since the beginning, there has been skepticism from some about how Reid really suffered those injuries, and a new incident is bringing those rumors to the forefront again.
Reid's 73-year-old brother, Larry Reid, was arrested on charges of DUI and battery of a police officer. The arrest by Nevada police took place during the middle of the day on Monday between Boulder City and Searchlight.
According to Patrol spokesman Trooper Loy Hixson, a state trooper saw Larry Reid's SUV running in the dirt median, ultimately leading to the arrest. Other charges included not wearing a seat belt and possession of a gun while under the influence of alcohol.
Harry Reid's office has been quiet about the incident, other than confirming that the man who was arrested is indeed the brother of the Senator, and saying that the incident is a "private matter."
But the arrest has brought a rumor back into the limelight, one that connects Larry Reid with his brother's debilitating eye injury.
Larry Rumored to Have Involvement in Senator's Injuries
While Reid hasn't been willing to entertain the rumors, there have been rumblings (particularly from the Senator's critics) that the injuries may have come from a fight.
The Power Line website outlined a theory that it could have been Larry who fought his brother, citing a source that claimed Larry Reid came to an Alcoholics Anonymous meeting on New Year's Eve, saying he had been in a fight with a family member.
Neither the Senator's office nor the Reid family have even entertained that story, and there is no direct evidence to suggest that such a fight ever occurred.
The Capitol Police, which was responsible for security at Reid's home at the time of the injury, has also declined to release their reports on the incident.
Harry Reid announced last week that he would not be running for reelection next year, meaning that he will be ending a 30-year stint in Congress. During that time, he served as both the Senate Majority and Minority Leader.
The former chairman of the Nevada Gaming Commission, Reid has often been one of the leading voices on gambling issues in the Senate.
Reid Supports RAWA, But Wants Poker Carve Out
In recent years, Reid has been one of the central figures in the battle over online gambling at the federal level.
Late last year, Reid signaled that he might actually be in favor of the Restoration of America's Wire Act (RAWA), the online gambling ban favored by Reid's friend but political opponent, Sheldon Adelson.
"I think the proliferation of gambling on the Internet is not good for our country," Reid told the Las Vegas Review-Journal. "I think it is an invitation to crime."
That led to speculation that Reid may have made a deal with Adelson to keep the Las Vegas Sands CEO from supporting a challenger in his 2016 Senate race.
However, Reid's retirement, combined with the fact that he said he would try to get a poker exemption into RAWA, suggested that this was not the case, and Reid has denied any such agreement.